At CBHS we help you manage your health challenges. We believe in offering you the services, support and tools you need to live your best life.
Our Better Living Programs are available to support eligible members towards a healthier lifestyle. Each Better Living Program is subject to its own eligibility criteria.
Contact us for more information and to confirm your eligibility for a program.
Why you should learn first aid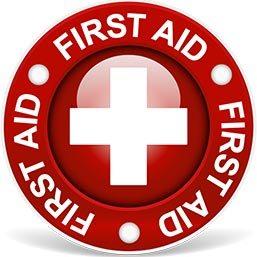 Would you know what to do if you were the first to arrive at the scene of a car accident? What about if your child or someone close to you drinks something poisonous? First aid covers the steps taken to help an injured or sick person after an accident or event and before professional medical help arrives.
Australians have one of the lowest rates of first aid training in the world with less than 5% of us knowing what to do in an emergency situation. It goes without saying that having first aid training under your belt can make the difference between life and death, but it's also invaluable in less serious injuries in the workplace and at home.
This article will help you find out where to get first aid training and what the courses cover, but if you need emergency medical help now, call triple zero (000) immediately and ask for an ambulance.
Where to learn first aid
There are many places in Australia that offer first aid training. Most people will be familiar with a Senior First Aid Certificate, this changed in recent years and is now known as Provide first aid (HLTAID003). When you are considering a training provider, it is important to check if they are a Recognised Training Organisation and issue nationally recognised qualifications and statements of attainment.
There are a range of first aid training providers. It's best to search online for a Registered Training Organisation offering courses accredited to the Australian Qualifications Framework.
Senior first aid courses are two days long. Some providers offer one day self-directed learning and one day face-to-face. Courses that are only a few days long are not senior first aid courses. Courses that are longer than two days cover more advanced content.
What you'll learn in a first aid course
If you have selected a Registered Training Organisation that delivers first aid training to national standards, the course curriculum is standardised. Delivery may vary with some providers offering self-directed training combined with face-to-face learning whilst others offer all face-to-face. All nationally recognised Provider first aid courses will teach you theory as well as practical demonstrations of potential first aid scenarios. They will also cover what to do if a person is unconscious or not breathing and include how to perform CPR (Cardio-Pulmonary Resuscitation).
You'll learn what to do in medical emergencies, including if a person is experiencing:
chest pain
choking or shock
asthma
anaphylaxis
stroke
seizures
fainting
You'll also learn what to do if a person has:
wounds
burns
been poisoned
bites or stings
been exposed to heat or cold
head, neck or spinal injuries
fractures, strains, sprains or dislocations
DRSABCD action plan
You'll cover what to do at each stage of the action plan known as the DRSABCD. This action plan guides you through the approach to assessing and commencing treatment of a person in a potentially life-threatening situation. Following the order in this plan means the person has the highest chance of survival. Read more about the DRSABCD action plan and first aid basics at the Better Health Channel.
First aid kits
First aid kits are a great way to make sure you're prepared in the event of an emergency. It's easier to buy a first aid kit rather than purchasing all the items individually. Some pharmacies sell first aid kits, and St John's Ambulance and Australian Red Cross also sell them. If you want to make your first aid kit from scratch, find out more about what items to include in your kit.
First aid in the workplace
We all know accidents and injuries can easily happen in the workplace as well at home or on the road. Safe Work Australia states that all workers should be able to quickly and easily access a first aid kit at their place of work.
The first aid kit will need to contain basic equipment for first aid for injuries including:
cuts, scratches, punctures, grazes and splinters
muscular sprains and strains
minor burns
amputations and/or major bleeding wounds
broken bones
eye injuries
shock
First aid training gives employees the confidence and knowledge to know how to assess an emergency situation and act quickly. First aid training in the workplace also helps to minimise the number of injuries as those who have completed the course can help identify potential risks at work.
Sources
https://www.abc.net.au/news/2017-09-13/first-aid-training-shortage-in-australia/8896062
https://www.redcross.org.au/get-involved/learn/first-aid
https://stjohn.org.au/first-aid-facts
https://www.healthdirect.gov.au/first-aid
https://www.healthdirect.gov.au/first-aid-kits
https://www.safeworkaustralia.gov.au/doc/model-code-practice-first-aid-workplace
https://www.healthdirect.gov.au/how-to-perform-cpr
All information contained in this article is intended for general information purposes only. The information provided should not be relied upon as medical advice and does not supersede or replace a consultation with a suitably qualified Healthcare professional.
Health and wellbeing
programs & support
You Belong to More with CBHS Hospital cover:
Greater choice over your health options including who treats you
Get care at home with Hospital Substitute Treatment program
Free health and wellbeing programs to support your health challenges
Live your healthiest, happiest life with CBHS Extras cover:
Benefits for proactive health checks e.g. bone density tests, eye screenings
Keep up your care with telehealth and digital options
Save on dental and optical with CBHS Choice Network providers