At CBHS we help you manage your health challenges. We believe in offering you the services, support and tools you need to live your best life.
Our Better Living Programs are available to support eligible members towards a healthier lifestyle. Each Better Living Program is subject to its own eligibility criteria.
Contact us for more information and to confirm your eligibility for a program.
Winter workouts | Cardio in the cold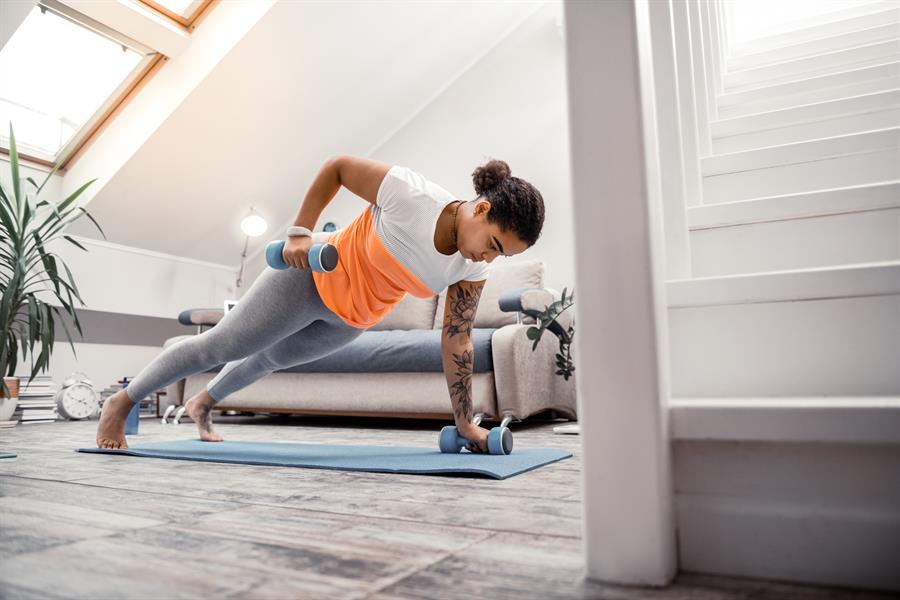 Cold weather can curb our enthusiasm for working out in winter but cardio is a calling that can't be ignored. Here are some tips for getting your heart pumping without even leaving home.
Skipping
Jump rope is a great warm up exercise or can be the main focus of your cardio.
Muscle groups: shoulders, arms, calves, core, glutes
Calories burned per minute: 10+
Box steps/jumps
If you don't have a sturdy box lying around, you can use steps, a small wall or brick fence. Box steps and jumps require explosive leg movement and momentum support from your upper body. Beginners should focus on getting their technique right and trying to land as softly as possible before attempting to increase their speed or raise the height they're jumping.
Muscle groups: hamstrings, quads, glutes, core
Calories burned per minute: 12+
Rowing
Rowing is a whole-body cardio exercise and good technique is the key to getting the most out of it. Here's a great article on getting your position and range of motion right.
If you don't have access to a boat, canoe or kayak, you can pick up a rowing machine from around $250. If you really want to splash out, higher-end models can retail at more than $1,000. Alternatively, use resistance bands which you can buy for as little as $25-$30.
Muscle groups: quads, hamstrings, calves, chest, biceps, triceps, core
Calories burned per minute: ~10
"Experts recommend priming your muscles before you work out, with arm circles and swings, squats and lunges."
Burpees
A mixture of push-ups and jumping, burpees test and work out your entire body. These can be done inside and, with the right technique, surprisingly quietly.
If you haven't attempted this exercise before, work into it slowly as it's a high-impact activity. To get an idea of the technique involved, check out this great Burpees for Beginners video.
Muscle groups: arms, chest, quads, hamstrings, glutes
Calories burned per minute: ~10
Shadow boxing
It might look like you can just start swinging your arms, bobbing your head and making huffing noises, but there's more to shadow boxing than meets the eye. Shadow boxing combines technique, explosive movements and quick footwork that focuses your mind and body.
We'd recommend seeking some coaching from a professional or you can check out some videos on YouTube (like this twenty minute home boxing workout) as a starting point.
Muscle groups: arms, back, shoulders, calves, core,
Calories burned per minute: ~9
Before you begin any new workout, we recommend you check in with your GP, a physio, fitness coach or personal trainer.
Source:
https://www.healthline.com/health/fitness-exercise/warm-up-exercises#dynamic-warmup
All information contained in this article is intended for general information purposes only. The information provided should not be relied upon as medical advice and does not supersede or replace a consultation with a suitably qualified healthcare professional.
Health and wellbeing
programs & support
You Belong to More with CBHS Hospital cover:
Greater choice over your health options including who treats you
Get care at home with Hospital Substitute Treatment program
Free health and wellbeing programs to support your health challenges
Live your healthiest, happiest life with CBHS Extras cover:
Benefits for proactive health checks e.g. bone density tests, eye screenings
Keep up your care with telehealth and digital options
Save on dental and optical with CBHS Choice Network providers