At CBHS we help you manage your health challenges. We believe in offering you the services, support and tools you need to live your best life.
Our Better Living Programs are available to support eligible members towards a healthier lifestyle. Each Better Living Program is subject to its own eligibility criteria.
Contact us for more information and to confirm your eligibility for a program.
You don't have to live with joint pain anymore
Don't let knee or hip pain slow you down anymore. We can help you get back on track towards a pain-free life and doing the things you love. CBHS is proud to announce an exciting partnership with East Sydney Private Hospital for a short stay joint replacement surgery program. It's all part of our commitment to deliver More to CBHS members every day. More support. More care. More value. More for you.
Life with joint pain is no fun. Chronic pain can impact your health and happiness, and make it hard to work, sleep or do the things you love doing. If you've tried physio and other treatments and still can't get relief, surgery might be an option to investigate.
What are some signs that you could benefit from a joint replacement?
Your doctor or specialist will ultimately help you make the decision on whether surgery is right for you, but here are some of the signs you might be an appropriate candidate:
your pain is severe, constant and present even at rest
your quality of life, sleep, activities of daily living are being negatively affected by pain
pain is impacting your ability to function normally, i.e. difficulty in putting on shoes/socks or getting out of a chair
the benefits of the surgery outweigh the risks
What is the short stay joint replacement program about?
Being part of a short stay program means you can spend less time in hospital and return to the comfort of your own home sooner. That means you can recover on your own terms, be close to friends, family and pets, and sleep in your own bed!
The program is one of the first Australian collaborative approaches to primary (first time replacement) hip and knee replacements. Here's what's involved:
a short stay of one to three nights in East Sydney Private Hospital
no out-of-pocket costs for CBHS members with Gold tier Hospital cover – that means all surgeon, anaesthetist, surgical assistant, rehabilitation and hospital fees covered
personalised 'prehab' to help you physically and mentally prepare for surgery
Rapid Recovery Program – you'll work with a multi-disciplinary team to get you up and moving sooner
a supported home recovery package including in-home rehab if you need it.
A collaborative care model centred around you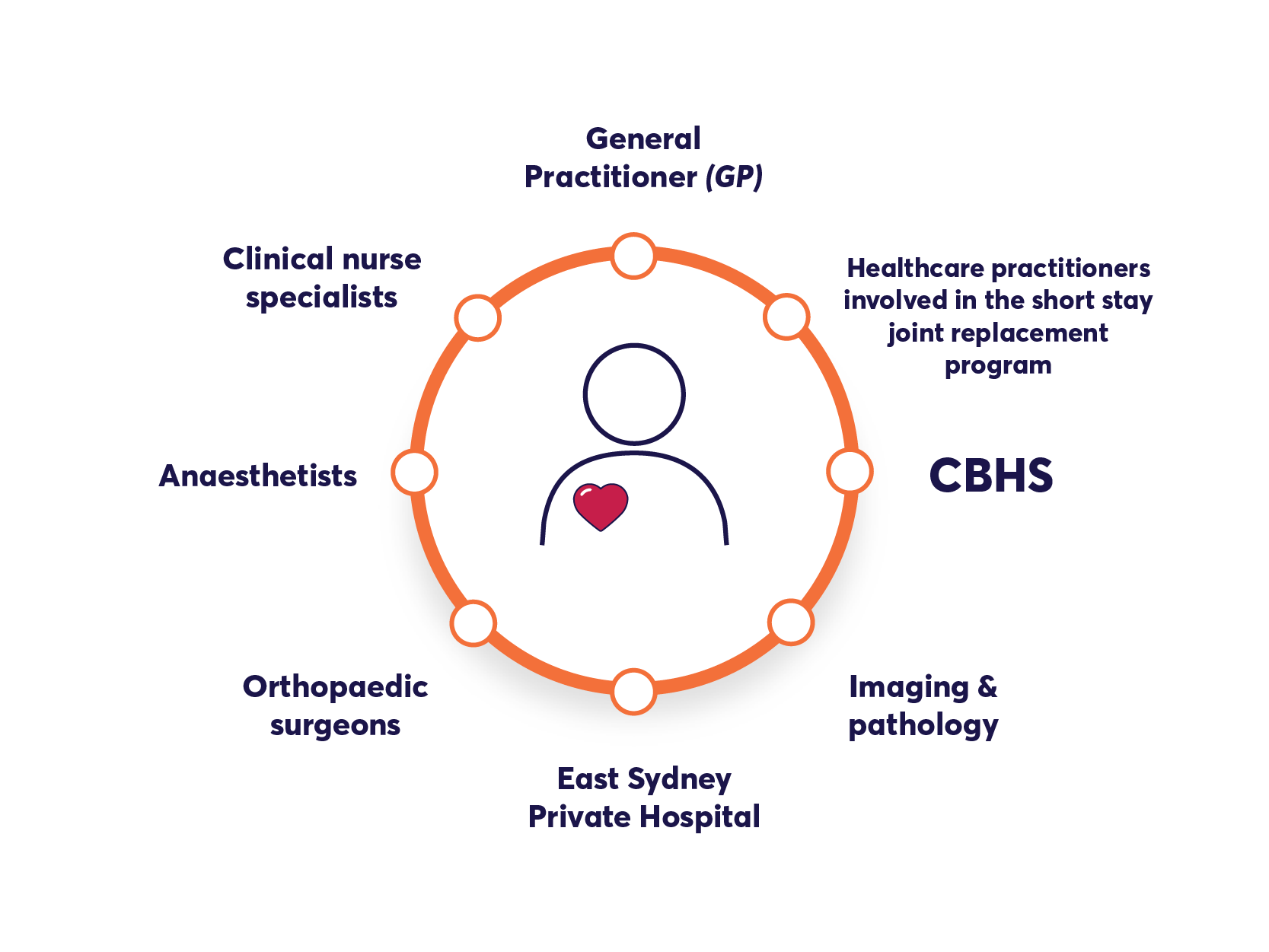 Who might be eligible for the short stay joint replacement surgery program?
On the same day as surgery, you may be up and walking with the support of physiotherapy and nursing staff. So this program won't be for everyone.
Your treating orthopaedic surgeon will discuss your condition with you in detail to assess your eligibility for our short stay joint replacement program. There are some chronic conditions that may affect eligibility, like bleeding disorders, diabetes, a high BMI or uncontrolled cardiac conditions.
You will also need to be committed to participate in pre-operative counselling and the prehabilitation program, as these are key to your successful recovery. A certain level of social support at home is also important.
Of course, to be eligible for the program with no gaps, you will need to have CBHS Hospital or packaged cover which includes joint replacement (and have served relevant waiting periods). You will still need to pay any excess or co-payment costs if you have them on your policy.
What does the short stay joint replacement surgery program journey look like?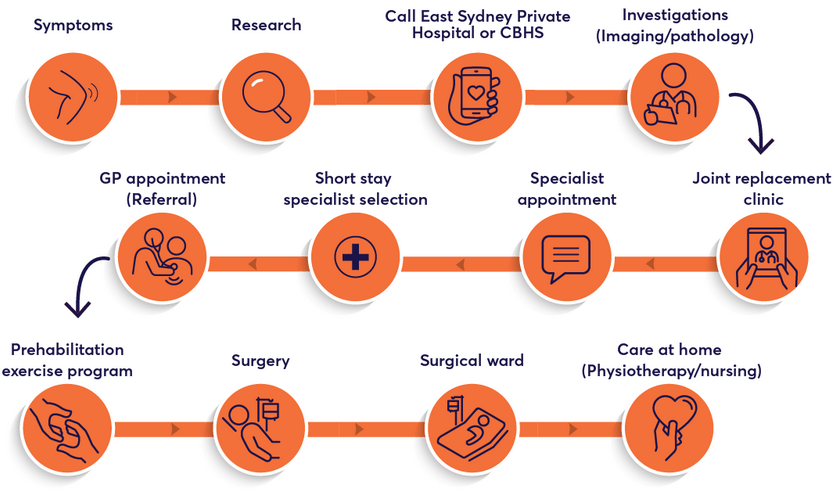 Find out more
Sick of living with knee or hip pain, and think the short stay joint replacement program might be right for you? Download the information pack for full program details.
If you think the program might be right for you, speak to your doctor to see if you are suitable for referral. Then, get in touch with our Member Care team on 1300 654 123 to check if you're covered for joint replacement surgery.

All information contained in this article is intended for general information purposes only. The information provided should not be relied upon as medical advice and does not supersede or replace a consultation with a suitably qualified healthcare professional.

Health and wellbeing
programs & support
You Belong to More with CBHS Hospital cover:
Greater choice over your health options including who treats you
Get care at home with Hospital Substitute Treatment program
Free health and wellbeing programs to support your health challenges
Live your healthiest, happiest life with CBHS Extras cover:
Benefits for proactive health checks e.g. bone density tests, eye screenings
Keep up your care with telehealth and digital options
Save on dental and optical with CBHS Choice Network providers