At CBHS we help you manage your health challenges. We believe in offering you the services, support and tools you need to live your best life.
Our Better Living Programs are available to support eligible members towards a healthier lifestyle. Each Better Living Program is subject to its own eligibility criteria.
Contact us for more information and to confirm your eligibility for a program.
Your social wellness health check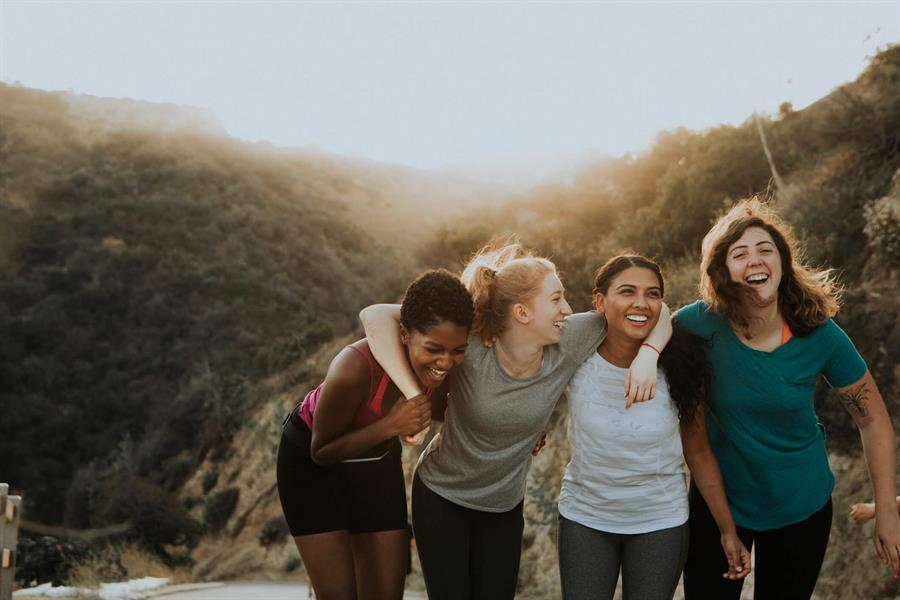 Did you know that maintaining healthy social connections is as vital to our overall wellbeing as eating well and exercising daily? COVID-19 and the need for physical distancing has changed the way we connect with other people and our communities, making it more important than ever to be mindful of our social wellbeing.

How would you rate your social wellbeing?
Social wellbeing is about the way we connect with people on a day-to-day basis. Wide ranging research has linked the quality and quantity of our social relationships with short and long-term effects on our health.
"How easily do you interact with others and form meaningful relationships with them?"
It's a good idea to check in with yourself on this, from time to time, and use the following checklist to gauge whether there might be room to improve on your social wellness.
Your social wellbeing checklist:
Are you balancing social and personal time?
It can be easy to neglect taking time for yourself, to reflect, work on personal projects or tend to your responsibilities, yet doing this is every bit as important as going out with your friends and maintaining healthy relationships.
It's essential to find a healthy balance. Too much time to yourself can lead to feelings of social isolation. At the other extreme, socialising with friends (physically or by digital means) too frequently can distract us from doing necessary chores or taking care of ourselves in ways that we can only do alone.
Ask yourself:
Do I ever feel lonely?
Do I feel I make enough time for my friends?
Do I feel like I make enough time for me?
Am I taking care of my responsibilities?
How well do you handle conflict?
People generally don't enjoy conflict. Nor do they tend to like being around people who do enjoy conflict.
Confrontation is stressful – there's the adrenaline rush, future consequences and repercussions to consider. Situations may arise where it is unavoidable and there are ways to manage your reactions:
Try to not take it personally. Detaching yourself from the situation will allow you to handle it without feeling like you're being attacked
Identify the source of the conflict
Strive towards reaching a resolution instead of getting mired in the details
Aim to say how you feel, rather than put something on someone else. For example: 'I feel like we could do better' rather than 'you should do better'
Find a solution you're both happy with
Try not to leave the situation without coming to an agreement. If things get too heated, it's okay to take a break, but leaving it unresolved can result in further conflict down the track.
Do you have healthy boundaries?
A healthy boundary is defined by inner and outer respect – it means you're willing to let someone in, with trust and companionship, but also push someone back by letting them know when you're uncomfortable or not happy with something.
"Simply put, a personal boundary draws a line between pushing someone away and letting them push you over."
A number of factors come in to play in maintaining healthy boundaries in relationships, such as your level of confidence, how important the person is to you and the power dynamics between you.
Ask yourself:
Do I know what my boundaries are?
Am I confident that I can communicate my boundaries to others?
Do people think I'm able to trust them?
Have I been taken advantage of?
Do you understand what it takes to engage with someone?
Truly engaging with someone is about more than just nodding your head and intermittently muttering 'uh-huh' – it calls for active listening, reflecting, and responding. As straight forward as this sounds, some people are inclined to 'wait their turn to speak', rather than consider and address what the other person says, then continue down the new stream of conversation together.
If you find it challenging to engage with people, it doesn't necessarily mean you don't want to listen – you might be too shy to voice an opinion, have difficulty communicating an idea, or be unsure on how to respond. There are some easy ways to engage more effectively with someone:
Turn off your phone when you're talking to someone – let them know they have your undivided attention
Encourage people to tell their stories and share their thoughts
Establish an 'us' so that you are part of something together
Tell them why you value their input
Try to understand where they're coming from, and check in to see if you have a clear idea of what they're talking about.
Are your friends a positive influence?
The people closest to us provide an important, emotional support network, so it's important to be able to recognise and prioritise healthy relationships.
Ask yourself:
Would I trust this person with a secret?
Do they bring value or benefit to my life?
Have they supported me when I needed it?
Can I count on them?
Your social wellness matters
Your health is an ongoing project, one that requires a lot of attention to yourself and to your surroundings. Make sure you're regularly checking in with yourself and those who make a positive impact on your life, as well as checking out regularly to take care of your needs.

You might like to check out our Healthy Bytes X, free health and wellness webinar series. The sessions are 30 minutes each and free to join for all. All Healthy Bytes X webinars are presented by allied health professionals in their area of expertise, including fitness, nutrition and mental wellbeing.
You'll come away armed with practical solutions to improve your health and wellness.
Sources
https://www.betterhealth.vic.gov.au/health/healthyliving/Strong-relationships-strong-health
https://www1.health.gov.au/internet/publications/publishing.nsf/Content/mental-pubs-p-mono-toc~mental-pubs-p-mono-bas~mental-pubs-p-mono-bas-alt~mental-pubs-p-mono-bas-alt-soc
https://www.unh.edu/health/well/social-wellness
https://www.linkedin.com/pulse/20140730135109-135125319-how-do-you-deal-with-conflict-how-to-answer
https://www.inc.com/geoffrey-james/5-easy-ways-to-handle-conflict-at-work.html
http://www.amanet.org/training/articles/the-five-steps-to-conflict-resolution.aspx
http://www.bluebridgeleadership.com/2012/06/26/5-simple-ways-leaders-can-engage-others/
http://blog.kevineikenberry.com/leadership-supervisory-skills/seven-ways-to-really-engage-people/
https://www.ncbi.nlm.nih.gov/pmc/articles/PMC1856434/
All information contained in this article is intended for general information purposes only. The information provided should not be relied upon as medical advice and does not supersede or replace a consultation with a suitably qualified healthcare professional.
Health and wellbeing
programs & support
You Belong to More with CBHS Hospital cover:
Greater choice over your health options including who treats you
Get care at home with Hospital Substitute Treatment program
Free health and wellbeing programs to support your health challenges
Live your healthiest, happiest life with CBHS Extras cover:
Benefits for proactive health checks e.g. bone density tests, eye screenings
Keep up your care with telehealth and digital options
Save on dental and optical with CBHS Choice Network providers