At CBHS we help you manage your health challenges. We believe in offering you the services, support and tools you need to live your best life.
Our Better Living Programs are available to support eligible members towards a healthier lifestyle. Each Better Living Program is subject to its own eligibility criteria.
Contact us for more information and to confirm your eligibility for a program.
7 top grocery shopping tips for a healthier you!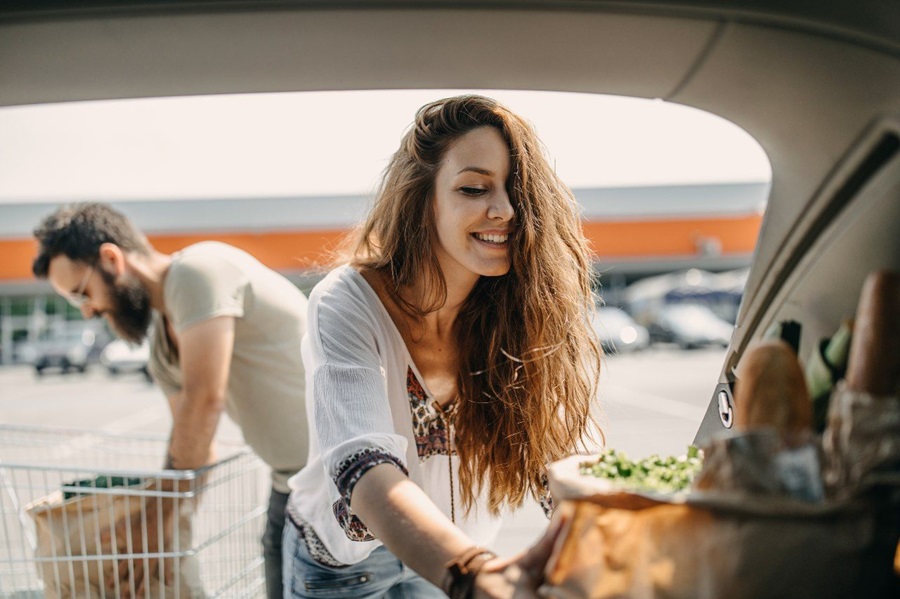 Whether you prefer to do your grocery shopping online or at your local supermarket, making sure you're making healthy choices isn't always easy – especially if you're hungry and you head straight for the snack aisle!

Treating yourself while you shop isn't a dealbreaker for your waistline — if you follow a few simple health tips, there'll always be room for a sweet treat in your trolley each week. But before you think about heading to the supermarket, take some time to plan your meals and snacks for the week ahead. This will make it easier for you to make a list of everything you'll need to buy. And once you jot your list down, stick to it so there's no 'getting lost' in the confectionary aisle…
What are healthy groceries?
Fruits, vegetables, wholegrain breads, pulses and low-fat dairy goods are all on the 'healthy grocery shopping list'. You can also add non-processed proteins like seafood, poultry, lean meats, eggs, nuts, seeds and legumes.
Remember, any foods that are high in saturated fats and added sugars should be the exception – not the rule – when you're planning your shopping list.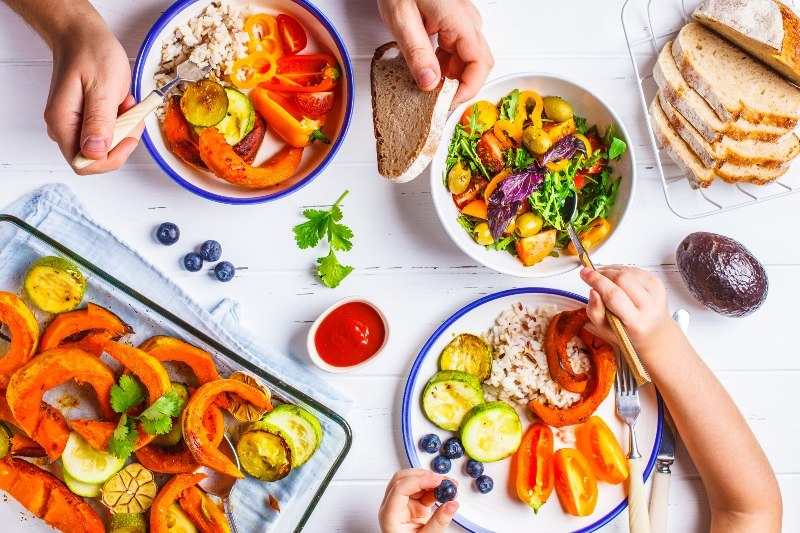 "If you shop on a full stomach, you're less likely to 'impulse buy' food that's high in saturated fats and sugars like chips and lollies."
We've put together seven top tips to make your next trip to the supermarket as quick and temptation-free as possible.
Be prepared
When you plan your week's menu in advance , it's easier to stay focused on the shopping at hand and not be tempted to purchase the unhealthier items you don't really need. Meal planning is a great way to eat smart and make sure you stay on budget.


Shop in the fresh food section first

The outer aisles of the supermarket are generally where all the fresh food is – fruits and vegetables, dairy, fish, lean meats etc. Once you've stocked up here, take a trip to the freezer section for your frozen fruits then over to the canned beans and cereals like oats.


Read the labels
This is a vital step if you want to keep your shopping trolley healthy. Always go for the item with low sodium content, saturated fat and sugars. And don't let the marketing fool you. More often than not, labels that promise '99% fat free', 'Low GI' or 'No added sugar' are full of sugar and fat.


Take your time in the fruit and veggie section
A great way to save money on your shop is by selecting fruit and vegetables that are in season. Not only are they more likely to taste better, they'll be reasonably priced as well.


Don't shop hungry!
This is easier said than done but try to enjoy a full meal – or at least a healthy snack – before you tackle the weekly grocery shop. Browsing the supermarket when you're starving is just setting yourself up for those impulse buys – which are usually unhealthy.


Choose canned tuna in water – not oil.
Canned fish can provide healthy 'hits' of protein for lunch or even dinner. Just remember to choose tuna in water or brine instead of oil. And try to buy the low-sodium variety.

Buy quality wholegrain breads
You might find bread with the label, 'enriched flour' or 'multi-grain'. Look for items that contain wholegrains. You should be aiming for bread that contain over 3g of fibre per serve.
"Planning your meals for the week can help you create a quick shopping list and cut your supermarket time in half."
A word on hidden sugars, labels and ingredients
Food labels often don't tell the full story! In fact, a lot of companies use particular words to convince us that a food product is good for us when the reality is very different. For example, packaging that boasts 'gluten-free' and 'no-added sugar' ingredients are often hiding the fact that the food item contains a lot of sugar and fats for extra flavour.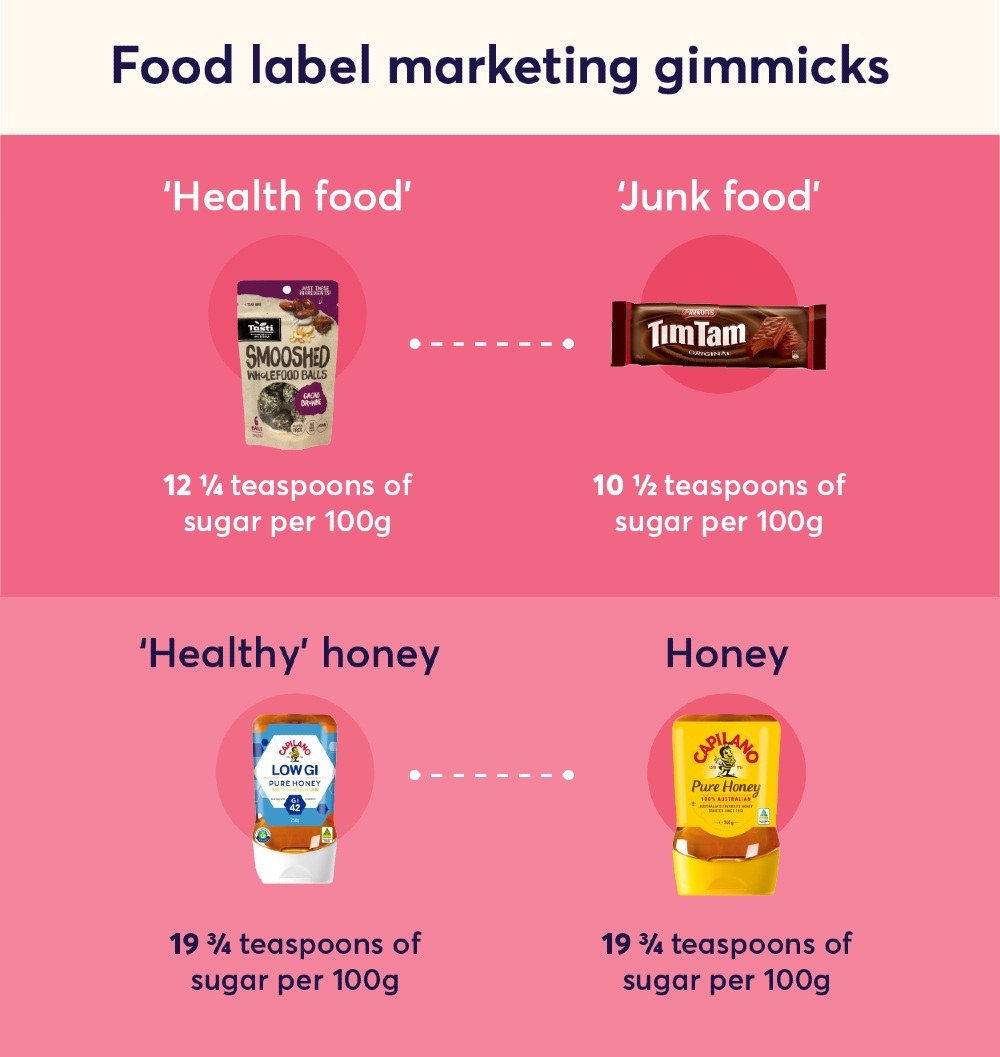 What's more, sugars are regularly hidden in many so-called 'sugar-free' products like protein bars under ingredients like 'corn syrup', 'maltodextrin' or basically anything ending in 'ose', such as fructose, dextrose, lactose and maltose. The general rule of thumb with ingredients is, if the list is too long and you can't pronounce what's on it, steer clear – and choose a fresh alternative.
Fill your pantry with tasty staples for quick meal ideas!
Keeping your pantry stocked with staples like canned chickpeas, herbs and spices can help you whip up healthy, flavourful meals in a flash!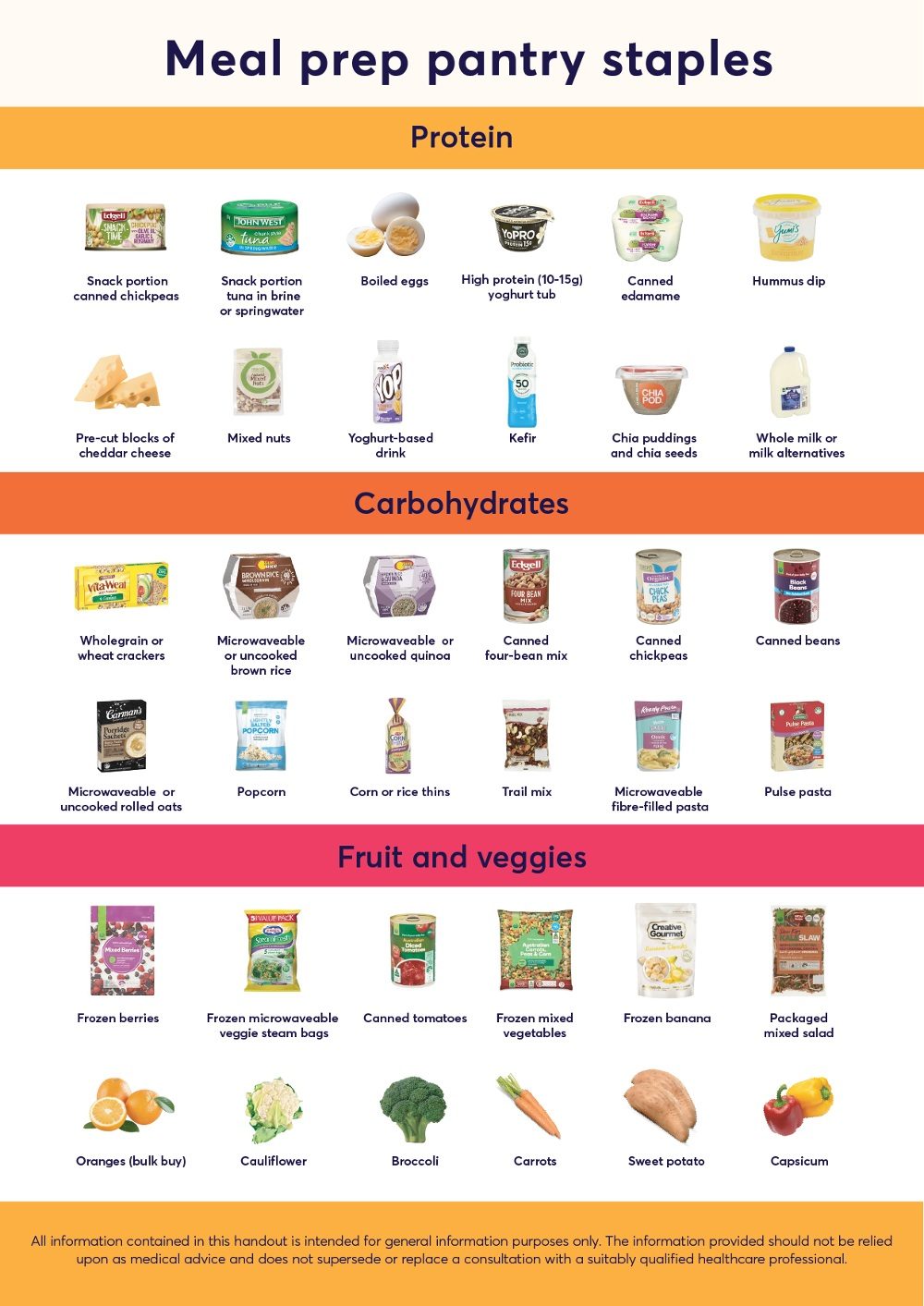 "Choose packaged food with a minimal amount of ingredients. If the list is too long, the item is probably not good for you!"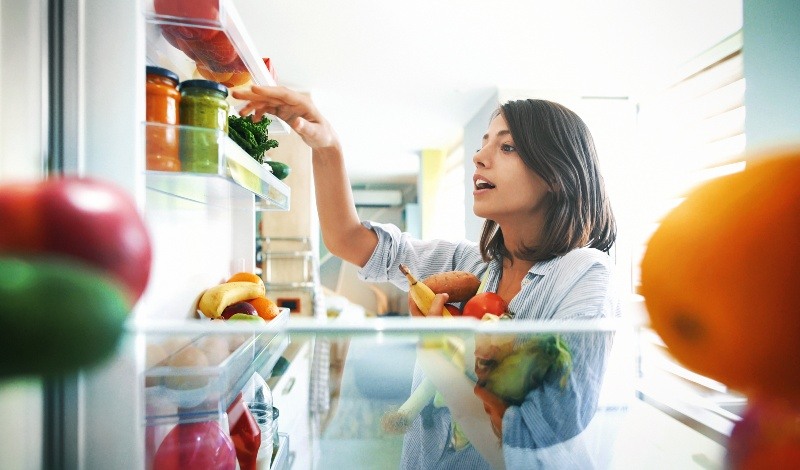 Healthy grocery shopping can be good for your waistline – and budget!
As well as saving you time and money, planning your grocery list in advance is a great way to make healthier choices when you're in the supermarket.

By following a few simple rules like:
shopping on a full stomach
reading the labels and ingredients
choosing low-sodium alternatives
buying seasonal fruit and vegies.

… you're more likely to make food choices that are better for your health – and still a treat for your tastebuds!

All information contained in this article is intended for general information purposes only. The information provided should not be relied upon as medical advice and does not supersede or replace a consultation with a suitably qualified healthcare professional.
Sources:
https://www.eatforhealth.gov.au/eating-well/tips-eating-well/food-shopping-tips
https://www.cbhs.com.au/mind-and-body/blog/the-top-10-nutrition-tips-backed-by-science
https://www.cbhs.com.au/mind-and-body/blog/curb-your-cravings-how-to-resist-those-snack-temptations
Health and wellbeing
programs & support
You Belong to More with CBHS Hospital cover:
Greater choice over your health options including who treats you
Get care at home with Hospital Substitute Treatment program
Free health and wellbeing programs to support your health challenges
Live your healthiest, happiest life with CBHS Extras cover:
Benefits for proactive health checks e.g. bone density tests, eye screenings
Keep up your care with telehealth and digital options
Save on dental and optical with CBHS Choice Network providers