At CBHS we help you manage your health challenges. We believe in offering you the services, support and tools you need to live your best life.
Our Better Living Programs are available to support eligible members towards a healthier lifestyle. Each Better Living Program is subject to its own eligibility criteria.
Contact us for more information and to confirm your eligibility for a program.
How to master meal prep, enjoy tasty meals and save money!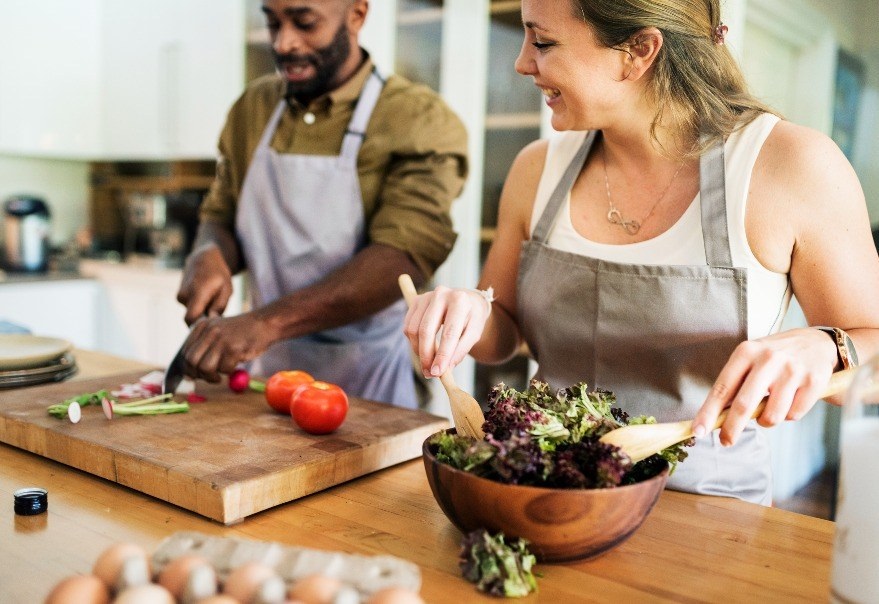 What's the secret to less stress at mealtimes? Two words – meal preparation. It's easy to master 'the meal prep' when you know how.
In fact, you don't need to be a gourmet chef or 'a natural' in the kitchen – it's just about planning for the week ahead. And, once you do, you can start feeling the benefits of home cooking on your waistline – and pocket!

Meal prepping will also give you more control over what goes into your food. You'll know what ingredients you're using as you hand-pick the freshest, highest quality ingredients – and limit the added sugars and saturated fats.
The benefits of cooking at home – great for your health and budget!
While you may love having takeaway lunches during the week or you simply enjoy eating out, there are major benefits to home cooking.
People who eat-in regularly are more likely to have healthier diets. They're enjoying more fruits and vegetables, nourishing proteins and salads and even healthy sweet treats. The result? A diet rich in essential vitamins and minerals with fewer calories – and dollars!
But it's not always easy to establish – or follow – this way of eating, especially during the week. Weeknights can be challenging especially if you need to work back late, you're stuck in traffic and you have a hungry family waiting for you to whip up something fast as soon as you step in the door! That's where meal planning can save you time and ensure that you – and your family – can still enjoy nutritious meals – fast.
"Turn your taco night leftovers into a delicious and flavour-packed salad for lunch the next day."

Four reasons why meal prep is a great habit to get into
1. Create meals that cost less
A sandwich and a drink for lunch can easily set you back $10-15. And for dinner, after you add delivery, you could be spending at least $20-30 a meal, depending on how many family members you're feeding!
2. Reduce the stress of last-minute meal decisions
Sometimes we don't have the willpower to make healthy choices, particularly after a long day. Meal prepping takes away decision fatigue so you can relax.
3. Cut down on food waste – and save money!
Once you have a meal prep routine established, you'll know exactly the quantity of food to shop for. No more fishing out mouldy tomatoes from the bottom of your fridge at the end of the week.

4. Flexible meals with a variety of flavours
Meal prep also encourages you to use up all that extra food in your fridge and pantry because it's flexible and you can swap around different ingredients.

"Meal prepping for the week ahead gives you fast food – with a healthy twist."
Five ways to make cooking at home convenient – and not a chore
We've put together five quick meal planning tips to help you on your way to mastering meal prep – and 'eating healthy' for breakfast, lunch and dinner.

1. Plan your meals – even breakfast!
Take a few minutes on the weekend to make a solid meal plan for the week ahead. This plan is going to be your map to guide you through a week of meals – including breakfast! You can start by cooking these overnight oats on a Sunday night. They'll keep for up to five days in the fridge and all you'll need to do in the mornings is add your favourite fruit.

2. Chop and slice those veggies
Meal prepping doesn't necessarily mean preparing the whole meal early. Even getting parts of the preparation process done can make a big difference. Whipping up a vitamin-rich veggie loaf can be a breeze if your vegetables have been prepped in advance. If you know you'll need sliced onions or diced carrots, get them ready when you've got a moment and pop them in your fridge until you're ready to cook them.
3. Turn Sunday's dinner into Monday's lunch
You might think that packing up your slow cooked lamb leftovers for lunch the next day, sounds ordinary, so get creative! Try adding cooked meats or even tofu to a salad or pita pocket for variety and an extra burst of flavour.
"Pop that leftover pesto sauce from pasta night onto your sandwich as a tasty spread for Monday's lunch."
4. Make enough for leftovers
Planning a hearty dish like chicken jambalaya for Sunday lunch? Make an extra batch and create enough leftovers for a couple more lunches. You can also roast extra veggies like zucchini and add them to your salads with different dressings every day. And if you've planned on making a dish with rice on Tuesday night, make extra and use it to make a tasty sushi bowl for lunch the next day.

5. Use the fruit and veggies that will 'go off' first
Australian families throw away one in every five bags of groceries – that's over $2,000 per household each year! Not good news for your wallet or our planet. So, when you're choosing your meal prep ingredients, use greens like spinach and parsley first and keep veggies like carrots for the meals you'll eat late in the week. Keep this in mind for the shorter shelf-life meats and fish too.
"Preparing your meals in advance not only saves you money, it can also help you stay on track with your health goals!"

It's fast food – but not as you know it
Generally, the foods we choose when we're on-the-go are meals that are low in healthy proteins and fats and high in processed carbs and saturated fats like burgers and fries, fried chicken or banana bread for example.
However, when you do your meal prep in advance, you're preparing food that will satisfy your hunger – and nutritional needs – quickly. It's fast food with a healthy twist! And a great way to stay on track with your health goals.
By dedicating some time on the weekend to shop and prepare your meals for the week, you'll be saving the time it usually takes to buy, chop, cook and clean 'on repeat' during the week! Imagine how amazing it will be to come home after a long day at work and just heat up your healthy, tasty meal in moments. No need to stop off at the supermarket or cook. Just reheat and relax!

Master meal prep and enjoy a healthy head-start on your weekly meals
It's very easy to reach for the unhealthy or expensive meal option when we're in a rush – or hungry! But it's not always the best choice for our health – and budget. That's why mastering meal prep can change the way you eat on-the-run and even when you come home after a long day at work.
You don't need to be a five-star chef in the kitchen. A simple pesto sauce can make a great spread for your sandwiches the next day! In fact, setting aside time on the weekend to plan your week's meals, chop up veggies and make extra food for leftovers can have a great impact on the access you have to cheap and healthy food options for the week ahead.

Once you've established your meal prep routine, you'll find that you – and your family – will have more healthy options for breakfast, lunch and dinner. You'll also be saving money and enjoying a less stressed, relaxed time at home when your day is done.
Check out our user-friendly What's Cooking guide for a meal planner and some delicious breakfast, lunch and dinner recipes you can try at home. It's a great way to get started on your meal prep journey. Bon appetit!

All information contained in this article is intended for general information purposes only. The information provided should not be relied upon as medical advice and does not supersede or replace a consultation with a suitably qualified healthcare professional.
Sources:
https://www.cbhs.com.au/mind-and-body/blog/the-top-10-nutrition-tips-backed-by-science
https://www.cbhs.com.au/mind-and-body/blog/curb-your-cravings-how-to-resist-those-snack-temptations
https://www.cbhs.com.au/mind-and-body/blog/healthier-takeaway-options-what-to-eat-on-the-go
https://www.cbhs.com.au/mind-and-body/blog/the-three-best-healthy-stress-foods
https://www.dcceew.gov.au/environment/protection/waste/food-waste#:~:text=Food%20waste%20costs%20the%20economy,%242%2C500%20per%20household%20per%20year
https://www.cbhs.com.au/mind-and-body/blog/eating-smart-improve-your-mood-memory-and-focus-through-food
https://www.cbhs.com.au/mind-and-body/blog/lunchbox-friendly-treats-chocolate-muesli-balls
Health and wellbeing
programs & support
You Belong to More with CBHS Hospital cover:
Greater choice over your health options including who treats you
Get care at home with Hospital Substitute Treatment program
Free health and wellbeing programs to support your health challenges
Live your healthiest, happiest life with CBHS Extras cover:
Benefits for proactive health checks e.g. bone density tests, eye screenings
Keep up your care with telehealth and digital options
Save on dental and optical with CBHS Choice Network providers