At CBHS we help you manage your health challenges. We believe in offering you the services, support and tools you need to live your best life.
Our Better Living Programs are available to support eligible members towards a healthier lifestyle. Each Better Living Program is subject to its own eligibility criteria.
Contact us for more information and to confirm your eligibility for a program.
Be your version of stronger for longer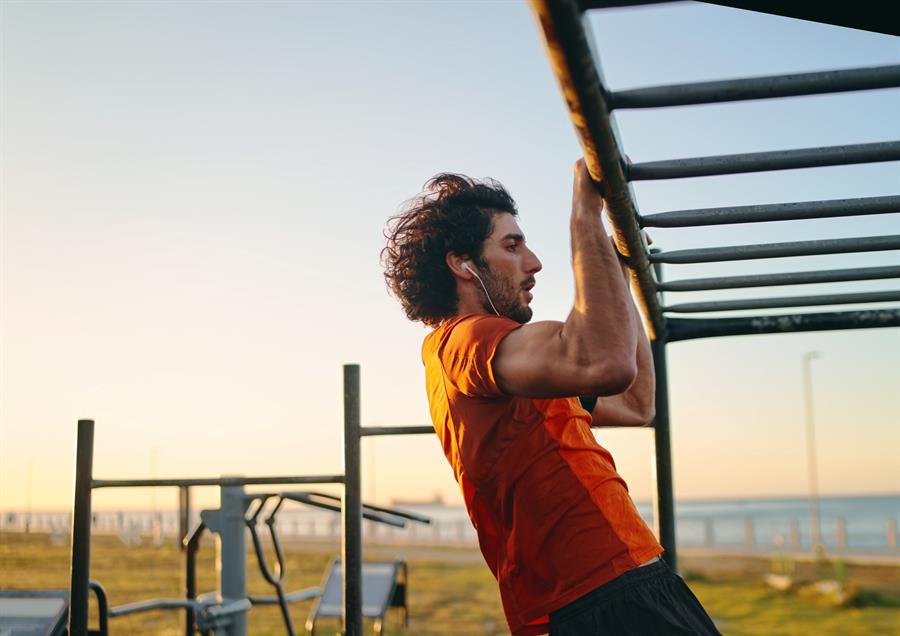 Picture this: you crouch down, grip with both hands, stand up and feel a little bit of strain as you pick up the load. Your eyes narrow on your destination and you gradually walk forwards, putting one foot in front of the other. Your arms start to burn and shake, your steps get a little shorter and quicker and your hands start to want to let go. Finally, you reach your destination, gently squat and set down the weight and take a steady breath.
For the first time in a long time, you've done it. You brought in the full family grocery load in one go without any break.
We've nearly all got it in us to improve our functional strength. Being stronger isn't just for the gym – it helps us out across many areas of our day. Strength training can help you to take your abilities to a new level, plus it has other health benefits too.
James Charter and Tyler Schreurs, CBHS Wellness Consultants and Exercise Scientists, have shared some insights with us on how strength training can provide a positive addition to our training routines.
What is strength training?
Strength training is often promoted as something we need to be doing and if we aren't, we're putting our bodies at risk. First things first, what exactly is it?
Strength training is simply the repetitive movement of ANY weight or resistance which stresses your muscles to some degree. This can be almost anything; a sandbag, weight, resistance band, cable, machine or even your own bodyweight. By putting our muscles under a 'load', we are giving them the stimulus to develop by causing a small amount of damage (microtears) to the muscle fibres. While it sounds counterproductive and even a little bit alarming, we need that damage for our recovery to be effective.
Why is recovery so important?
This is where our body begins to change by repairing those microtears we just created – building stronger, larger muscle fibres! Where exercise is the signal for our body to change, recovery is when our body physically adapts. For our body to recover properly from strength exercise, we need sleep, nutrition and time. Good rules of thumb are to get eight hours of sleep a night, ensure you eat enough protein for muscle repair and give muscles around 48 hours to recover before hitting them specifically again.
How is muscular endurance and how is it different to strength training?
Muscular endurance is a type of strength training which specifically improves your ability to produce strength for longer.
For example, building up from 10 push-ups to 15 is an increase in muscular endurance of 50%. Whereas, building up from 50kg bench press to 75kg is a 50% increase in muscular strength.
Why should I train muscular endurance?
Any type of strength training can have a host of health benefits. However, muscular endurance training can be safer, easier to improve on and promotes excellent technique. It's also more applicable to a larger audience – children, retirees and athletes can all safely improve their muscular endurance! That's because it's not about loading the muscles up more, it's about teaching your muscles to go for longer.
Here are some other benefits that muscular endurance can provide:
Better movement – a balanced strength program can help to improve posture, balance, reduce injury risks and keep your joints happy.
Better performance – increasing your muscular endurance allows you to perform at your peak for longer. No more 'second half slump'!
Better mental health – strength training can go a long way to helping with stress, improving our sleep and enhancing our mental clarity. It's also a great mindfulness activity!
Reduced risk of disease – Regular strength training and exercise can aid with the prevention and management of conditions such as diabetes, osteoporosis and cardiovascular disease.
Look better, feel better – tone up those muscles and increase your metabolism. This not only makes you feel great, but you'll see your results in the mirror too.
As you can see, the benefits are amazing, and this type of training is generally modifiable for people of all walks of life. Of course, if this is all brand new to you, we recommend that you see a GP or health professional before getting started on a strength training program.
If you have Extras cover, you may be able to claim benefits for help from a physiotherapist or an exercise physiologist. They can learn about your health and fitness background and provide you with a strength routine that is safe for you to perform. They can also show you the correct form for each exercise.
Further reading
Source
https://www.betterhealth.vic.gov.au/health/healthyliving/resistance-training-health-benefits
All information contained in this article is intended for general information purposes only. The information provided should not be relied upon as medical advice and does not supersede or replace a consultation with a suitably qualified healthcare professional.
Health and wellbeing
programs & support
You Belong to More with CBHS Hospital cover:
Greater choice over your health options including who treats you
Get care at home with Hospital Substitute Treatment program
Free health and wellbeing programs to support your health challenges
Live your healthiest, happiest life with CBHS Extras cover:
Benefits for proactive health checks e.g. bone density tests, eye screenings
Keep up your care with telehealth and digital options
Save on dental and optical with CBHS Choice Network providers