At CBHS we help you manage your health challenges. We believe in offering you the services, support and tools you need to live your best life.
Our Better Living Programs are available to support eligible members towards a healthier lifestyle. Each Better Living Program is subject to its own eligibility criteria.
Contact us for more information and to confirm your eligibility for a program.
Is breastfeeding best? The benefits revealed for you and baby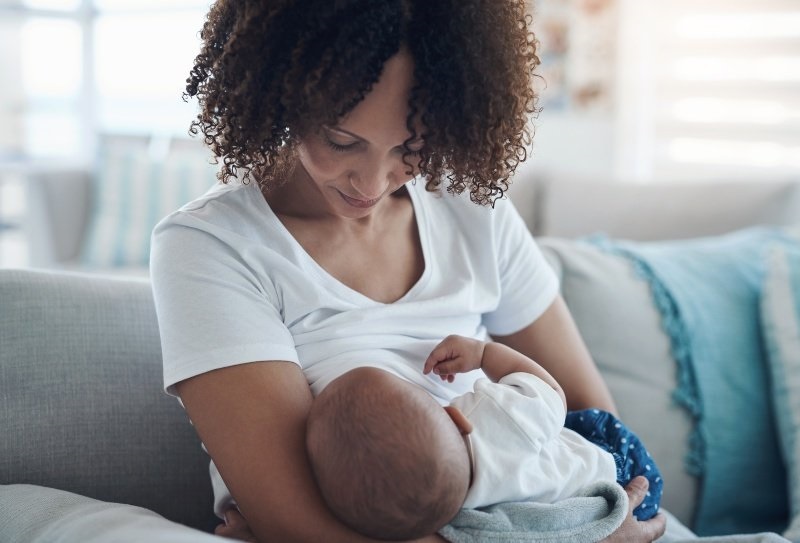 The most natural way to feed your baby, breastfeeding can provide mothers and infants with a variety of health benefits. It's been shown to reduce the rates of many illnesses for babies including respiratory illnesses and even leukaemia.
In Australia, the National Health and Medical Research Council (NHMRC) recommends that newborns are breastfed exclusively for the first six months. The latest Australian findings from 2017-2018 show that 61% of children aged between 4 and 47 months had been breastfed to at least four months.
"Breastfeeding your baby can help reduce your risk of post-partum depression, delay your period and boost childbirth recovery time."
How your baby benefits from breast milk
Easier to digest, breast milk can give your infant a healthier start to life. When you breastfeed your baby, you're helping to provide all the nutrition they'll need during the first six months of life. This means your baby doesn't need any water or foods other than breast milk in these early months.
Breastfeeding your baby can also help them to:
fight off viruses and bacteria
develop their digestive tract.
In fact, evidence shows a lower rate of these illnesses for breastfed babies:
Diarrhoea
Respiratory infection
Middle ear infection
Type 1 diabetes
Childhood leukaemia.
The act of breastfeeding also helps your baby's jaw to develop and increases the feeling of connection and bonding between you and your infant. There's also some evidence that suggests breastfed babies have enhanced cognitive development.
"Did you know? The nutritional profile of breast milk changes over time to meet the needs of your growing baby."
According to the Australian Breastfeeding Association, if a child isn't breastfed, or is only breastfed for a short amount of time, it can also increase the risk of Sudden infant death syndrome (SIDS).
How does breastfeeding benefit you?
Aside from the feelgood factor of being close to your baby and bonding, there are several ways you can benefit from breastfeeding including:
A faster recovery after childbirth
Reduced risk of bleeding after birth
Reduced risk of breast and ovarian cancer
A delay in the arrival of your next period (with full breastfeeding)
Reduced risk of depression
Convenience – no preparing or sterilising bottles and you can do it anywhere.
As well as being a cheaper alternative to buying infant formulas, breastfeeding is also a natural and effective 'soother' for your baby.
"Easier to digest, breastmilk can give your infant a healthier start as it lowers the rate of illnesses like middle ear infections and diarrhoea."

What if breastfeeding doesn't come easily to you?
It's true. Breastfeeding can be a challenge for many women. In fact, some new mothers stop breastfeeding – particularly in the early stages – because they don't believe they have 'enough milk.' But the reality is that mothers can produce enough milk for their newborns.
However, if your breast milk supply is concerning you, rest assured this may just be a temporary situation. The best way forward is to seek help from a health professional like a Maternal and Child Health Nurse or a lactation consultant who will work with you – and your baby – for a healthy outcome that suits both of you.
Reasons for low milk supply can include the following:
Your baby is not attaching well to your breast
Not enough feeds during the day and night
You've introduced formula milk as well as breastfeeding
Recent breast surgery
You're recovering from mastitis.
Other factors that may affect your breast milk supply are smoking and taking medication like cold/flu tablets.
Some mothers experience other problems with breastfeeding including:
the baby refusing to feed
breast infections
blocked milk ducts.
Whatever the reason is, it's important to remember, you're not alone. And try not to be too hard on yourself. Juggling the demands of new motherhood can be a challenging time even if you are breastfeeding regularly and without any issues. The good news is that are many support services available to help you. You can even claim breastfeeding support, like lactation consultant services or classes, with some levels of CBHS Extras or packaged covers. Lactation support falls under the midwifery benefit, and we pay up to 70% of the cost to a maximum of $500.
"Some women stop breastfeeding because of a low milk supply but this is usually temporary and can be improved with the right support."
Support is just a click away
The Raising Children Network has put together a selection of useful online resources to help you start breastfeeding:
You can also find some helpful resources on what to do if you experience one of these situations:
Speak to an expert on the phone
You can also call one of the following services:
And you can reach out to the parent helplines in your state or territory for further support and guidance.
Is it normal to feel grief if you're having difficulty breastfeeding?
Yes, feeling a sense of loss, grief and sadness are all normal responses to dealing with breastfeeding challenges. Not being able to breastfeed your baby or not being able to breastfeed for as long as you would like, can make you feel helpless and inadequate. Once again, you are not alone.
There are support services available such as the Perinatal Anxiety and Depression Australia (PANDA) Helpline and support website. The PANDA Helpline is available Monday to Friday 9am to 7:30pm on 1300 726 306.
You can also get help from a range of health professionals including midwives, child and family health nurses, doctors, and lactation consultants.
"Breastfeeding isn't the only way you can nourish your newborn. You can also choose expressed breast milk and baby formula."

Alternatives to breastfeeding – there's always another way
Babies under 12 months require breastmilk or formula to grow and develop. So, if you have not been able to breastfeed your baby, you can still provide your newborn with the nourishment they need.
You can try using:
Expressed breast milk
Donor milk
A combination of the above.
Using infant formula
Usually made from cow's milk, infant (baby) formula is an option if breastfeeding hasn't worked out for you. There are also other options such as home-made baby formulas but these are not suitable alternatives to breast milk or shop-bought cow's milk-based baby formulas. You can find out more about using infant formula and bottle-feeding at the Raising Children Network.

Patience and love: best for you, best for baby
Caring for a new life – especially if you're a first-time mother – is not always easy. So, if you're experiencing challenges with breastfeeding or other aspects of child rearing, remember to practice self-care and patience with yourself – and your baby!

The way you nourish your newborn – whether it's through breastfeeding, expressed breastmilk or formula – is as individual as your baby. It's always your choice. Just like you can also choose to ask for help and support when you need it. For more helpful articles on healthy living during and beyond pregnancy, check out our Pregnancy and birth section.
All information contained in this article is intended for general information purposes only. The information provided should not be relied upon as medical advice and does not supersede or replace a consultation with a suitably qualified healthcare professional.
Sources:
https://www.who.int/maternal_child_adolescent/topics/child/nutrition/breastfeeding/en/
https://www.breastfeeding.asn.au/bfinfo/health-outcomes-associated-infant-feeding
https://www.healthline.com/nutrition/11-benefits-of-breastfeeding
https://www.health.nsw.gov.au/kidsfamilies/MCFhealth/Publications/breastfeeding-your-baby.pdf
https://www.breastfeeding.asn.au/bfinfo/when-breastfeeding-doesnt-work-out
https://www1.health.gov.au/internet/main/publishing.nsf/Content/health-pubhlth-strateg-brfeed-index.htm
https://www.tresillian.org.au/advice-tips/breastfeeding/
https://www.healthdirect.gov.au/breastfeeding
https://raisingchildren.net.au/grown-ups/services-support/about-services-support/helplines
https://raisingchildren.net.au/newborns/breastfeeding-bottle-feeding
Breastfeeding in public – your legal rights at the Australian Breastfeeding Association
Breastfeeding and childcare at the Australian Breastfeeding Association
Health and wellbeing
programs & support
You Belong to More with CBHS Hospital cover:
Greater choice over your health options including who treats you
Get care at home with Hospital Substitute Treatment program
Free health and wellbeing programs to support your health challenges
Live your healthiest, happiest life with CBHS Extras cover:
Benefits for proactive health checks e.g. bone density tests, eye screenings
Keep up your care with telehealth and digital options
Save on dental and optical with CBHS Choice Network providers