At CBHS we help you manage your health challenges. We believe in offering you the services, support and tools you need to live your best life.
Our Better Living Programs are available to support eligible members towards a healthier lifestyle. Each Better Living Program is subject to its own eligibility criteria.
Contact us for more information and to confirm your eligibility for a program.
Breast pain | The 3 types of breast pain and their causes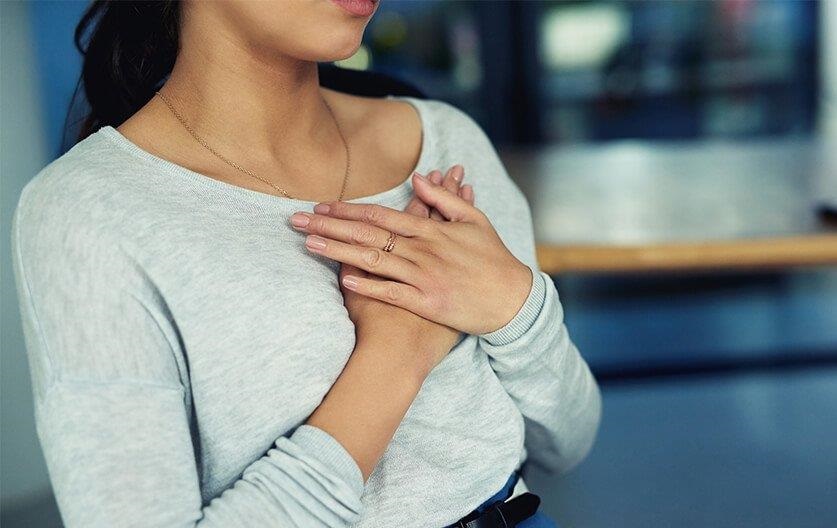 Breast pain (also known as mastalgia) in women is very common, with around 70% of women experiencing breast pain at some time in their lives. Breast pain may feel like twinges in your breast, dull pain, aching, sharp pains, or even like a bruise. Its effects vary, and in some cases, it can make basic functions like getting dressed, walking and simple acts of intimacy very uncomfortable.
The first step in beating or managing breast pain is understanding why you're experiencing it – so let's find out the 'why's, 'how's, and 'what-to-do-about-its' of breast pain.

But just before we do, let's take care of one important fact:
Breast pain and cancer
Breast pain is not generally a symptom of breast cancer.
There are many reasons you might be experiencing breast pain, but breast cancer is not likely to be one of them. More likely signs of breast cancer are:
lumps
changes in the shape or size of the breasts or their skin
crusting, redness or discharge from the nipple
inflammation around the breast, collarbone or armpit.
If you have any concerns, you should always consult a doctor or specialist. Read more about how often you should be checking your breasts and who should be getting regular breast screenings, in our article about breast cancer and breast health.
The three types of breast pain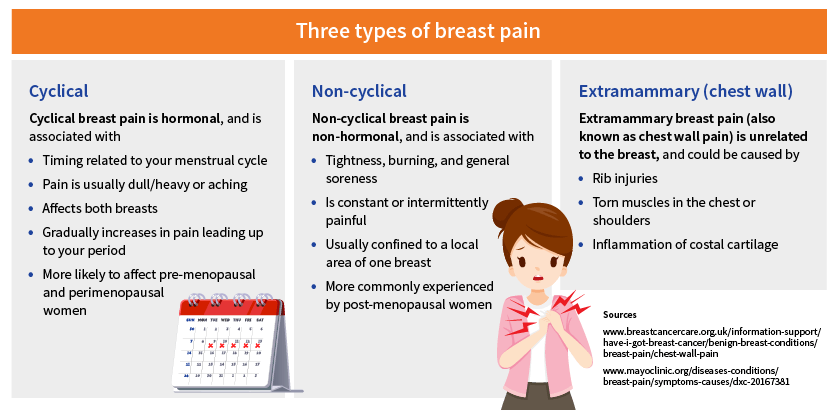 What are some causes of breast pain?
The wrong bra
Women commonly report that bras can be uncomfortable. Especially underwire bras. They can cause bruises under the breasts or chafing at the sides or straps. Generally, this points to the fit being wrong for your body or the bra not being supportive enough. It can be this simple – knowing the ins and outs of finding a bra that works for you can save you a lot of trouble, especially if you require your bra to perform a specific function (help with sport etc). Most underwear-specific clothing stores should have trained staff members that can direct you to the right size and fit for your bust.
Sore breasts before your period
One symptom of premenstrual syndrome is the swelling and tenderness of the breasts. Pain can range in severity, though it's usually on the lower end of the spectrum.
What causes it? During the hormonal changes cause by menstruation, oestrogen activates the breast ducts to enlarge (mid cycle) and progesterone triggers the milk glands to swell (around a week before your period begins). How can you ease breast pain before your period? If you're finding that over-the-counter painkillers aren't working for this cyclical type of breast pain, you should see your GP for more options. Your doctor might recommend diuretics or oral contraceptives to help ease more severe pre-period breast pain.
Sore breasts and menopause
Menopause is another process of hormonal change, and this can cause breast pain in the same way your period does. Some women may find that during peri-menopause that their cyclical breast pain worsens, due to erratic hormone levels. It's also worth mentioning that many women have anxiety about breast pain they might feel after menopause, assuming it is a sign of breast cancer. The good news is that only 2%–7% of women with non-cyclical breast pain in one spot will go on to receive a cancer diagnosis.
Heart disease
Underlying heart disease can cause extra-mammary breast pain.
How does it happen? Heart problems can affect the chest wall, giving the impression that it's the breasts, and not the heart, that's the source of the problem.
What's the treatment for heart-related breast pain? Heart disease is one of the biggest killers in Australia, and is caused by a whole range of issues. However, decreasing your risk of cardiovascular disease is simple – get some exercise, eat more fruit and veg, and consume less alcohol and sugar. Check out our heart health guide to read more about the symptoms of heart conditions and also how to look after your heart.
Fibrocystic breast disease
Fibrocystic is a benign breast disease materialises as painful lumps in the breast, and is not uncommon – in fact, over 50% of women will experience a case in their lifetime. You may notice sore breasts before your period, as well as areas of lumpy or swollen breast tissue.
How does it happen? While the direct cause isn't known, it's believed that it's related to hormone fluctuations during menstruation.
How can I ease breast pain from fibrocystic breast disease? It's best to see your GP, but to start with, they may recommend over-the-counter painkillers or lifestyle changes like wearing a supportive bra or avoiding caffeine.
Stress, anxiety and breast pain
During particularly harsh periods of anxiety, pressure and stress, you can experience breast pain.
What causes it? While the science isn't in on the 'why', once again it seems to come back to hormonal fluctuations. Research has found correlations between the impact of stress and oestrogen levels, meaning that increased stress during a specific time during the menstrual cycle could cause excess discomfort.
What's the treatment for stress-related breast pain? It's easy for us to say 'don't stress so much' but we know that's not as easy to do. Our stress health guide has lots of interesting articles and resources to help you better manage your stress. You'll also find programs and services we can offer if you need more help in getting on top of stress.
Caffeine and breast pain
Your morning brew might be the culprit behind your breast pain, but unfortunately, we're still not sure why.
What do we know so far? In a study on women with pain associated with fibrocystic breast disease, a reduction in the amount of caffeine consumed led to less breast pain.
How can I use this information? Trialling a few less coffees a day or week could yield beneficial results. If the idea of not having coffee is a terrifying prospect, switching to decaf or a strong, black tea could be a satisfactory substitute.
Breast cysts
Cysts are fluid-filled sacs that are normally harmless, and are usually identified as a lump. Sometimes they can cause breast pain, particularly in the days before your period.
What causes it? Hormonal changes due to menstruation are the most common causes of breast cysts. Cysts in general can be caused by blocked ducts, defect cells, popped blood vessels or, in rare cases, parasites.
What's the treatment for breast cysts? First, see your doctor to confirm that the lump is indeed a cyst. Depending on the severity of the cyst, it might be best to simply leave it. If the cyst is causing discomfort or pain, your doctor may be able to drain the cyst using a fine needle, in a generally painless procedure.
Costochondritis
An extra-mammary pain that starts in the ribs and 'spreads' its pain into the breasts.
What is costochondritis? Costochondritis is inflammation of the costal cartilages – the cartilage that connects the ribs to the breastbone.
What causes it? Unfortunately, there's no obvious cause for most cases, but it can be related to chest injuries, excessive or forceful coughing, physical strain, infection or a tumour.
What's the treatment for costochondritis? Rest is the first, best thing to do. Avoiding heavy lifting, applying heat, stretching and taking anti-inflammatories can help easy pain.
It's always best to consult your GP if the pain is giving you cause to worry or is affecting your daily life.
All information contained in this article is intended for general information purposes only. The information provided should not be relied upon as medical advice and does not supersede or replace a consultation with a suitably qualified healthcare professional.
Sources
Healthline: Premenstrual breast tenderness and swelling

Better Health Vic: Cysts, conditions and treatments

National Breast Cancer Org: Breast cysts

Hopkins Medicine Org: Mastalgia
Malherbe K, Khan M, Fatima S., Fibrocystic breast disease

CMPC.org: About breast pain
HealthDirect.gov.au: costochondritis
Mayoclinic.org: Fibrocystic breasts
Harvard Health Publishing: Breast pain: Not just a premenopausal complaint
Health and wellbeing
programs & support
You Belong to More with CBHS Hospital cover:
Greater choice over your health options including who treats you
Get care at home with Hospital Substitute Treatment program
Free health and wellbeing programs to support your health challenges
Live your healthiest, happiest life with CBHS Extras cover:
Benefits for proactive health checks e.g. bone density tests, eye screenings
Keep up your care with telehealth and digital options
Save on dental and optical with CBHS Choice Network providers