At CBHS we help you manage your health challenges. We believe in offering you the services, support and tools you need to live your best life.
Our Better Living Programs are available to support eligible members towards a healthier lifestyle. Each Better Living Program is subject to its own eligibility criteria.
Contact us for more information and to confirm your eligibility for a program.
Dental implants: a guide to what's involved in getting dental implants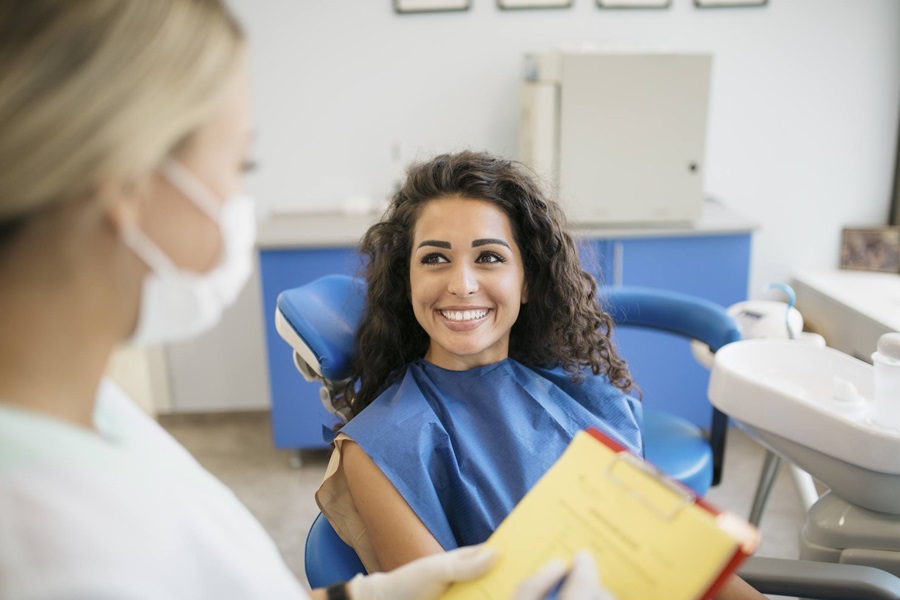 What is a dental implant?
A dental implant is a way of permanently replacing a missing tooth or teeth. The implant is inserted into your jawbone then covered with a dental crown to make it look like a natural tooth that resembles your own teeth.
What are the benefits of dental implants?
Dental implants are permanently fixed in place, just like your own teeth. They're durable and long-lasting, and you don't have to change your diet once the implants are successfully integrated. You can eat any food you would normally.
You care for dental implants in the same way as you care for your own teeth, with regular brushing, flossing, regular dental check-ups, and a healthy diet.
With dental implants, there's no need to alter nearby teeth (such as when fitting a bridge, for example) and dental implants have a longer life than bridges or dentures. With good dental hygiene, you can expect dental implants to last 20 years or more.
Dental implants are virtually indistinguishable from your own teeth.
What's involved in a dental implant procedure?
Dental implants are like small screws, made of extremely hard-wearing material such as titanium, which are surgically inserted into your jawbone. The dentist then fits a dental crown on top of the implant to replace the missing tooth.
The procedure to fit a dental implant is usually done in stages. It involves several visits to the dentist and can take several months to complete. The procedure involves:
taking scans and/or x-rays to check that your jawbone has no underlying disease or decay and is suitable for implants
administering anaesthetic before surgically inserting the implant into your jawbone
fitting a temporary crown while bone grows around the implant (this can take several months)
once the implant is stable, taking a mould of your mouth to create a permanent dental crown
removing the temporary crown then cementing or screwing the permanent crown onto the implant.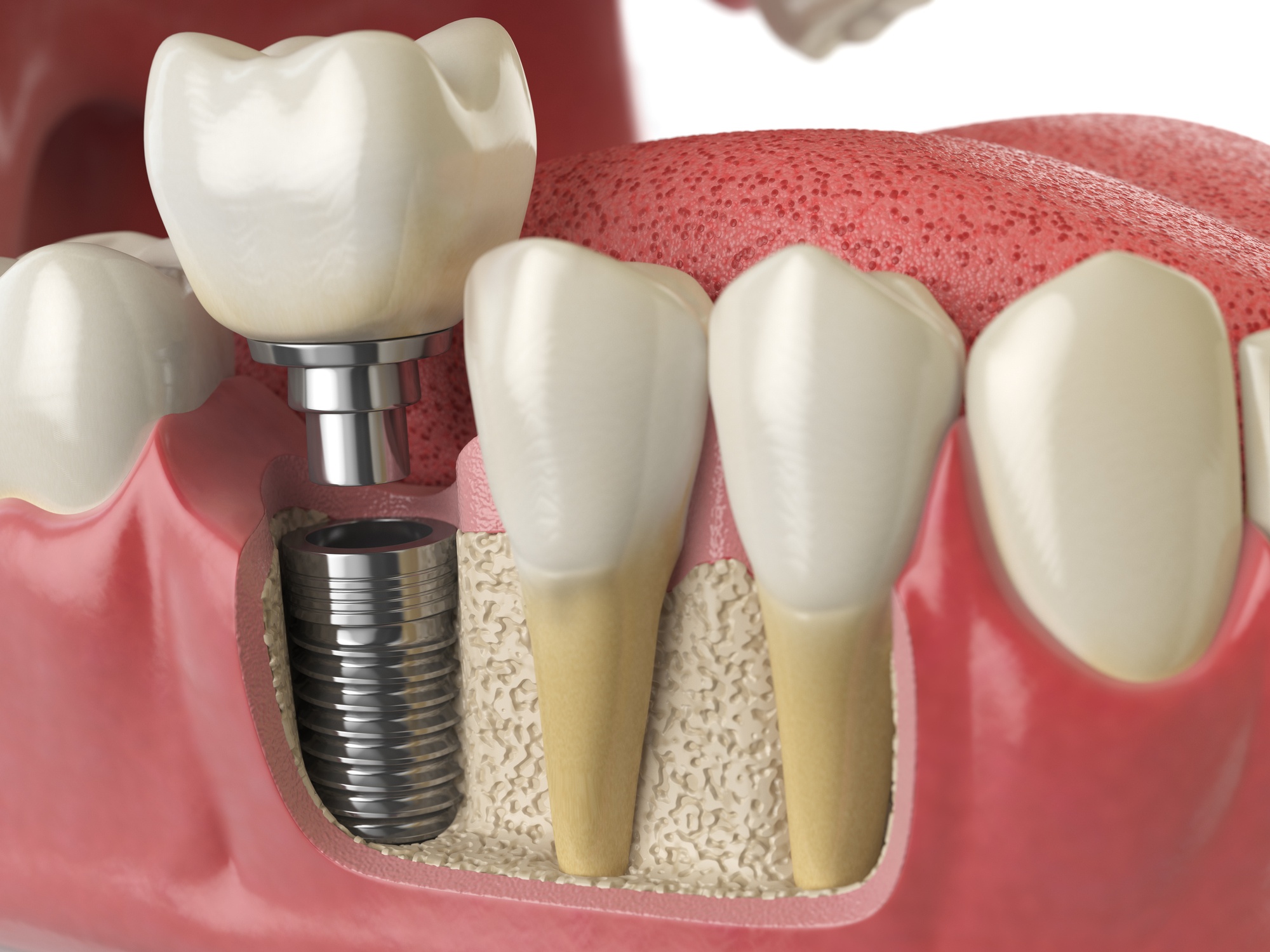 Who can have dental implants?
Ultimately, it's down to your dentist to decide if you are a suitable candidate for dental implants. It will depend on several factors, including your underlying health and the viability of your jawbone.
What are the possible complications?
For people with no underlying health conditions, dental implants have a success rate of around 95%. Problems are rare but they might include:
infection
nerve damage
damage to surrounding teeth or blood vessels
sinus problems
Diabetes, osteoporosis, obesity, and drug use can all hamper bone healing around dental implants. If you smoke, there's a higher risk the implant might fail.
What are some of the alternatives to an implant?
A traditional alternative to an implant would be dentures, also known as false teeth. Dentures can and should be removed at least twice a day for cleaning.
A dental bridge is a more permanent solution to missing teeth. The bridge sits over the gap where a tooth used to be and is held in place by fixing it to healthy teeth on either side of the gap. Bridges are only suitable if you have healthy teeth on either side of the gap left by a missing tooth.
How many teeth can I replace with dental implants?
The procedure to replace a single tooth with an implant can be used multiple times. If the missing teeth are adjacent you can replace several teeth, or a whole row, by creating a bridge between two implants. You can also replace the entire top or bottom set of teeth with what's called an 'all-on-4'. In this procedure, four strategically placed implants are inserted into the upper and/or lower jawbone, to hold a complete set of teeth permanently in place.
How much do dental implants cost?
The costs can vary depending on the complexity and number of implants you're having, where you live and which dentist you use. You may have to pay several thousand dollars for a single implant.
Like doctors, Australian dentists are free to set their own prices for procedures, and prices can vary widely.
Ask for a quote and be prepared to negotiate
It's important to have confidence in your dentist, but don't be afraid to negotiate on price. You could also consider shopping around for such a major procedure, until you find a dentist you trust at a price you can afford.
There may be a CBHS Choice Network dental provider in your area. These are dentists who are committed to providing exceptional service to our members while reducing or removing the gap for preventative dental treatments. Please note, dental implants are not preventative treatments, like all dentists, CBHS Choice Network dentists can choose what fees they charge for major dental work.
Whoever you choose, make sure your dentist gives you a breakdown of the full cost of all stages of the procedure before you agree to have implants. This is known as informed financial consent, and you are legally entitled to have this in writing.
---
Find out more: Is dental health cover worth it?
---
Can I claim on my health insurance for dental implants?
You can claim benefits for dental work under Extras health insurance cover.
Dental insurance categories are split into three:
preventative dental (such as check-ups and cleans)
general dental (common procedures like extractions and fillings)
major dental (for example, root canal treatment, orthodontic realignment, and crowns).
Dental implants fall under the category of 'major dental'.
How much will I get back from my health insurance for dental implants?
How much you might get back will depend on your policy and any available limits.
Ask your dentist to include individual item codes in their detailed breakdown of estimated costs - we'll need to check those to see how much is covered on your policy. Major dental work can involve several item codes with separate limits, such as x-rays, crowns, implants, and implant abutments.
Check the CBHS app (follow the download links if you don't already have it) to see what's covered under your policy, or login to the Member Centre. You can also email us at help@cbhs.com.au and we'll check for you. Our Member Care team is available from 8am to 7pm (AEST) Monday to Friday on 1300 654 123.
All information contained in this article is intended for general information purposes only. The information provided should not be relied upon as medical advice and does not supersede or replace a consultation with a suitably qualified healthcare professional.
Sources:
Dental treatments - NHS (www.nhs.uk)
The Australian Dental Association (ada.org.au)
Member Insider: Is dental health cover worth it? (cbhs.com.au)
How much does the dentist cost? | CHOICE
Health and wellbeing
programs & support
You Belong to More with CBHS Hospital cover:
Greater choice over your health options including who treats you
Get care at home with Hospital Substitute Treatment program
Free health and wellbeing programs to support your health challenges
Live your healthiest, happiest life with CBHS Extras cover:
Benefits for proactive health checks e.g. bone density tests, eye screenings
Keep up your care with telehealth and digital options
Save on dental and optical with CBHS Choice Network providers