At CBHS we help you manage your health challenges. We believe in offering you the services, support and tools you need to live your best life.
Our Better Living Programs are available to support eligible members towards a healthier lifestyle. Each Better Living Program is subject to its own eligibility criteria.
Contact us for more information and to confirm your eligibility for a program.
Food can help optimise your fertility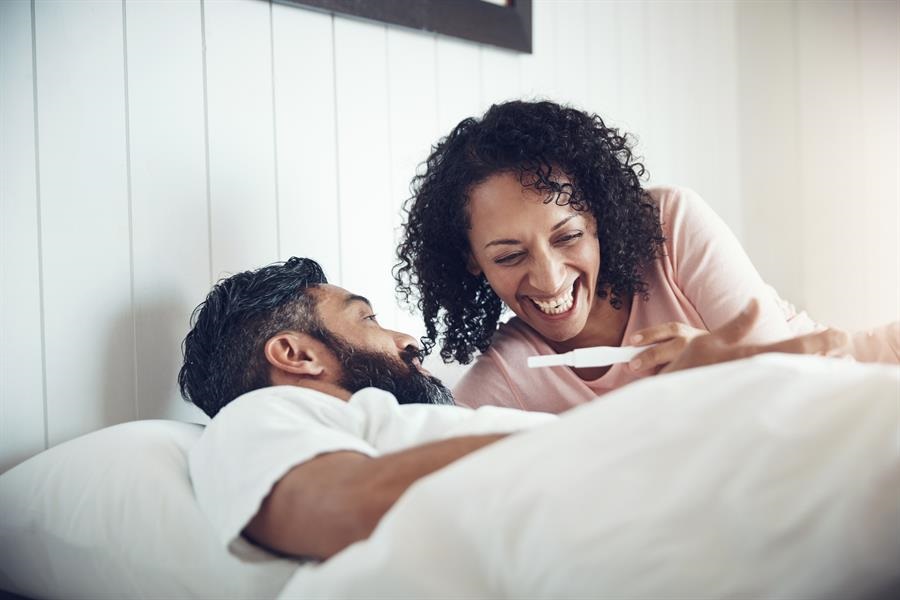 "Women and men can improve the chances of a pregnancy and give their baby the best start in life by having a healthy diet, well before a baby is conceived." Dr Karin Hammarberg, Your Fertility

It's estimated that infertility affects around one in six couples in Australia. The term usually refers to a couple who have been trying unsuccessfully to conceive for at least 12 months.
The scales are evenly balanced when it comes to identifying the source of the issue. In two out of five couples, the problem will be attributed to sperm, another two out of five will involve the female reproductive system and remainder are either unknown or a combination of factors.
So, if you're looking to start a family, it makes sense for both of you to do what you can to boost your chances of conceiving. Good nutrition is one factor that can support exactly that!
Fertility tip
Start eating for fertility at least three months before trying to conceive. It takes 90 days for an egg to mature and 64 – 72 days for sperm to mature, so what you eat now can influence the health of the sperm and egg three months later.
How do food choices affect fertility?
Specific nutrients like folic acid, Vitamin B12 and omega-3 fatty acids, along with an overall healthy diet have all been shown to have more positive effects on fertility in women. Diet and lifestyle can also affect sperm quality, concentration and motility (in other words, how effectively your sperm can swim).
On the other hand, diets high in saturated fats, processed meat, refined carbs, white bread and sugary drinks were found to have a more negative impact on fertility.
The role of diet in fertility
There are plenty of studies that show clear patterns in the relationship between nutrition and fertility.
The classic Mediterranean diet, with generous amounts of extra virgin olive oil, fresh fruit, vegetables, whole grains, nuts, legumes and fish – and limited amounts of red or processed meat – is linked to a more positive effect on fertility.
In one study in Greek men, the Mediterranean diet was associated with better measures of semen quality, including higher sperm count, concentration and motility. However, consistent with other studies, improved fertility is still uncertain. Another study suggested women could lower their risk of developing gestational hypertension and pre-eclampsia by following a Mediterranean diet years before they get pregnant. And a third study found that following a Mediterranean diet in the six months before undergoing IVF treatment might help women achieve successful pregnancies.
Consumption of sugary drinks has been linked to lower fertility rates in men and women.
Women who eat more fast food and less fresh fruit have been found to take longer to fall pregnant.
Couples who eat more seafood have been found to fall pregnant sooner than couples who eat less seafood.
Diets high in whole grains, vegetables, fish and unsaturated fats are associated with improved fertility in both men and women.
Nutritional tips for men
The genes you pass on to your baby through your sperm will affect your baby's health at birth and throughout the rest of their life. Here's how diet can improve the quality of your sperm and long-term health of your children.
Heavy drinking can lower your sperm quality, so drink less alcohol while you're trying for a baby. You might want to consider supporting your partner by giving it up altogether.


Researchers in Spain found that men who ate more fresh fruit and vegetables, and less processed meat, salt and sugary foods, had a 65% higher sperm count than men who followed an unhealthy diet.


Being overweight will lower your sperm count and make it harder for your sperm to swim, so they're less likely to reach their destination. Being overweight also means that you produce greater numbers of abnormally shaped sperm. Get help to lose weight.
Nutritional tips for women
Eating well before you conceive will help to stock up stores of vital nutrients that can give your baby the best start in life. Women who follow a healthy diet before they fall pregnant are less likely to get gestational diabetes, high blood pressure and pre-eclampsia. They can also lower the risk of birth defects such as cleft palate and spina bifida.


Being overweight or underweight can alter hormone levels and interrupt normal ovulation cycles, making it more difficult to conceive. Achieve a healthy weight before you start trying to get pregnant, because dieting during pregnancy isn't recommended. Avoid quick fix solutions and follow healthy eating guidelines.


Heavy drinking can increase the time it takes to get pregnant. Not drinking alcohol is the safest option when you're trying for a baby. The latest guidelines on alcohol from Australia's NHMRC (National Health and Medical Research Council) suggest there's no safe level of alcohol for pregnant women.


Drink no more than two cups of coffee a day and avoid energy drinks. It may take longer to fall pregnant if you drink high amounts of caffeine, and there may be an increased risk of miscarriage and low birth weight for some people.

Top five foods to boost your fertility:
Oily fish
Two to three times a week enjoy some oily fish such as salmon, trout or sardines. Fish contains zinc, CoQ10 and omega 3s that will both support sperm health as well as increasing the quality of cervical mucus and promoting ovulation. Need some inspiration in the kitchen? Try our Salmon 'n' Spuds recipe.


Green leafy vegetables
Enjoy green leafy vegetables everyday such as broccoli, spinach, cabbage, lettuce and bok choy. Due to their high folate content they will both help with the development of healthy sperm as well as aid in the implantation of the egg and development of a healthy baby, including preventing neural tube defects.


Eggs
Eggs are a fantastic food as they contain zinc to help in the development of healthy sperm and eggs, as well as containing choline to help prevent neural tube defects.


Legumes
Regularly eating legumes such as lentils, chickpeas and kidney beans has been linked to improved fertility in women. Legumes are also a good source of zinc which helps support a healthy sperm concentration and motility, CoQ10 which may increase sperm count and l-carnitine which may improve motility and morphology of sperm. Not sure what to make with legumes? Check out our Mexican in a bowl recipe.


Nuts
Enjoy a small handful of nuts such as brazil nuts, walnuts and almonds each day. For women the omega 3s in nuts can improve egg quality, while the B-vitamins can benefit the cervical fluid which supports fertility. Nuts also contain antioxidants such as selenium and vitamin E which play a role in optimal sperm health.
PCOS
Polycystic ovary syndrome (PCOS) is a disorder that can interfere with ovulation and reduce fertility.
If PCOS is combined with excess weight, a healthy eating plan can help shed kilos, improve insulin sensitivity and help women with PCOS ovulate.
If PCOS isn't combined with extra weight, a healthy diet can still help, because reducing the consumption of processed (refined) carbs and replacing them whole grains can help slow rises in blood sugar levels. This supports lower insulin production, which in some cases may increase the likelihood of spontaneous ovulation.

Should you take supplements?
If you have no nutritional deficiencies, supplements are unlikely to boost your fertility any more than following a well-balanced, healthy diet.
However, these two supplements are important if you're planning to get pregnant.
Folate

Doctors recommend you take a folate supplement before you fall pregnant, as well as for the first three months of pregnancy. This is to help reduce the risk of abnormalities in the development of the brain and spinal cord in unborn babies. Cells that go on to form the brain and spinal cord need extra folate in the very early weeks of pregnancy.

Many breakfast cereals, bread, fruit juices and Vegemite contain added folic acid. Other main food sources include green leafy vegetables, nuts and legumes. However, you're still likely to need more in the early stages of pregnancy.

It's best to check your folate levels with your doctor before you start trying to conceive.

A new study published this year suggests optimum folate levels may also help increase fertility in couples undergoing IVF treatment. Too much or too little led to low pregnancy rates in the study, but optimum levels increased the pregnancy success rate.

Iodine

The National Health and Medical Research Council (NHMRC) recommends that all women who are pregnant, breastfeeding or considering pregnancy, take an iodine supplement of 150 micrograms (µg) each day.

We store iodine in small amounts in our thyroid, excreting any we don't use. The thyroid is very active during pregnancy, using iodine to produce thyroid hormones and ensure normal development of the brain and nervous system in babies both before and after birth. Iodine deficiency during pregnancy can have a negative impact on the nervous system of the unborn baby.

Most foods in Australia contain only small amounts of iodine, so it's hard to get enough through diet alone. However, you should avoid kelp supplement or kelp-based products because they may be contaminated with heavy metals such as mercury.

Find out more
If you'd like to know more about how to boost your fertility before you start trying for a baby, check out Your Fertility, a useful resource funded by the Australian Government Department of Health and the Victorian Government Dept of Health and Human Services.
And our thanks to CBHS dietitian Jasmine Wolfe for her contribution to this article.
Sources:
https://www.yourfertility.org.au/
https://www.yourfertility.org.au/

https://www.ivf.com.au/planning-for-pregnancy/what-is-infertility
https://www.sciencedirect.com/science/article/abs/pii/S1642431X19302025.
https://www.ncbi.nlm.nih.gov/pmc/articles/PMC5826784
https://www.ncbi.nlm.nih.gov/pmc/articles/PMC6079277
All information contained in this article is intended for general information purposes only. The information provided should not be relied upon as medical advice and does not supersede or replace a consultation with a suitably qualified healthcare professional.
Health and wellbeing
programs & support
You Belong to More with CBHS Hospital cover:
Greater choice over your health options including who treats you
Get care at home with Hospital Substitute Treatment program
Free health and wellbeing programs to support your health challenges
Live your healthiest, happiest life with CBHS Extras cover:
Benefits for proactive health checks e.g. bone density tests, eye screenings
Keep up your care with telehealth and digital options
Save on dental and optical with CBHS Choice Network providers