At CBHS we help you manage your health challenges. We believe in offering you the services, support and tools you need to live your best life.
Our Better Living Programs are available to support eligible members towards a healthier lifestyle. Each Better Living Program is subject to its own eligibility criteria.
Contact us for more information and to confirm your eligibility for a program.
Getting glasses for the first time?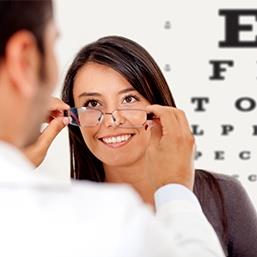 If your optometrist has told you that you need to get glasses or contact lenses for the first time, you're not alone. According to the Australian Bureau of Statistics 2017-2018 National Health Survey, 13 million Australians or 55% of the total population have one or more long-term eye conditions. The most common of these conditions include long-sightedness, short-sightedness, blurred vision and farsightedness.
What to consider when buying prescription glasses
Your lens prescription will vary depending on your vision needs, lifestyle and eye health. It's best to get your glasses from an optometrist as they can make sure they're correctly fitted and provide the optimal vision and comfort. Your optometrist will talk to you about the distance or reading area that you need.
Choosing frames to suit your face
Your frames should complement the shape of your face. Below is a guide to choosing the best glasses to suit your face shape:
Heart-shaped face – choose fine and medium frames that help to balance your features
Round – choose frames that lengthen your face and add angles to your curves
Oblong – choose frames that are round and square to shorten the overall appearance of your face
Triangle – choose geometric frames with colour on the top half to balance out your face
Square – add curves with circular frames to help soften prominent cheeks and jawline
Oval – any frame shape can work
The frames of glasses can be made from a range of materials including plastic, metal, stainless steel and titanium. Titanium are usually the most expensive type of frames and are lightweight and durable. If you're after a good quality pair of glasses, it's not necessary to go for designer frames as this doesn't always guarantee they will last.
Types of lenses
There are many different types of lenses available including:
standard optical plastic lenses are the cheapest and made from light-weight plastic. They are good for single-vision low or medium-strength prescriptions.
lenses for the office work well if you spend a lot of time looking at a computer screen -
the design allows for your vision to easily switch between looking at a computer screen
and walking around the office.
aspheric lenses are thinner and flatter and reduce the appearance of "large-eye"
if you're far-sighted or "near-eye" if you're near-sighted
high-index lenses are thinner and lighter and work well for strong prescriptions
multi-focal (progressive) lenses correct both near and long-distance vision
and come in three different price ranges (basic, mid and top range)
It's always a good idea to ask your optometrist for advice and to remember that buying the most expensive glasses doesn't always mean they're going to be the best quality.
Caring for your glasses
Always carry your prescription glasses in a glasses case to protect them from accidental damage. It's also important to not place them lens-down on a surface as this can result in scratched lens. Another tip is to keep an eye on the screws that hold the frame together and if one becomes loose, tighten it before it falls out. You should clean your glasses regularly with a lens cloth and a lens cleaner. It's also important to always handle your glasses gently as it's easy to bend the shape of the frames.
Should you consider contact lenses?
Contact lenses are small pieces of plastic that cover the eye and correct many vision problems. Most people who wear glasses can wear contact lenses. If you're not comfortable wearing glasses, contact lenses might be a good option for you. If you do decide to get contact lenses, it's important to get them from an optometrist as they can make sure you get the correct contact lens prescription.
Looking after your eyes
Whether you choose to wear glasses or contact lenses, there are things you can do to help care for and protect your eyes. These include:
wearing sunglasses to protect your eyes from UV light
avoiding looking directly at the sun
avoiding rubbing or scratching your eyes
eating a healthy diet full of antioxidants
using eye protection if you work in environment where there's a risk of getting something in your eye
avoiding smoking as it's linked to several eye conditions
More information
Sources
https://www.healthdirect.gov.au/blurred-vision
https://www.healthdirect.gov.au/eye-care
https://www.healthdirect.gov.au/eye-tests
https://goodvisionforlife.com.au/better-vision/glasses/
https://goodvisionforlife.com.au/better-vision/contact-lenses/
https://www.abs.gov.au/AUSSTATS/abs@.nsf/allprimarymainfeatures/F6CE5715FE4AC1B1CA257AA30014C725?opendocument
https://www.choice.com.au/health-and-body/optical-and-hearing/optical/buying-guides/prescription-glasses
https://www.aihw.gov.au/reports/eye-health/eye-health/contents/how-common-is-visual-impairment
All information contained in this article is intended for general information purposes only. The information provided should not be relied upon as medical advice and does not supersede or replace a consultation with a suitably qualified healthcare professional.
Health and wellbeing
programs & support
You Belong to More with CBHS Hospital cover:
Greater choice over your health options including who treats you
Get care at home with Hospital Substitute Treatment program
Free health and wellbeing programs to support your health challenges
Live your healthiest, happiest life with CBHS Extras cover:
Benefits for proactive health checks e.g. bone density tests, eye screenings
Keep up your care with telehealth and digital options
Save on dental and optical with CBHS Choice Network providers