At CBHS we help you manage your health challenges. We believe in offering you the services, support and tools you need to live your best life.
Our Better Living Programs are available to support eligible members towards a healthier lifestyle. Each Better Living Program is subject to its own eligibility criteria.
Contact us for more information and to confirm your eligibility for a program.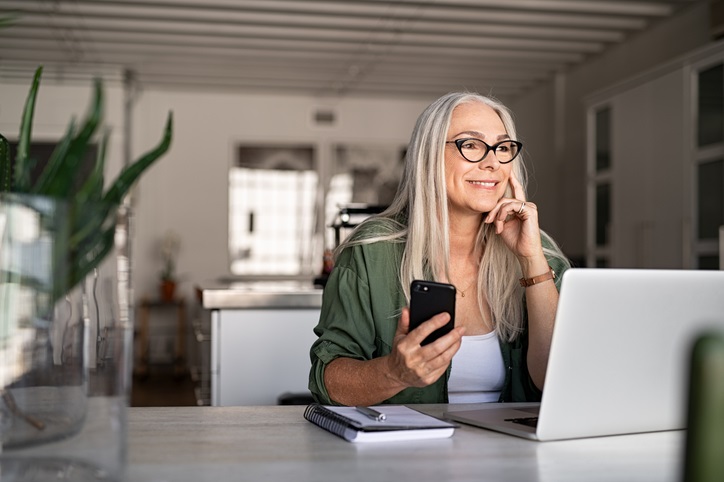 More about mental health
To feel healthy and well we need to look after our physical health and our mental health. Good mental health can help you feel more positive about life. It can also help you make healthier life choices.
Mental health awareness
Good mental health is more than simply the absence of mental health problems. When you're mentally healthy and well, you're more able to:
cope with change and uncertainty
form and maintain relationships
feel, express and manage emotions
learn new things
find meaning in life
have higher self-esteem and self-confidence
feel resilient and optimistic.
Awareness of the importance of good mental health has grown significantly in recent years. There are now many ways to find support and help for someone with mental health issues or get help yourself, as we'll explain later.
Mental health issues are common
If you or someone you know is struggling, you're not alone.
"If my hospital insurance didn't cover psychiatric care, I don't know that I would still be alive."
According to the Australian Institute of Health and Welfare, nearly half (46%) of all Australians aged between 16 and 85 are estimated to have experienced a mental health disorder during their lifetime. Around 1 in 5 (20%) reported a mental health or behavioural condition in one 12-month period, and around 14% of children and young people reported at least one mental health disorder in the last Young Minds Matter survey.
It's important to remember that mental health issues can be treated. The sooner you seek help and support, the better the outcome is likely to be.
Anxiety and depression
The most common mental health issues in Australians are anxiety, depression and substance use disorders.
Other mental health conditions include mood disorders (e.g. bipolar), personality disorders, psychotic disorders (e.g. schizophrenia), eating disorders and trauma-related disorders (e.g. post-traumatic stress disorder or PTSD).
People can suffer from just one, or any combination of these.
"For many people living with depression and anxiety, online interventions can be as effective as face-to-face treatment."
Treatment is not one-size fits all. Your mental health condition may respond differently to different treatment regimes, and it make take time to find what works. What we know for sure is that the earlier you get treatment, the better your prospects for recovery will be. So, please don't wait until you are really ill to begin your treatment journey.
For many people living with depression and anxiety, online interventions can be as effective as face-to-face treatment.
Mental health services
You can access mental health services online, by phone or face to face. Mental Health Australia has a useful guide to some of the many resources, support groups and counselling services you can find in Australia, such as Headspace, which is the national foundation set up to help address mental health issues in young people.
If you're looking for a professional counsellor, this article helps explain the difference between psychiatrists, psychologists, and clinical psychologists.
Mental health care plan
A mental health care plan can help someone going through mental health issues by providing counselling sessions with a mental health expert.
Normally limited to 10 a year, you can access up to 20 sessions a year until 30 June 2022. These sessions are subsidised by Medicare. If the mental health expert bulk bills, you won't have to pay anything. If they don't bulk bill, you'll need to pay any difference between what Medicare covers and the cost of the health professional's bill. Don't be afraid to ask them to bulk bill.
The first step in arranging a mental health care plan is to see your GP. If you're not sure how to broach the subject of mental health, Healthdirect has some useful advice on how to talk to your GP about it. You and your GP can then create a treatment plan to help improve your mental health.
After six sessions you'll go back to your doctor to talk about your progress and decide if it would be helpful to have more sessions.
Natural remedies for anxiety and depression
There are lots of things that people with mild to moderate anxiety or depression can do to help promote positive mental health and self-manage their symptoms. For example, did you know that practising gratitude can make you feel happier and more hopeful? Other activities that can promote better mental health include things like eating healthy meals, establishing a good sleep routine, getting regular exercise and using techniques to reduce stress. Some people can manage their conditions solely through these means, while others might use them in combination with professional treatment.
These tips might help you to improve or look after your mental health:
Talk about your feelings
Keep active
Eat a healthy diet
Drink less alcohol
Stay in touch with friends
Ask for help when you need it
Do something you love
Try mindfulness and meditation.
Mindfulness apps and free meditation apps
Mindfulness and meditation can help to relieve stress and anxiety. They're easy, they don't take much time, you can do them at home and the only equipment you might need is a smartphone or a computer.
There are significant overlaps between the two practices. Broadly speaking, mindfulness concentrates on being present and bringing your awareness fully onto what you're doing. Meditation is an ancient practice more focussed on stilling and settling the mind.
The Australian charity Smiling Mind has an extensive collection of programs that encompass the best of mindfulness and meditation practices. Some are tailored for children or adults, others focus on workplaces, schools, and home-based practice. The programmes are all completely free.
Mindfulness and meditation practices aren't for everyone, but they might be worth trying if you're looking for a first step towards improved mental health.
What are some of the ways in which CBHS can help you or a loved one begin their return to positive mental health?
Supporting your needs at home
Home, surrounded by the people and things you love, is sometimes the best place to be when you're trying to get better. CBHS Better Living programs help you to self-manage your health condition, and they may be helpful for members experiencing mental health issues. Features of the program include:
Home visits from registered mental health nurses
Assessment of your individual needs
Support for medication regimes
Improvement in social situations
Determination and coordination of appropriate care.
Members who took part in a Better Living program for mental health in 2018 showed an increase in knowledge of their condition, medication and treatment options available. They also increased their understanding of the importance of support systems, identifying sensitivities and triggers and healthy routines including diet and exercise. On graduation from the program, members reported improvements in their ability to self-manage their condition.
For more information on the program, please contact our Wellness team on 1300 174 534 or email wellness@cbhs.com.au. You'll need to hold an appropriate level of CBHS Hospital or packaged cover. Call us on 1300 654 123 if you need help to find out if you're eligible.
Going to hospital
It is important to check your cover before you receive mental health treatment in a private hospital. We'll be able to tell you whether your Hospital policy can cover the cost of hospital accommodation and a portion of the medical fees. Some levels of cover restrict or exclude psychiatric services, but in 2018 the Australian Government introduced a once-per-lifetime waiting period waiver if you need to upgrade your cover to access higher inpatient psychiatric care benefits now. You must have held continuous Hospital cover for two months to be eligible for the waiver.
If you're expecting a hospital admission, contact CBHS, your hospital and your doctor to obtain informed financial consent (likely cost of treatment) and to find out how much will be covered, how much you will have to pay, and any other expenses.
Speak to our Member Care team on 1300 654 123 or email help@cbhs.com.au to find out more.
Accessing professionals at home with Mental Health Navigator
Mental Health Navigator, by Best Doctors, offers fast, confidential mental health support from the comfort of your own home.
You'll meet virtually with a mental health nurse who can refer you to a psychiatrist and/or clinical psychologist. They make a detailed assessment via video link then recommend follow-up treatment. The nurse guides you to treatment and supports you for six months.
You're eligible for Best Doctors if you are covered by CBHS Prestige (Gold). Find out more about Best Doctors.
All information contained in this article is intended for general information purposes only. The information provided should not be relied upon as medical advice and does not supersede or replace a consultation with a suitably qualified healthcare professional.
Sources:
https://www.smilingmind.com.au/
Internet-delivered treatment for young adults with anxiety and depression: Evaluation in routine clinical care and comparison with research trial outcomes - ScienceDirect
It's not all in your mind: how meditation affects the brain to help you stress less (theconversation.com)
Effects of mindfulness exercises as stand-alone intervention on symptoms of anxiety and depression: Systematic review and meta-analysis - ScienceDirect
https://www.mentalhealth.org.uk/
https://www.healthdirect.gov.au/good-mental-health
https://www.beyondblue.org.au/
Health and wellbeing
programs & support
You Belong to More with CBHS Hospital cover:
Greater choice over your health options including who treats you
Get care at home with Hospital Substitute Treatment program
Free health and wellbeing programs to support your health challenges
Live your healthiest, happiest life with CBHS Extras cover:
Benefits for proactive health checks e.g. bone density tests, eye screenings
Keep up your care with telehealth and digital options
Save on dental and optical with CBHS Choice Network providers