At CBHS we help you manage your health challenges. We believe in offering you the services, support and tools you need to live your best life.
Our Better Living Programs are available to support eligible members towards a healthier lifestyle. Each Better Living Program is subject to its own eligibility criteria.
Contact us for more information and to confirm your eligibility for a program.
Keep a wellness and gratitude journal for 21 days and you could change your life!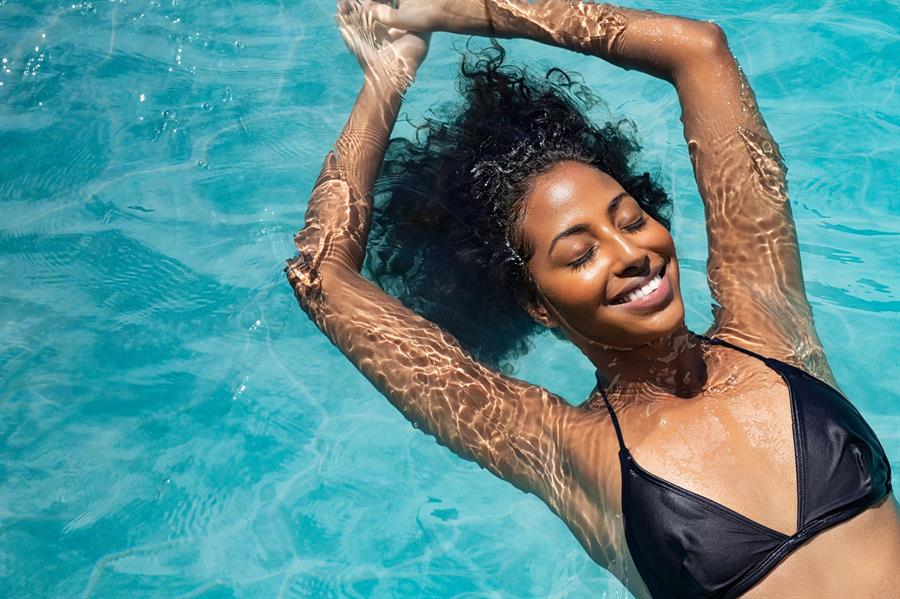 As life gets faster every day, it's becoming more and more apparent that we need to slow down and be more mindful to help improve our health and wellbeing.
By practicing mindfulness, we can become more connected to life.
Do you find yourself caught up in thoughts, forgetting to notice the world around you? You're not alone. A Harvard study found that our minds wander for 47% of the day – that's almost half of our lives! Mindfulness allows us to slow down and tune in to our environment. It can help us notice beautiful events such as flowers blooming in the Spring and generally make us aware of our thoughts and feelings without judgement.
Mindfulness has a range of benefits for both your emotional and physical health such as giving you a more measured response to a given situation. It can also help you be less reactive and more calm.
"By practicing daily gratitude with mindfulness, we can become more connected to life."
In fact, regular practice of mindfulness has the potential to:
Improve mental health; reducing stress and anxiety
Improve attention and concentration
Create positive changes in behaviour
Boost working memory and focus
Boost resilience to negative events
Reduce stress
Lower blood pressure
Improve sleep
Reduce inflammation and chronic pain.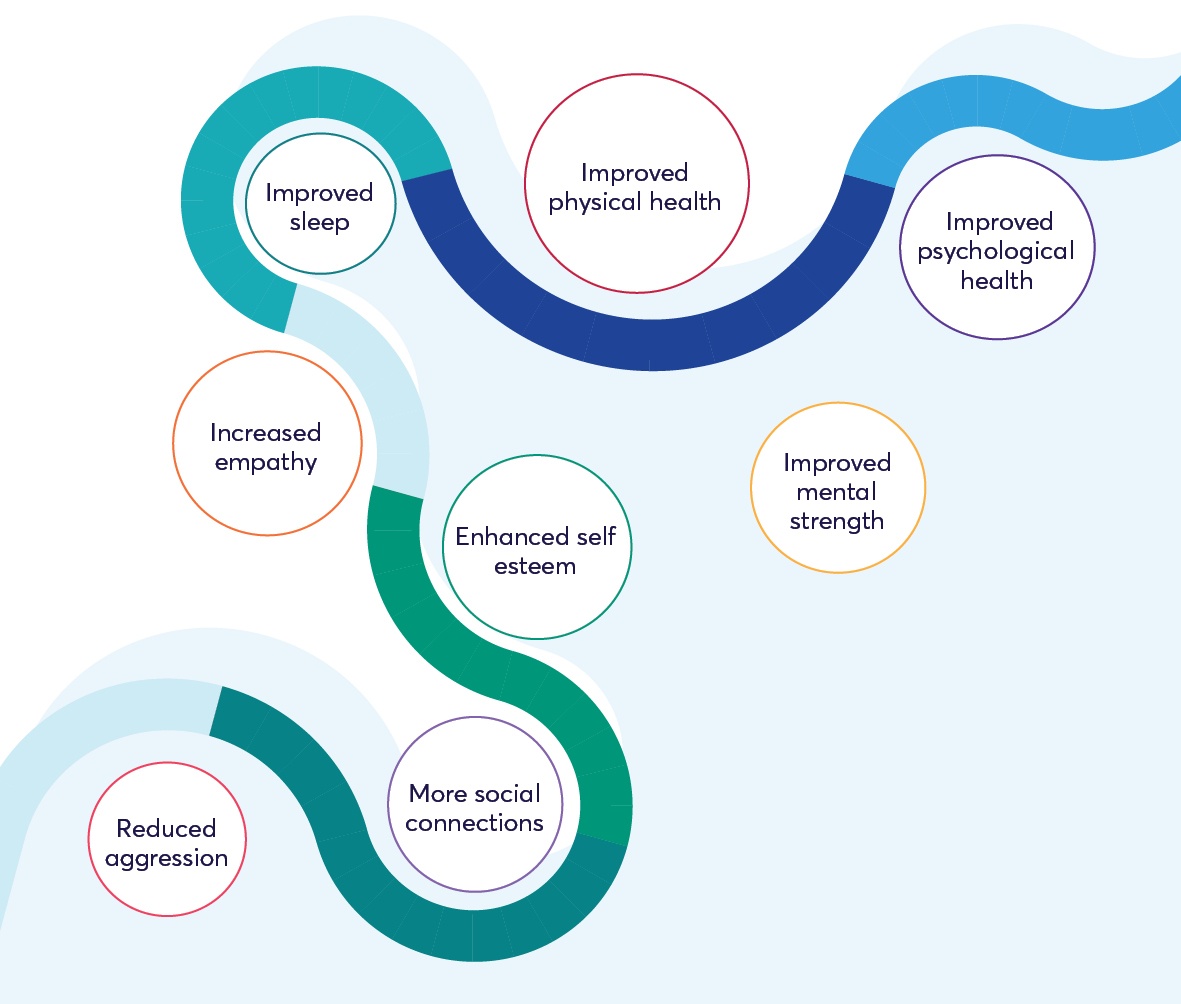 Eight weeks of mindfulness practice can change the shape of your brain as well as encourage it towards more positive feelings and thoughts. Think greater resilience, increased self-awareness, improved empathy, better emotional control, increased generosity and better mood.
According to research from Stanford University's Professor Luskin we have 60,000 thoughts per day. Although we may not have control over the first thought that fires in our mind, we can control how long we dwell on these thoughts, and how we respond to them.
A regular mindfulness practice together with daily gratitude can help create a distance between us and our thoughts. With practice, we can choose if we are going to accept or reject these thoughts and associated emotions as they move across our minds like clouds passing in the sky.
Mindfulness can also be applied to the way you enjoy a meal. It's simply about slowing the pace of everything down so you are completely present in the moment and able to savour every single mouthful.
The science of gratitude
Gratitude is a form of mindfulness that can help us slow down and take a beat to notice all that's good in our lives – even the small things we might usually take for granted. Expressing gratitude can help us cultivate appreciation for our lives and help us see the world with different eyes. This can have a profound difference on our stress levels and general wellbeing.
Over the past 20 years scientists have examined the origins of gratitude from an evolutionary perspective, looking into the potential benefits and positive implications of cultivating a daily gratitude practice.
"Feeling happier, calmer and less stressed are just some of the benefits of writing down what you're grateful for each day."
In one study conducted by psychologists Dr. Emmons from the University of California and Dr. McCullough from the University of Miami, participants were assigned to three groups. Group one wrote a list of daily hassles, such as burning their toast or being stuck in traffic; group two listed what they were grateful for each week such as the smell of their morning coffee or the sunrise over the horizon; and group three recorded neutral life events.
The three groups kept weekly or daily records of their moods, coping and health behaviours, physical symptoms and overall life appraisal. Researchers found that the group with a daily gratitude practice experienced significant psychological, physical and social benefits.
The benefits of keeping a gratitude diary
Taking stock of – and writing down – what you're grateful for every day can help distract you from the things in life which aren't so great. It can help you focus on what you have in your life, instead of focusing on what you don't have, or what you 'think' you need for a happy life.
Instead of always reaching for something new in the pursuit of happiness − whether it be material possessions or something about ourselves − gratitude helps us refocus on what we have, instead of what we lack.
It's time for a challenge. Begin your 21 days of gratitude today!
You don't need anything fancy to take part in this challenge; just a few minutes each day to mindfully focus and reflect on the prompt. If you'd like to, you can jot down your answers in a diary or on a scrap of paper.
Writing down what you are grateful for has extra benefits because you can revisit these positive thoughts and feelings when life feels challenging.

Week One
For the first week you will be offering gratitude to yourself for all the marvellous things that make you who you are. Too often we are our harshest critic, so be kind to yourself and this week put yourself first 😊.
Think how lucky you are to be alive and thriving. You are a unique human being with a unique purpose. Be grateful for all you have accomplished. Be grateful for any mistakes that guided you along to the right path. Be grateful for the people you loved and love. Be grateful for your life.

Week Two
For the second week you'll continue your daily gratitude practice, but you will be practicing gratitude for the people in your life.
To get you started this week, begin to think of all the people in your life who have had a positive impact on you. Your friends, family, mentors, the person who serves you coffee or even your pets. Creatures count! Think about why you are grateful for each person and how they make you feel.
Being kind is a key part of gratitude and you have a kindness task on day two this week. To learn more about the benefits of kindness check out this awesome podcast with Dr. Chatterjee and Dr. David Hamilton who discuss some of the emerging research on how kindness makes you happier, improves your relationships, is good for your heart and supports your immune system!

Week Three
This week is about continuing your personal daily gratitude practice, as well as practicing gratitude for the world around you. In this final week, feel the gratitude growing within you then feel the joy of gratitude expanding outwards from you to your external environment and the world we live in.
The world is filled with beauty and we are blessed to have amenities and services that allow us to engage with our world and enjoy our lives.
Take a moment to stop, look around you, and take it all in. Brother David Steindl-Rast, a Benedictine monk and inspiring speaker suggests happiness stems from gratitude. In a TED Talk he speaks about how we need to slow down and allow gratefulness to change our view of the world – a great reminder for all of us.
Enjoy rediscovering the world around you this week.
"Even waking up to a little morning gratitude… being grateful for a new day can set the tone for positive vibes."
Can't get enough? Add in a weekend mini challenge with gratitude affirmations!
If you've got some downtime on the weekend, why not add in a positive affirmation task? Positive affirmations of gratitude can challenge negative or unhelpful thoughts and remind you just how amazing you are. Sound awkward? Give it a go anyway 😉.
There's a body of research around the neuroscience of positive affirmations and, if done the right way, it can have some great benefits.
How to do gratitude affirmations every day
Stand in front of the mirror and say aloud five good things about yourself that you're grateful for. It could be single words about your attributes such as 'kind', 'loyal', 'loving', 'confident' and 'strong'. Or your gratitude affirmations could be about your talents or past achievements. All you need to do is say the words out loud such as "I am kind, I am strong, I am content," and notice the feelings going on in your body and your mind as you do this. Repeat as often as you wish.
If you don't know where to start check out this article featuring some insight and practical tips on how to incorporate positive affirmations into your life.
Five top tips for starting a gratitude mindset
1. Engage in a positive thought as soon as you wake up in the morning (before you reach for your phone!). This is when your brain is the most receptive and your thoughts are more easily imprinted on the unconscious. Starting the day on a positive note can set you up for the rest of the day with a more optimistic mindset.
2. Practice gratitude just before bed to help increase your serotonin levels and allow you to have a more restful sleep. Whether you go with day, night or both, pick a time when you will have minimal distractions i.e. kids or pets that want your attention!
3. Keep your gratitude journal and pen close to hand, by your bedside table or in the same spot.
4. Don't overthink it! Simply jot down the first thing that comes to mind.
5. Be kind to yourself. If it's not easy right away or you miss a day here and there, that's okay; it takes time to build a habit. Tomorrow is a new day.
How to build and cultivate gratitude today and in the future
If you enjoyed this challenge and you'd like to keep up your gratitude practice here are some ideas on how to keep feeling grateful today and in the future:
Start – and fill up – a gratitude jar
This is a fun way to keep track of all the amazing things in your life you're truly thankful for. You can create a gratitude jar with your household and write down one thing you are grateful for each day. Over time these will mount up and when you need a morale booster take a note out of the jar to remind yourself that there is so much to be grateful for.
Set a gratitude alarm on your smartphone!
Switch your alarm from a shrill, uninspiring sound to a nice message that you can record yourself to make you smile each morning.
Foster a gratitude mindset
On days when things don't quite go to plan, try and think of one good thing that came out of a bad situation.
Make yourself a gratitude stone
Write the word gratitude on a crystal or stone. Place it somewhere you'll see, or feel often like in your pocket, on a shelf in your room or on your desk. Wherever you place it, the stone can serve as a positive reminder to keep your gratitude practice going.
Gratitude at the dinner table
Start practicing gratitude before you eat your meal. Each person in the household names one thing that they were grateful for in the day. It's a good conversation starter and a great way of turning a potentially bad day into a good one, purely by focusing on what went well! Kids love this activity too!
21 days from tomorrow, you could have a new lease of life!
The beginning of a more positive, meaningful life begins with gratitude. And if you start your 21 Days of Gratitude diary today, you're well on your way to feeling more optimistic about the world – and your place in it.
We'll leave you with one last gratitude fact.
Did you know… if you make a habit of writing down three things you are grateful for each day, no matter how small they might be, that's over 1,000 positive hits of happiness in one year! Not only does that sound good, it can feel even better!
Want to know more about gratitude and journalling? Check out the benefits of a gratitude journal and how to keep one and thank you for reading!
All information contained in this article is intended for general information purposes only. The information provided should not be relied upon as medical advice and does not supersede or replace a consultation with a suitably qualified healthcare professional.
Sources:
How can a gratitude journal change your life? (cbhs.com.au)
How to slow down and top up your health and wellbeing (cbhs.com.au)
Food for thought: how to be mindful with every meal you enjoy (cbhs.com.au)
Benefits of mindfulness | healthdirect
Mindfulness and mental health | healthdirect
Got Inner Peace? 5 Ways To Get It NOW (forbes.com)
Health and wellbeing
programs & support
You Belong to More with CBHS Hospital cover:
Greater choice over your health options including who treats you
Get care at home with Hospital Substitute Treatment program
Free health and wellbeing programs to support your health challenges
Live your healthiest, happiest life with CBHS Extras cover:
Benefits for proactive health checks e.g. bone density tests, eye screenings
Keep up your care with telehealth and digital options
Save on dental and optical with CBHS Choice Network providers