At CBHS we help you manage your health challenges. We believe in offering you the services, support and tools you need to live your best life.
Our Better Living Programs are available to support eligible members towards a healthier lifestyle. Each Better Living Program is subject to its own eligibility criteria.
Contact us for more information and to confirm your eligibility for a program.
One simple activity per day for mental health this month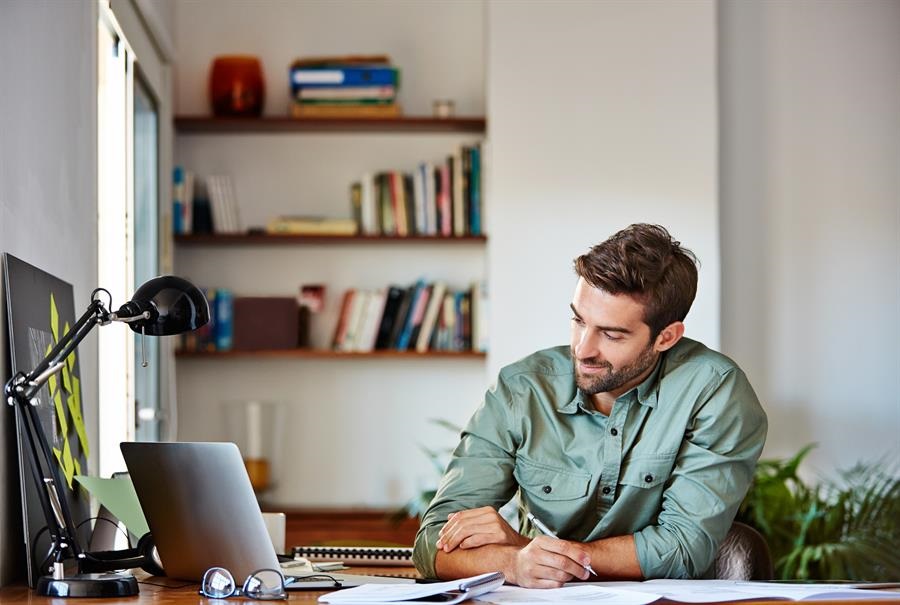 October is Mental Health Month, and this year it feels like mental health matters more than ever. We've had to cope with unprecedented levels of uncertainty. We've faced lockdowns and job losses, travel restrictions and separation from loved ones, and social distancing has made it harder to stay connected with family and friends.
It's not surprising that many of us have struggled to cope.
Almost half of us will experience mental illness at some point in our lives, and people of all ages and backgrounds can be affected. Mental illness doesn't discriminate, and neither should we. If you or someone you love needs help, reach out. Most mental illnesses can be managed or treated and help is available.
We can't hope for a vaccine to protect our mental health, but we can take simple steps to improve it.

Mindfulness for mental health
Dwelling on the past or worrying about the future doesn't help our mental wellbeing. Mindfulness is an antidote to that, helping to anchor our minds in the here and now.
Mindfulness is a simple technique that's easy and quick to do, helping to focus our awareness on the present moment. The practice encourages kindness, curiosity and compassion, towards yourself and others.
The practice of mindfulness has shown a positive impact on:
Happiness and compassion
Attention, concentration and memory
Innovation and creativity
Blood pressure and heart rate
Sleep
Chronic pain management
There's nothing cultish or religious about mindfulness, it's a simple yet powerful technique that anyone can use, in just a few minutes a day, to improve mental wellbeing.
You can access short guided mindfulness sessions via smartphone apps, and you don't have to be an expert in the practice to start seeing the benefits straight away.
Just ten minutes a day can show benefits, and this Smiling Mind app is a good place to start.
Here are some other ways you could practice mindfulness at home and involve your housemates or your whole family.

Mindful eating
If you're not ready to sit in silence or listen to a mindfulness app, you could try mindful eating. To do this, remove all distractions, focus your attention on the food in front of you and engage all of your senses, so you fully savour the flavour, smell and texture of the food you are slowly, mindfully eating.
This seven-day mindful eating plan can help get you started.

Gratitude therapy
Research has shown that there is an association between expressing gratitude and an individual's wellbeing through positive effects on::
Happiness
Depression
Physical health
Sleep and
Relationships
The science behind gratitude therapy is straightforward. When you express or receive gratitude, your brain releases dopamine and serotonin, the neurotransmitters connected with mood that make us feel good. The more often you practice or receive gratitude, the more you release these neurotransmitters and strengthen the neural pathways. If practiced often enough, this can ultimately create a permanent state of gratitude and positivity.
One of the most effective ways of expressing gratitude, or being thankful, is to keep what's called a 'gratitude journal'.
Your journal could be a physical notebook (there are plenty of beautiful options for those) or you can download an app to use on your phone.
Don't think you have to emulate Shakespeare or start writing long-winded stories, keeping a gratitude journal can be as simple as jotting down a sentence or two about something you're thankful for. If words aren't your thing, you could draw pictures or sketches.
If you find it difficult to start, pick one small thing each day. It might be the coffee you enjoyed, the glass of cold water that quenched your thirst, the bird you heard calling in the trees, the favourite t-shirt you're wearing, the friend you spoke to or the comfortable bed you get to sleep in at night.
Decide when you'll write in your journal - making a set time will help you stick to it and journaling can then become a habit. Be as specific as you can about why you're grateful, so you get the most out of the exercise.
Try it for a week and see how you feel. If you enjoy it, why not keep it up for Mental Health Month in October?

Meditation
Like mindfulness, meditation is a practice that can help you feel calmer and more focused. Meditation can help you manage many common symptoms of ill health, including:
Anxiety
Stress
Depression
Heart disease
High blood pressure
Pain
Sleep disorders
Meditation involves sitting in a relaxed position, in a quiet spot, and focusing on a single thing, such as your breathing, or a repeated phrase (or mantra). Close your eyes and gently let go of distracting thoughts as they arise, allowing them to pass in and out of your mind without judgement. Being kind to yourself, and taking a gentle approach to the practice, can help you successfully meditate.
Start in a small way, practicing quietly for a few minutes a day, and don't feel discouraged if thoughts keep coming into your mind. Allow them to pass through and let them go.
Headspace has this useful article on meditation, with tips on how to start and apps you can download for free.

Connect with the natural environment
Spending time connecting with nature can enhance your mood, reduce stress and promote wellbeing. Regular access to green environments can help to improve mental health and offer a buffer against mental distress. Put simply, connecting with nature can help you feel good.
It could be as simple as walking through your local park; sitting under the shade of a tree to watch leaves shift in the breeze; stopping to smell every flower you pass on a walk or planting herbs on a sunny windowsill.
If you find a quiet spot in nature where you can sit undisturbed you could also take a moment to practice mindfulness.

Keep up your exercise
Physical exercise can help your mental health. Research has shown that exercise can protect against depression, even if it's only walking for an hour a day, or running for 15 minutes.
If you're new to exercise, or if you have any underlying health conditions, be sure to see your doctor before you start any new routine.
Regular exercise can benefit your mental health in the following ways:
Promoting the release of feel-good hormones like serotonin and dopamine
Distracting you from worries and overthinking
Providing social support and reducing loneliness
Increasing a sense of self-esteem and control
Improving quality of sleep and energy levels
Exercise can also help you think more clearly as it pumps extra blood to your brain.
Find out more about how exercise can affect your mood.
Look after yourself
When we're struggling, we often neglect our own wellbeing. You can find practical guides to self-care on the SANE website, from accessing housing support and tips on healthy eating to advice on personal health and financial wellbeing.
These tips from Way Ahead, the NSW Mental Health Association, might help you stress less:
Do one thing at a time
Be active every day, in as many ways as you can
Eat healthy meals
Do more of what's important to you
Go out of your way to make someone's day
Celebrate when things go well
Take regular breaks
Focus on the present
Offer and accept help
Get involved in a cause you believe in

Make time for mental health this month
Staying mentally healthy and well is as important as staying physically healthy. And it doesn't have to feel like a burden or a chore.
If there hasn't been much joy in your life recently, or for anyone who'd like to improve their mental wellbeing, try the suggested activities on this calendar. Each day offers a simple way to connect with others and have some fun, while maintaining physical distancing for those who need to.
Many of the activities in the calendar are based in the practices in this article.
They might just bring a bit more happiness into your day.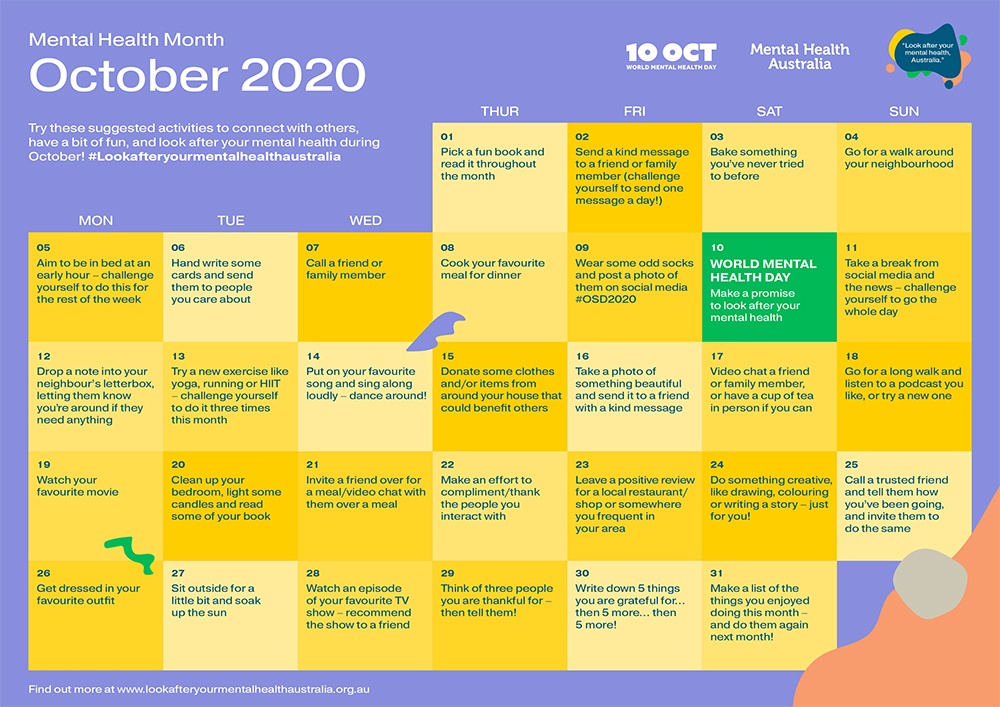 Sources:
https://www.smilingmind.com.au
https://positivepsychology.com/benefits-of-gratitude
https://www.healthdirect.gov.au
All information contained in this article is intended for general information purposes only. The information provided should not be relied upon as medical advice and does not supersede or replace a consultation with a suitably qualified healthcare professional.
Health and wellbeing
programs & support
You Belong to More with CBHS Hospital cover:
Greater choice over your health options including who treats you
Get care at home with Hospital Substitute Treatment program
Free health and wellbeing programs to support your health challenges
Live your healthiest, happiest life with CBHS Extras cover:
Benefits for proactive health checks e.g. bone density tests, eye screenings
Keep up your care with telehealth and digital options
Save on dental and optical with CBHS Choice Network providers