At CBHS we help you manage your health challenges. We believe in offering you the services, support and tools you need to live your best life.
Our Better Living Programs are available to support eligible members towards a healthier lifestyle. Each Better Living Program is subject to its own eligibility criteria.
Contact us for more information and to confirm your eligibility for a program.
Protein-rich recipes for vegetarians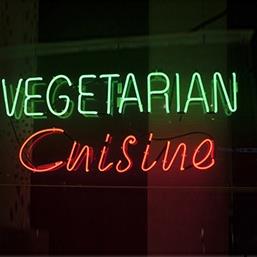 There are many reasons why people choose to become vegetarian, including overall health, environmental concerns, ethical issues, and accessibility. Whatever the reasons, there is a nutritional trade off.
Throughout evolution, humans have been eating meat, and it has long been thought that we function better when eating both animals and plants. When you eat meat, your body receives high amounts of protein, iron, calcium, zinc, vitamin B12 and vitamin D, nutrients needed for optimal function of the body.
While it is possible to gain these same nutrients from other sources, you do have to be a bit more selective in what you eat. Vitamin B12 in particular can be very difficult to source outside of meat.
Look hard enough though and there's no reason why you can't find what you're looking for.
Tofu
Tofu can be used as a substitute in almost any recipe where you will find meat. It holds its shape well when cooked, and is a terrific source of protein, zinc, iron and omega-3 fatty acids. Plain tofu offers an average of 100mg of calcium per cup, but if you require more calcium, calcium-enriched or enriched soy milk tofu gives up to 350mg (about one-third of your recommended daily intake). It also offers vitamin D, which helps to lock in the calcium, building extra bone strength.
Nuts
Nuts make a great snack and can be used to add texture to all sorts of meals. High in protein, vitamin E and omega-3 fatty acids, nuts are also thought to have weight-reducing qualities. Almonds are very high in calcium, and cashews are rich in both iron and zinc.
For great tofu and nut recipes, try: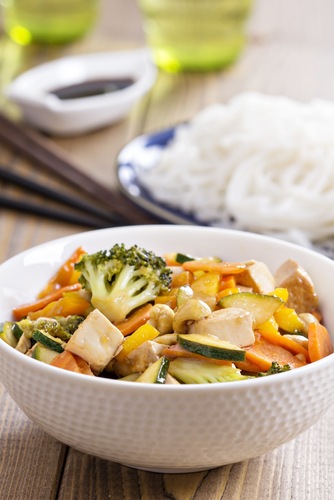 Cashew noodles with broccoli and tofu
Ingredients
300g broccoli (one large head)

½ cup carrot (cut up)

½ cup zucchini (cut up)

400g enriched egg noodles

3 tbsp. prepared ginger soy vinaigrette

¼ cup roasted, unsalted cashews

1 packet of Thai or Teriyaki tofu (pre-baked or baked yourself)
Method:
Boil broccoli, carrot and zucchini for 3-4 minutes in salted water.
Remove vegetables, and add noodles for approximately 7 minutes (or until al dente). Drain well.
In a blender, add vinaigrette, cashews and ½ cup water. Blend until smooth.
Bring all ingredients together in a saucepan, and toss until heated through.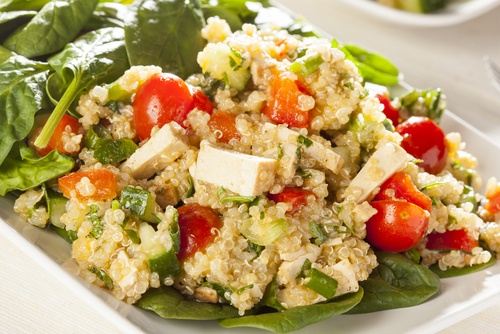 Peanut Quinoa & Tofu (great for a lunchtime snack)
Ingredients
½ cup quinoa

1 tsp olive oil

1 small red capsicum, seeded and diced

½ cup cherry tomatoes, halved

2 tbsp. peanut butter

Juice of half a lime

1 tsp tamari

½ tsp brown sugar

1 knob grated ginger

4 slices baked tofu, chopped into 2cm squares

chopped roasted peanuts to serve
Method
Cook quinoa according to packet instructions.
In a pre-heated skillet, add capsicum for 3 minutes. Transfer to a large bowl, along with the tofu.
Add broccoli and 2 tablespoons of water. Cover and steam for 2 minutes.
In a small bowl, whisk peanut butter, lime, water, tamari, sugar and ginger.
Once quinoa and broccoli has finished cooking, add them to the capsicum and tofu. Pour over sauce and toss.
Season with salt and pepper.
Divide into 4 cups and sprinkle with peanuts.

Lentils
Lentils are perfect for adding to curries, soups, stews, and casseroles. They are a brilliant source of protein, iron and soluble fibre, and are high in both folate and most B vitamins, which are needed in particular for pregnancy health.
For a great lentil recipe try: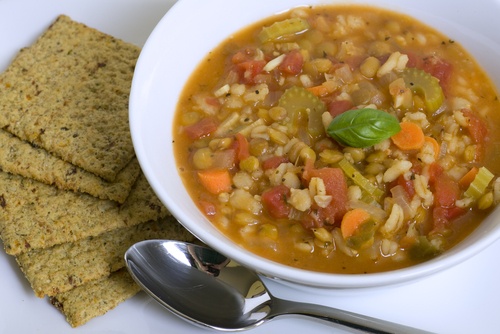 Slow-cooked lentil, barley & vegetable soup
Ingredients
½ brown onion

1 capsicum

2 zucchini

2 large carrots

½ cup red lentils

½ cup yellow split peas

½ cup barley

1 can diced tomatoes

3 cups vegetable stock

Basil to serve
Method
Dice all the vegetables and add to the bowl of your slow cooker.
Top with grains, liquids and sprinkle with a little sugar and season with salt and pepper.
Set the slow cooker on low for 8 hours or high for four.
Sprinkle with chopped basil just before serving.
(Note: If soup is too thick, add a touch of water)

Leafy greens
Dark leafy greens can be used in salads, sautéed, steamed, or even used in smoothies. These tend to contain large amounts of iron, especially spinach. Leafy greens are packed full of antioxidants, and are high in folic acid and vitamin A. They also offer some calcium, although absorption is not at its highest without cooking it with lemons, or sprinkling with some lemon juice.
Beans
Beans can be used in pastas, soups, chilli and salad, and contain about one-third of your daily iron and half your fibre needs in one cup. Beans also contain good levels of potassium, zinc and many B vitamins.
For a great leafy green and bean recipe try:
Parmesan broth with kale and white beans
Ingredients
Broth:

200g parmesan cheese rinds (available from specialty stores)

6 cups water

1 large onion, peeled and quartered

3 cloves garlic, peeled and smashed

flat-leaf parsley
To serve:

85g kale

1¼ cups cooked white beans

baguette
Method
Make the broth by bringing all ingredients together to boil in a large pot. Reduce to a simmer for one hour, then strain.
Remove tough stems from kale and cut the leaves into ribbons. Add to the broth, along with the beans. (Note: if you still have the bean cooking liquid, add this too for extra depth.)
Simmer for ten minutes, and serve with a slice of toasted baguette on top.
Sprinkle with Parmesan to finish.
Health and wellbeing
programs & support
You Belong to More with CBHS Hospital cover:
Greater choice over your health options including who treats you
Get care at home with Hospital Substitute Treatment program
Free health and wellbeing programs to support your health challenges
Live your healthiest, happiest life with CBHS Extras cover:
Benefits for proactive health checks e.g. bone density tests, eye screenings
Keep up your care with telehealth and digital options
Save on dental and optical with CBHS Choice Network providers