At CBHS we help you manage your health challenges. We believe in offering you the services, support and tools you need to live your best life.
Our Better Living Programs are available to support eligible members towards a healthier lifestyle. Each Better Living Program is subject to its own eligibility criteria.
Contact us for more information and to confirm your eligibility for a program.
Veganism. Not as nutty as you might think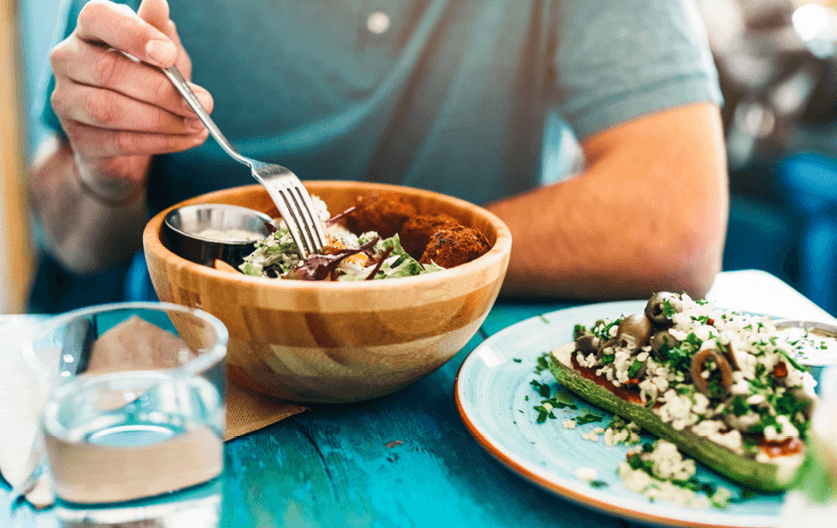 People who follow a vegan diet don't consume any animal products, including meat, dairy and eggs. They generally follow this lifestyle because of ethical, health or environmental concerns. Or even a combination of all three.
Once considered an extreme choice for a tiny minority, the popularity of veganism is growing. Vegan food launches in Australia soared by 92% between 2014 and 2016. Almost 2.5 million Australians now eat little or no meat.
The Vegan Society estimates there are around 500,000 vegans in Australia.
Meat's on the nose
We eat way too much meat in Australia − three times as much as the world average. The Heart Foundation reports that the average red meat intake in Australia is 560g a week. According to National Dietary guidelines we should limit our intake to 455g a week. The Heart Foundation recommends a maximum of 350g a week.
A classic 'Western' diet, with a high proportion of meat and processed food, is more likely to lead to heart disease, diabetes, high blood pressure, cancer, obesity and even dementia. Red meat, in particular processed red meat, is also associated with an increased risk of premature death.
Meanwhile, only 5% of Australian adults eat the daily recommended amount of fruit and veg.
Is a vegan diet healthier?
Evidence suggests a whole food vegan diet, made up of grains, fruits, vegetables, beans, peas, nuts and seeds can help you lose weight, increase your intake of fibre and certain key nutrients, reduce blood sugar levels, protect against certain cancers, lower your risk of heart disease and reduce the pain of arthritis.
Recent research has even suggested a vegan diet could help lower the inflammation that can damage your heart.
Is it better for the environment?
Most of the world's farmland is dedicated to rearing animals, so if we all converted to a vegan diet, more people could be fed using less land. The argument is, why grow soybeans to feed a cow, when you could just eat the soybeans? One expert estimates a global change of diet could reduce the amount of farmland we need by around 3.1 billion hectares. That's more than the entire African continent.
Another study found meat eaters are responsible for twice as many greenhouse gas emissions as vegans.
Yes, but isn't it all a bit…well, nutty?
Not anymore. You can't get much more mainstream than The Economist magazine, and they reckon 2019 was the Year of the Vegan. When McDonalds launches vegan nuggets you know the tide has turned. Expect to see more of those 'not prawns' and 'not bacon' in a supermarket aisle near you.
What's the downside?
Vegans must eat smarter to get a balanced diet. Here are four common deficiencies:
Vitamin B12. It's hard to get enough B12 from any source except meat. Without it you could experience heart palpitations and feel weak and tired. Vegans take B12 supplements or eat fortified products. It's added to some non-dairy milk but not all, so check the label.
Calcium. If you don't get enough calcium, your body will take it from your bones, which can lead to problems like osteoporosis. Almonds, tofu and leafy green veg all contain calcium but oxalates in some plant foods (like spinach) inhibit absorption. Look for calcium-fortified plant milks or breakfast cereals.
Protein. Skimp on protein and it can lead to slower metabolism, less muscle mass and less energy. Plant foods can be a rich source, especially lentils, nuts, beans, soy products and grains like quinoa. Ground wattle seed is a powerhouse of calcium, protein and iron, so sprinkle this Australian native on your food.
Iron. Iron deficiency can lead to weakness, tiredness and a lowered immunity. You can get iron from plant sources like red kidney beans, raw cashew nuts, lentils, wheatgerm and spinach. Your body absorbs iron better if eaten with vitamin C, so add fruit to fortified breakfast cereal, combine red capsicum with broccoli or mix sweet potato with lentils.
Tannins and caffeine can reduce absorption of iron and calcium, so avoid drinking tea or coffee one hour before or after food.
Six tips for would-be vegans
Swap smart
Don't just eliminate meat and dairy, substitute them instead. The Easy Diet Diary app can help you track different food groups and calculate your intakes of calcium and protein.
Make it easy
Plan your meals ahead and consider signing up for a regular veggie box delivery. You can often find special introductory offers. If fresh veggies are there, you're more likely to eat them.
Wok it in
Stir fries are super easy. Throw in tofu, add whatever chopped veg you've got to hand, toss in seeds, herbs and ginger, a squeeze of lemon, a dash of soy sauce, a scattering of peanuts and a sprinkle of wattle seed. Voila! A vegan feast.
Freezer friendly
Batch cook healthy meals, portion them into storage containers and freeze them for when you need fast food.
Eat out
There are plenty of vegan options at restaurants now. Think sushi, Nando's, Domino's Pizza, Subway, and at Lord of the Fries, everything on the menu is plant-based vegan.
Super snacks
Nothing's simpler than a bowl of fresh popcorn and it takes less than five minutes to prepare. Remember to use oil not butter. Kale chips are easy, nutritious and delicious. You need oil, spices, salt and pepper, and a big bunch of kale.
Watch those treats
A vegan diet can be super healthy, but only if you stick to whole foods, and fresh fruit and veg, and limit the consumption of processed products with added fat and sugar. The growing number of vegetarians and vegans hasn't stopped us getting fatter. An alarming 31 percent of Australians are now classified as obese. Keep processed food with added fat and sugar for treats only.
Tempted?
It's January and your gut is crying out for relief after all that rich food you consumed over Christmas. Maybe now's the time to try Veganuary? This growing movement has encouraged over 500,000 people in 178 countries to try going vegan in January.
If you're pregnant, breast-feeding, or have any health concerns, check with your doctor before making any radical changes to your diet.
Sources
https://www.health.qld.gov.au/news-events/news/vegan-lifestyle-is-it-healthy-for-you-how-to-go-vegan-safety
https://www.healthline.com/nutrition/vegan-diet-benefits#section3
https://www.health.harvard.edu/staying-healthy/is-a-vegetarian-or-vegan-diet-for-you
https://www.heartfoundation.org.au/healthy-eating/food-and-nutrition/protein-foods/meat-poultry-and-seafood
All information contained in this article is intended for general information purposes only. The information provided should not be relied upon as medical advice and does not supersede or replace a consultation with a suitably qualified healthcare professional.
Health and wellbeing
programs & support
You Belong to More with CBHS Hospital cover:
Greater choice over your health options including who treats you
Get care at home with Hospital Substitute Treatment program
Free health and wellbeing programs to support your health challenges
Live your healthiest, happiest life with CBHS Extras cover:
Benefits for proactive health checks e.g. bone density tests, eye screenings
Keep up your care with telehealth and digital options
Save on dental and optical with CBHS Choice Network providers