At CBHS we help you manage your health challenges. We believe in offering you the services, support and tools you need to live your best life.
Our Better Living Programs are available to support eligible members towards a healthier lifestyle. Each Better Living Program is subject to its own eligibility criteria.
Contact us for more information and to confirm your eligibility for a program.
Why you should tan your mushrooms, and other fun-ghi facts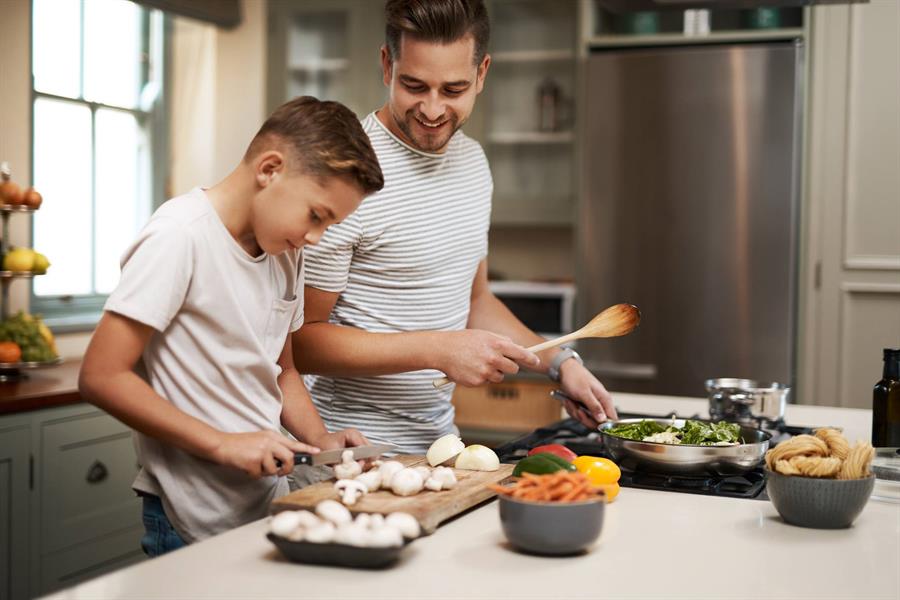 Mushrooms aren't animals, vegetables or plants, they're fungi. Squeamish? Don't be. Fungus is all around us. It makes bread rise, sugar convert to alcohol, cheese turn blue and, most remarkably, fungus is the source of the life-saving antibiotic that revolutionised modern medicine: penicillin.
There's something magical about a food that can dramatically improve its nutritional composition when you expose it to sunlight for 15 minutes. That's what happens to a mushroom. We're not kidding you.
Mushroom cultivation
Most of the common mushrooms we buy in supermarkets today (Agaricus bisporus) have been cultivated since as far back as the 1600s, starting in France where melon growers noticed their unused melon beds were good for growing mushrooms. That was the start of commercial mushroom production. Modern methods involve stainless steel trays in large factories and a specially formulated compost.
You can forage for mushrooms in the wild, but we wouldn't recommend it unless you know what you're doing. Some wild mushrooms are toxic, and they can easily be mistaken for harmless varieties to the untrained eye.
What's so special about mushrooms?
Mushrooms are neither fruit, vegetable, animal or grain, yet they offer nutritional benefits that are contained in all of them.
Like vegetables, they contain resistant starch, phytonutrients and potassium.
Like meat, they contain vitamin B12 and vitamin D.
Like whole grains, they contain prebiotics, riboflavin and beta-glucans.
Like some nuts, they contain the minerals copper and selenium.
Mushrooms are gluten-free, they have a very low GI (glycaemic index) and they help keep blood glucose levels stable, which means they might be a good inclusion to meals for people with diabetes or those who follow a gluten-free diet.
Finally, mushrooms are low in calories. One hundred grams contains only 20 calories or 78 kilojoules.
Nutritional muscle
Mushrooms are in a class of their own when it comes to nutrition.
They contain chitin, a unique prebiotic fibre that's not found in any other food, except for insects and yeast. They're also one of the few non-plant foods that contain antioxidants. Mushrooms have more soluble fibre, gram for gram, than oats, and soluble fibre can help lower cholesterol levels.

Then there's the touch of magic we mentioned earlier. Vitamin D levels in mushrooms can increase tenfold when they're exposed to sunlight.
Which bits are best?
You can eat every part of a mushroom. There are more antioxidants in the cap than in the stem, and more beta-glucans in the stem than in the cap.
What's the difference?
Button, cap, flat or Portobello mushrooms are all varieties of Agaricus bisporus, just picked at different times. Button mushrooms are picked early, cap mushrooms are left to grow a little bigger (which also means they have more flavor) and flat mushrooms are totally developed. Portobello mushrooms are left to grow until the flat open area is very large.
Mushroom superpower
Put an Agaricus bisporus mushroom in direct sunlight for 15 mins and the amount of Vitamin D it contains will increase. That goes for standard mushrooms you can buy in the supermarket. Slice the mushroom before you expose it to the sun and the Vitamin D levels will rise even higher.
According to research, the effect can last for up to eight days when UV-radiated mushrooms are stored in the fridge.
As few as three button mushrooms, exposed to direct midday sun for at least 15 minutes, could give you 50-100% of your recommended daily dose of Vitamin D. Handy during winter when the sun is scarce.
How to clean a mushroom
If you wash a mushroom it will soak up water and turn soggy when you cook it. Just wipe it clean if you need to and trim the ends of any stalks that look dirty. You never need to peel a mushroom.
How to prepare a mushroom
You can eat mushrooms raw, sliced and added to a salad. You can also fry, sauté, bake, stew, pickle or preserve them.
If you're frying mushrooms, remember butter is a saturated fat, so it won't be as healthy as a non-saturated fat like olive oil. If you like the taste of butter but want a healthier option, use olive oil for cooking and add a touch of butter at the end of the cooking time.
Cook at lower temperatures for a shorter time and squeeze some lemon juice into the pan to help retain the maximum amount of vitamin D in UV-exposed mushrooms.
Winners in winter
If you struggle to get enough vitamin D during the winter months, UV-radiated mushrooms could be a tasty alternative to supplements.
Think of rich mushroom stews, roast lamb with a side of garlic mushrooms or a steaming bowl of mushroom risotto sprinkled with parmesan.
Or simply fry mushrooms in olive oil, add chopped garlic towards the end of the cooking time and when the mushrooms are cooked, sprinkle with plenty of finely chopped parsley and chives. Add a squeeze of lemon juice, a smattering of grated lemon rind then pile the mushrooms onto hot toast spread with mashed avocado.
Delicious!
Sources:
https://australianmushrooms.com.au/health/
https://www.mdpi.com/2072-6643/10/10/1498/htm
https://hortaustralianmushrooms.cmail19.com/t/ViewEmail/r/0097740B8D5B0B9A2540EF23F30FEDED/1F7F66A3E60B33CF419C69E1CEBE89F9
Carluccio, A. 2003, Complete Mushroom Book. Quadrille Publishing, London
https://www.sciencedirect.com/science/article/pii/S095528632030485X?via%3Dihub
All information contained in this article is intended for general information purposes only. The information provided should not be relied upon as medical advice and does not supersede or replace a consultation with a suitably qualified healthcare professional.
Health and wellbeing
programs & support
You Belong to More with CBHS Hospital cover:
Greater choice over your health options including who treats you
Get care at home with Hospital Substitute Treatment program
Free health and wellbeing programs to support your health challenges
Live your healthiest, happiest life with CBHS Extras cover:
Benefits for proactive health checks e.g. bone density tests, eye screenings
Keep up your care with telehealth and digital options
Save on dental and optical with CBHS Choice Network providers