5
One Australian develops type 2 diabetes every 5 minutes.
11%
Diabetes contributed in 11% of all deaths in 2017.
17
One in 17 Australians have diabetes.
1.2 million
The number of hospitalisations associated with diabetes each year.
Source: Diabetes Australia and AIHW
CBHS helped my husband with his diabetes and funded an insulin pump which has been life-changing. He now has normal long-term blood sugar levels and can begin to follow his dream of becoming a heavy rig truck driver, a career that never would have been within reach without the pump or the assistance of CBHS.

Great fund − always helpful and always tries to lend a hand or explain what we may need. Thank you.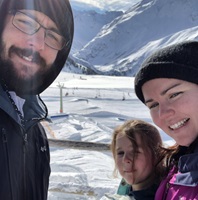 AMY B
I would seriously like to thank CBHS for inviting participants that were overweight to register for the opportunity to join the Total Wellbeing Lifestyle Plan program. My life has been turned around. I have not only achieved my goal weight of 62kg, but I have been able to reduce one blood pressure medication, totally cut out one type 2 diabetes medication, and I am no longer taking reflux medication. I am walking every day and feel so much better and healthier.

Thank you so much, CBHS. As I close in on 70 years of age, I can actually keep up with my 2-year-old grandson, which is something I would never have been able to do. I am so grateful for the opportunity you gave me.
When Jane worked full time, she had little time for thinking about her own health. After turning 60, Jane became semi-retired and a few health issues developed. Here's how she used her Better Living program to better manage her type 2 diabetes and to build a sense of control over her health. As part of the program, Jane saw a health coach, exercise physiologist at home, and a podiatrist to learn about foot care.

"I'd never had to think about my health much before as it was always okay, but after I turned 60 I was diagnosed with type 2 diabetes.

My exercise plan was really convenient as I was able to use furniture around the house and this made it very achievable for me. Seeing the strong correlation between my blood glucose level and exercise was dramatic. Before this program, exercise was the worst for me but now I'm committed to daily exercise because I know the positive effects it has.

The Better Living program came at the right time. My Health Coach was very knowledgeable, and she spent time with me, helping me to 'connect the dots' with my health. Often when I've seen the GP they are too rushed to have those in-depth discussions.

I'm now able to take ownership of my health and make better decisions."
JANE (name changed for privacy)