At CBHS we help you manage your health challenges. We believe in offering you the services, support and tools you need to live your best life.
Our Better Living Programs are available to support eligible members towards a healthier lifestyle. Each Better Living Program is subject to its own eligibility criteria.
Contact us for more information and to confirm your eligibility for a program.
Antioxidant supplements – do you need them?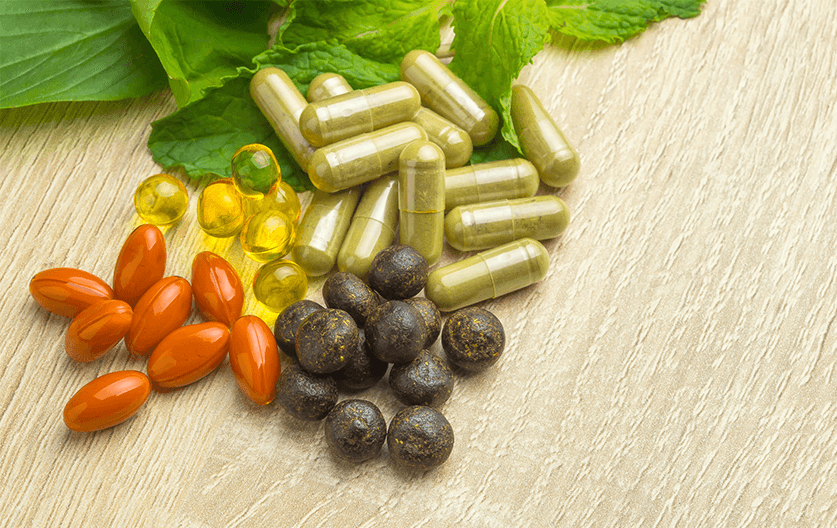 What are antioxidants?
Antioxidants are molecules that can help fight damaging free radicals in your body. Your body produces free radicals in response to the environment, stress, and pressure. Examples include when you exercise, digest food or are exposed to air pollution. Antioxidants are most abundant in plant foods, and include vitamins C, A and E, beta-carotene and lycopene.
A diet high in antioxidants may reduce the risk of many diseases simply by mopping up damaging free radicals circulating in the blood stream. For example, men who eat a lot of lycopene (an antioxidant found in tomatoes) may be less likely to develop prostate cancer.
Not all free radicals are damaging, and some are even used to attack viruses or bacteria to protect us from harm. However, others can damage cells and contribute to conditions such as heart disease and some cancers.
Should you get antioxidants from food or take supplements?
It's best to get all your nutrients, including antioxidants, from your food rather than from supplements. Taking a supplement won't make you healthy if your overall diet doesn't meet healthy eating guidelines.
Most of us can get all the nutrients we need from food, rather than taking supplements. Unfortunately, only 5% of us eat the recommended daily amount of fruit and veg.
What are the best antioxidant foods?
Vegetables and fruit tend to be packed full of antioxidants. Eating a wide variety of them can help ensure you get a diverse range of different antioxidants to optimise your health. There are hundreds of antioxidants in not only fruit and vegetables, but nuts, seeds, olive oil and wholegrains.
You can get the following antioxidants from these food sources:
Vitamin A – liver, sweet potatoes, carrots, milk and egg yolks
Vitamin C – broccoli, Brussels sprouts, cauliflower
Vitamin E – almonds, avocado, leafy greens
Carotenoids – apricots, asparagus, broccoli
Zinc – beef, oysters, pumpkin seeds
Selenium – Brazil nuts, fish, shellfish
Beta-carotene – carrots, pumpkin, sweet potato, spinach
Lycopene – tomato, watermelon, grapefruit.
The Australian Dietary Guidelines outline the types of foods you should be eating to reduce your risk of diet-related conditions and chronic diseases.
In some cases, your doctor may recommend you take antioxidant supplements if your diet is inadequate.
Are there any benefits to taking antioxidant supplements?
Ideally, you shouldn't need to take antioxidant supplements if you're eating a nutritious and varied diet. The only reason to take supplements is if you have a deficiency. For example, vegetarians might need iron or vitamin B12, or people with osteoporosis might need extra calcium and vitamin D.
If you follow a healthy balanced diet, and you have no vitamin deficiencies, adding antioxidant supplements is unlikely to make any difference to your health. Rigorous scientific studies involving more than 100,000 people tested whether antioxidant supplements played a role in preventing chronic diseases, like cardiovascular diseases, cancer, and cataracts. In most instances, supplementing with antioxidants did not reduce the risks of developing these diseases.
In fact, some supplements can be toxic in large doses, interact with other medications, and can actually increase the risk of developing certain diseases. There are no current concerns about the levels of antioxidants we consume in food.
---
Antioxidant foods for healthy glowing skin: Eat your way to better looking skin
---
I have been advised to take antioxidant supplements. Which ones are best?

Has a healthcare professional advised you that you'd benefit from an antioxidant supplement? You can find antioxidant supplements in different forms, including multivitamins, antioxidant blends, tablets, vitamins, gummies and powders to mix into drinks or sprinkle on foods. It's best to ask your healthcare professional for advice on which specific supplement to buy for your individual health needs. They will also know what other medications you're taking and which antioxidants supplements are safe to take. It's also really important to stick with the recommended dose, as overuse of antioxidant supplements can actually be harmful to your body.
Here's more in this dedicated article we wrote on multivitamin supplements.
What happens if you take too many antioxidant supplements?
If you take antioxidant supplements in high doses, you could damage your body.
Some antioxidant supplements may:
1. Reduce your exercise performance
Taking too many antioxidant supplements, especially vitamins C and E can interfere with how your body adapts to exercise and even reduce some of the health benefits of exercise.
2. Increase your risk for some cancers
Several research studies have shown that taking antioxidant supplements like beta-carotene doesn't reduce the risk of getting many types of cancer. It also doesn't reduce the risk of dying from cancer. Studies have even shown that antioxidant supplements may even increase the risk of certain cancers. Some can interfere with cancer treatment medications and therapies so check with your doctor before you start taking any.
3. Cause birth defects
Some antioxidants supplements such as Vitamin A may even increase the risk of birth defects if taken in high doses. If you are pregnant, always check with your doctor before you start taking any regular supplements.
---
Boost your immunity with food: How to always eat healthy and feel great
---
How can I increase my intake of antioxidant foods?
Basically, eating a wide variety of foods from each of the food groups daily. We have a wide range of easy-to-prepare recipe ideas on our website, using nutritious, healthy ingredients, that can help you meet Australian Dietary Guidelines. You can also learn more about the link between good nutrition and health via our website.
If you're a parent, take note that it's never too early to start getting plenty of healthy variety into your child's diet. It's thought antioxidants in vegetables and fruit need to be consumed regularly from early in life to be effective.
Are there antioxidant foods I should avoid?
BHA (antioxidant 320) or butylated hydroxyanisole
You can find BHA, or antioxidant 320, as an additive in margarine and spreads, salad dressings, potato chips, peanut butter, instant mashed potato, chewing gum and processed snack foods. It's synthetically made and generally used as a preservative to help improve shelf life. The World Health Organisation has classified antioxidant 320 as "possibly carcinogenic to humans" although it considered safe at low levels. Some people may choose to simply swap foods with BHA added for safer alternatives.
TBHQ (antioxidant 319) or tert-butylhydroquinone
Like BHA, TBHQ or antioxidant 319 is a synthetic food additive which helps preserve food products. Similar to BHA, you might find this ingredient if you check out the labels on some common processed snack foods. At the moment, there is no evidence that it's safe to consume antioxidant 319 in levels of more than 0.02% of the total fat content of the product. The FDA's 0.02% limit applies whether the antioxidant 319 is used alone, or as the upper limit to combinations of synthetic antioxidants.
Food Standards Australia and New Zealand classifies both antioxidants 320 and 319 as additives most likely to be a problem for people with food allergies or intolerances.
Learn more about
food additives
and their potential impacts on our health.
---
Read more about foods that can help reduce stress: The three best healthy stress foods
---
Are antioxidant serums safe to put on your skin?
Many skincare brands boast the properties of antioxidants in their serums, creams or lotions. This is because of the benefits antioxidants like Vitamin C, Vitamin E, beta-glucans and polyphenols can have for our skin.
There's not enough evidence on whether antioxidants in skincare could affect our internal health. Whether the antioxidants make it into our bloodstream is dependant on their molecule type, size and what other ingredients are included to aid in absorption. Each serum, cream or lotion formulation will differ.
We know it's not exactly a 'quick fix' or the silver bullet to fix the signs of aging… but hear us out. Getting a high intake of fruits and vegetables − as part of a balanced diet − is the best way to get all those nutrients that help your skin glow!
More information
Antioxidants – Better Health Channel
Sources
https://www.eatforhealth.gov.au/guidelines
https://www.healthline.com/nutrition/antioxidant-supplements
https://www.healthdirect.gov.au/antioxidants
https://www.hsph.harvard.edu/nutritionsource/antioxidants/
https://www.nccih.nih.gov/health/antioxidants-in-depth
https://www.choice.com.au/food-and-drink/food-warnings-and-safety/food-additives/articles/food-additives-you-should-avoid
https://www.foodstandards.gov.au/Pages/default.aspx
https://www.sciencedirect.com/topics/medicine-and-dentistry/tert-butylhydroquinone
https://www.betterhealth.vic.gov.au/health/healthyliving/antioxidants#sources-of-antioxidants
https://www.cbhs.com.au/mind-and-body/blog/are-multivitamins-doing-us-more-harm-than-good
https://www.ncbi.nlm.nih.gov/pmc/articles/PMC5579659/
https://www.eatforhealth.gov.au/guidelines/australian-guide-healthy-eating
All information contained in this article is intended for general information purposes only. The information provided should not be relied upon as medical advice and does not supersede or replace a consultation with a suitably qualified healthcare professional.
Health and wellbeing
programs & support
You Belong to More with CBHS Hospital cover:
Greater choice over your health options including who treats you
Get care at home with Hospital Substitute Treatment program
Free health and wellbeing programs to support your health challenges
Live your healthiest, happiest life with CBHS Extras cover:
Benefits for proactive health checks e.g. bone density tests, eye screenings
Keep up your care with telehealth and digital options
Save on dental and optical with CBHS Choice Network providers