At CBHS we help you manage your health challenges. We believe in offering you the services, support and tools you need to live your best life.
Our Better Living Programs are available to support eligible members towards a healthier lifestyle. Each Better Living Program is subject to its own eligibility criteria.
Contact us for more information and to confirm your eligibility for a program.
A guide to the annual influenza shot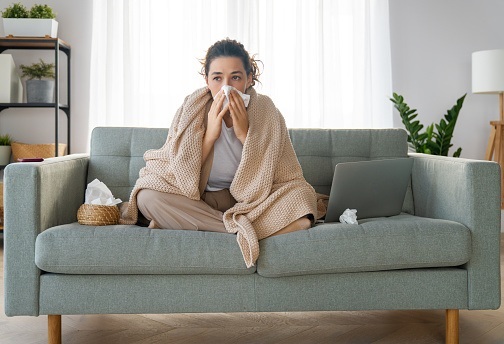 What is influenza?
Influenza, or the Flu, is a highly contagious respiratory illness. It's caused by an infection from an influenza virus. There are two main types of influenza viruses that cause infection in humans. These are Type A and Type B.
According to the latest (11 August 2023) Australian Influenza Surveillance Report, around 194,790 people were diagnosed with the Flu, and around 200 Australians over the age of 50 died. Since the beginning of this year, Australia has registered 2,554 cases of hospitalisation due to influenza, of which 7% were admitted directly into ICU. But what people don't often realise is that influenza is one of the most common vaccine-preventable diseases in Australia.
Influenza viruses are generally spread from person to person through coughing or sneezing. You can also get the Flu by touching a contaminated surface and then touching your mouth or nose.
Symptoms of the Flu
Symptoms of the Flu can include:
fever or chills
dry, chesty cough
headache
tiredness
aching muscles or joint pain
sore throat and a runny or blocked nose
loss of appetite and more.
Babies and children under five years, adults aged 65 years and older, Aboriginal and Torres Strait Islander people, and pregnant women are at a higher risk of developing complications than others.
What's the difference between a cold and the Flu?
Colds and Flus have some common symptoms including coughing, headaches or sore throat, and both conditions are caused by viruses. However, when you have the Flu you're more likely to experience body aches and pains, extreme exhaustion, a fever and vomiting or diarrhoea.
Healthdirect Australia has a handy infographic comparing the difference between a cold and the Flu.
Getting the Flu shot
The Flu vaccination is one of the best ways to protect yourself against the Flu. It also helps to protect those around you who are unable to get the vaccination (like babies aged less than 6 months). The more people who are vaccinated in your community, the less likely the disease will spread.
Flu season in Australia usually runs from May to October. The best time to get vaccinated is April or May so that your body has time to develop immunity.
The Australian Department of Health recommends that everyone who is older than six months should get the Flu vaccine every year. The reason re-vaccination is recommend each year is because the Flu viruses in the community continually change and the immunity from the vaccine doesn't last a long time.
The Flu vaccine is free for some people through the National Immunisation Program Schedule, but you may still have to pay for the consultation with the healthcare provider.
Other ways to prevent the spread of the Flu
Good hygiene
Wash your hands regularly with soap and warm water for at least 20 seconds. You should do this after touching anything that might contaminate your hands and before touching food or anything that needs to stay clean.
An alcohol-based hand rub (hand sanitiser) is a good way to clean your hands if you don't have access to soap and water.
Use tissues to cover your mouth and nose when coughing or sneezing. Put the tissues into the bin immediately.
Avoid sharing cups, plates, cutlery or towels.
Regular cleaning
Keep commonly-used surfaces clean, such as your keyboard, phone and door handles.
Boosting your immunity
Getting enough sleep and incorporating a nutrient-rich diet can help to boost your immune system.
Staying at home if you're sick
If you have the Flu, it's best to avoid close contact with people to stop them from also becoming sick. This is especially important if they have a compromised immune system.
What about COVID?
The COVID-19 coronavirus also causes respiratory illness with some similar symptoms to the Flu, but there are important differences. You can find out more about the symptoms of COVID-19 at the Department of Health.
If you are sick and think you might have COVID-19, check your symptoms using Healthdirect's Coronavirus (COVID-19) Symptom Checker.
All information contained in this article is intended for general information purposes only. The information provided should not be relied upon as medical advice and does not supersede or replace a consultation with a suitably qualified healthcare professional.
Sources
https://www.betterhealth.vic.gov.au/health/healthyliving/flu-influenza-immunisation
https://www.health.gov.au/health-alerts/covid-19
https://www.healthdirect.gov.au/blog/when-to-get-the-flu-shot-in-australia-in-2019
https://www.health.nsw.gov.au/Infectious/factsheets/Pages/influenza_factsheet.aspx
https://www.healthdirect.gov.au/cold-or-flu-infographic
https://www.health.gov.au/resources/publications/coronavirus-covid-19-identifying-the-symptoms?language=en
https://www.healthdirect.gov.au/flu
https://www.health.gov.au/diseases/influenza-flu https://www.cbhs.com.au/mind-and-body/sleep-and-fatigue
https://www.cbhs.com.au/mind-and-body/blog/7-immune-boosting-foods-to-include-in-your-diet

Health and wellbeing
programs & support
You Belong to More with CBHS Hospital cover:
Greater choice over your health options including who treats you
Get care at home with Hospital Substitute Treatment program
Free health and wellbeing programs to support your health challenges
Live your healthiest, happiest life with CBHS Extras cover:
Benefits for proactive health checks e.g. bone density tests, eye screenings
Keep up your care with telehealth and digital options
Save on dental and optical with CBHS Choice Network providers