At CBHS we help you manage your health challenges. We believe in offering you the services, support and tools you need to live your best life.
Our Better Living Programs are available to support eligible members towards a healthier lifestyle. Each Better Living Program is subject to its own eligibility criteria.
Contact us for more information and to confirm your eligibility for a program.
Australia's top fitness trends for 2023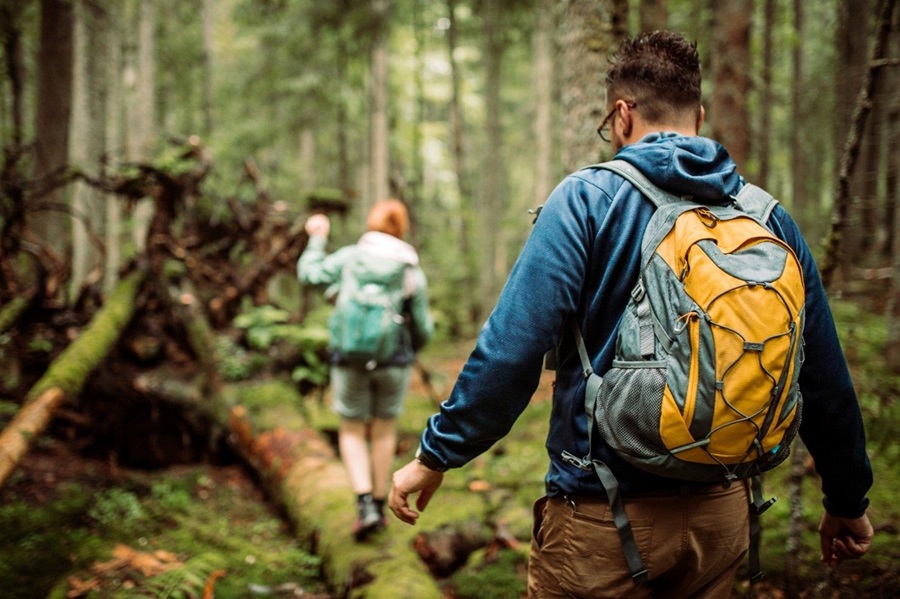 In fitness, as in life, some things change while others stay the same. Exercise has well-recognised health benefits, but you only have to watch 80s workout videos (think leg warmers and leotards) to know how we go about it looks different in 2023.
Luckily, a group of global experts have taken the guesswork out of knowing what's hot in fitness. Each year, the American College of Sports Medicine brings a group of leading health and fitness professionals together to study developments on the global fitness scene.
Their 2023 Fitness Trends from Around the Globe report explores trends from seven regions. In the Australian arm of the research, 411 health and fitness professionals shared their predictions for 2023 fitness trends
The data shows some surprising changes, while some favourites maintain their position in the rankings. Here's what the pros predict will be Australia's top 10 fitness trends in 2023: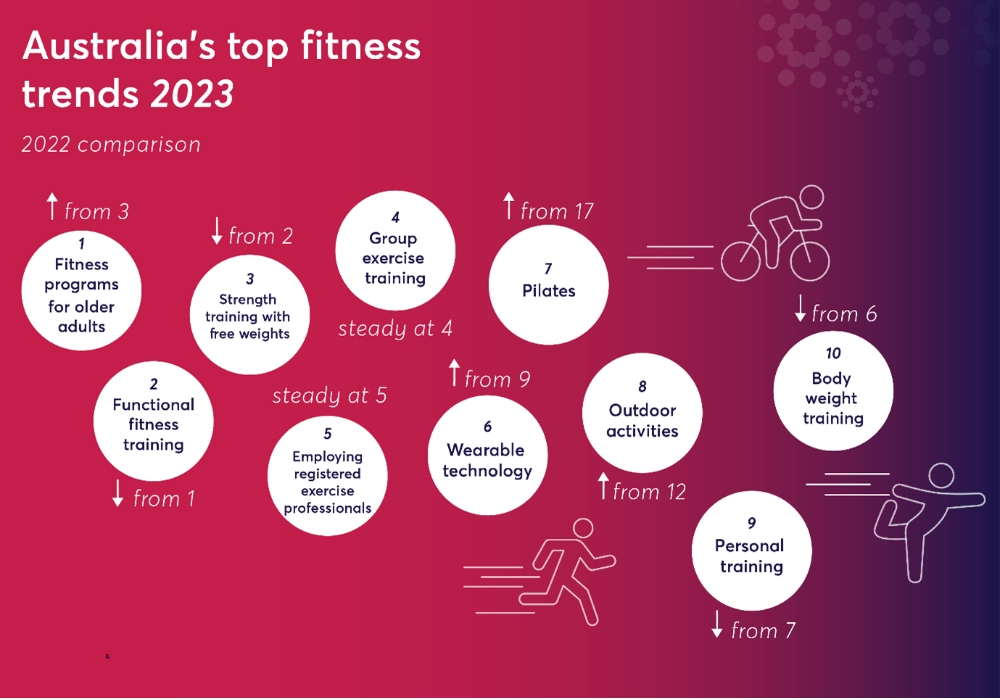 1. Fitness programs for older adults
With Australia's ageing population, it may be no surprise this trend has moved up from number three in 2022.
"Movement and exercise are a great way to connect with people, which can be especially important as we get older."
As you get older, even a small increase in daily activity has health and wellbeing benefits such as:
less risk of health issues like high blood pressure, type 2 diabetes, heart disease, bone and joint issues, and some cancers
helping you reach and stay at a healthy weight
less risk of falls and injury
more energy and better sleep
less stress and anxiety
better concentration and mental health.

Movement and exercise are also a great way to connect with people. This can be especially important as we age, with research showing social connectedness is a key component of wellbeing in later life.
Australian Government guidelines recommend adults aged 65 and over aim for at least 30 minutes of physical activity on most days each week. Ideally, this should include a mix of moderate intensity fitness activities (those which make your heart beat faster), and activities that build your balance, strength and flexibility.
2. Functional fitness training
Although down from pole position last year, this trend remains popular in Australia. As the name suggests, functional fitness is all about exercising in a way that improves your ability to do everyday things – like climb stairs while carrying groceries or push heavy doors open. Functional training uses multiple muscle groups to perform movements we make in real life, such as:
squats
lunges
push ups
step ups
balancing on one leg.

Functional fitness training is typically time-efficient, and you don't need to buy expensive equipment or join a gym (unless you want to). You can do functional training using your body weight and add resistance as you get stronger.
3. Strength training with free weights
A top three fitness trend for three years running, free weight training develops strength using dumbbells, barbells, kettlebells, or similar. The added weight challenges muscles, helping them grow stronger.
"Free weight exercises often need you to use more stabilising muscles in your legs and trunk."
Unlike pin-loaded or cable machines, free weights allow you to move through various planes. Often, free weight exercises need you to use more stabilising muscles in your legs and trunk. For example, you have to use your legs to do a free-weight bicep curl in standing, which you wouldn't with a seated curl on a machine.
Free weights are easy to use at home and don't take up much space. You can often combine them with functional movements, such as lunges and shoulder presses. You can even make your own weights using household items like food tins or milk bottles filled with water.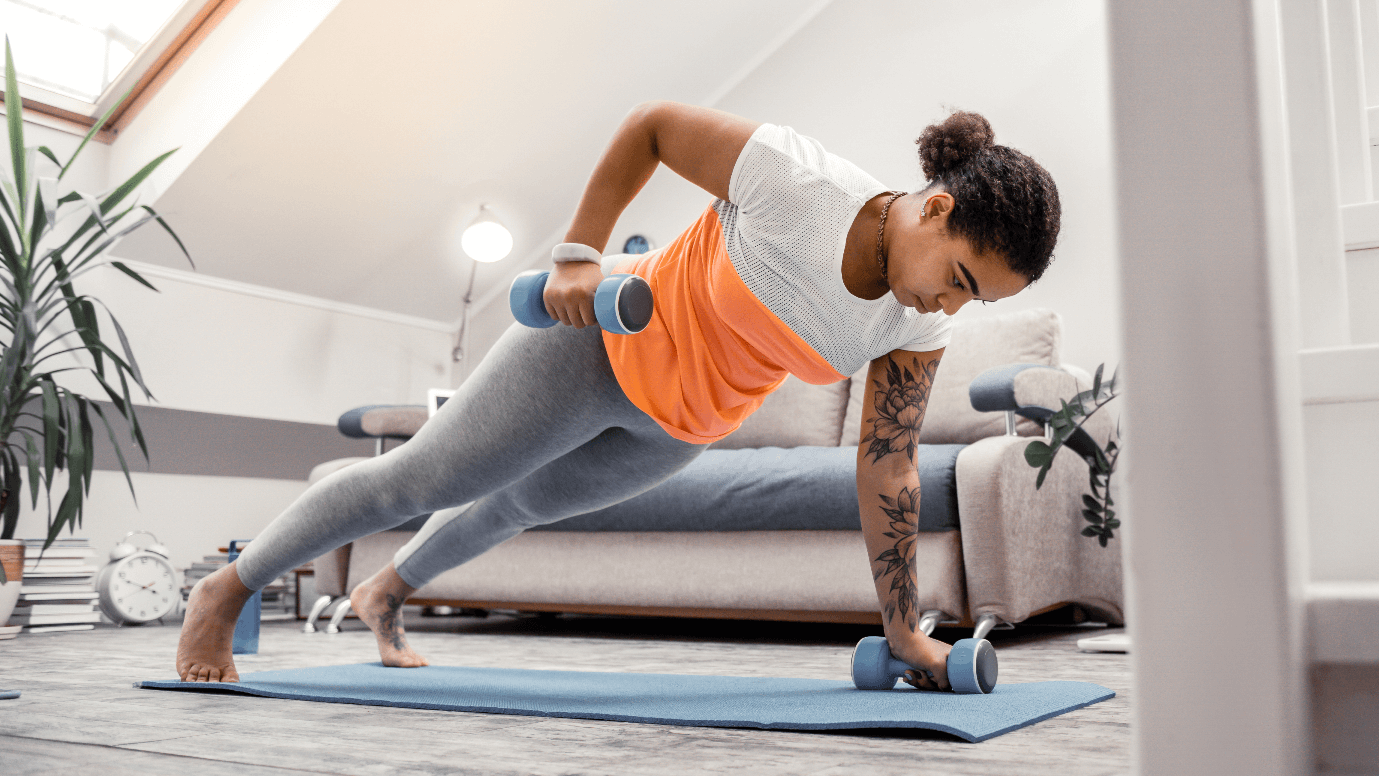 4. Group exercise training
As social beings, humans love getting together to do things – and exercise is no exception. Group fitness training is a great way to meet like-minded people while getting more bang for your workout buck. It's easier to push yourself when others are encouraging you – or you want to keep up with the mate who brags about their push-up and crunch reps.
And research bears out the benefits of getting social with fitness. Studies have shown group exercise training can have benefits ranging from longer workouts to less stress and greater quality of life.
5. Employing registered exercise professionals
Sitting in the exact same spot as last year, employing registered exercise professionals remains important to Aussies. It seems we're committed to getting our training right, and willing to pay qualified people to help us hit our fitness goals.
Benefits of working with a registered exercise professional can include greater accountability and motivation, increased awareness about your health, and more training variety. In Australia, exercise professionals can register with AUSactive. You can find a trainer on their website.
The growing number of Australians living with a chronic disease might also help explain this trend. Accredited exercise physiologists are university-qualified health professionals trained to use exercise interventions to help people living with health conditions and disability. Find out more at Exercise & Sports Science Australia.
6. Wearable technology
This trend, which nabbed number one position in the United States, has risen up the Australian rankings from ninth last year. In our connected, digitised world, it makes sense tech continues to merge with fitness. And wearable devices are not just helping people hit their fitness targets – data from your smartwatch might even guide your doctor or physio.
According to ACSM's Past President Walter R. Thompson, Ph.D., FACSM, "Not only are these devices becoming more affordable, but wearable data is increasingly being used in clinical decision making," he said, "so they are continuing to hold their appeal."
These technologies are particularly popular with sportspeople, with statistics showing more than one million Australians aged 25 to 34 used wearables for sport.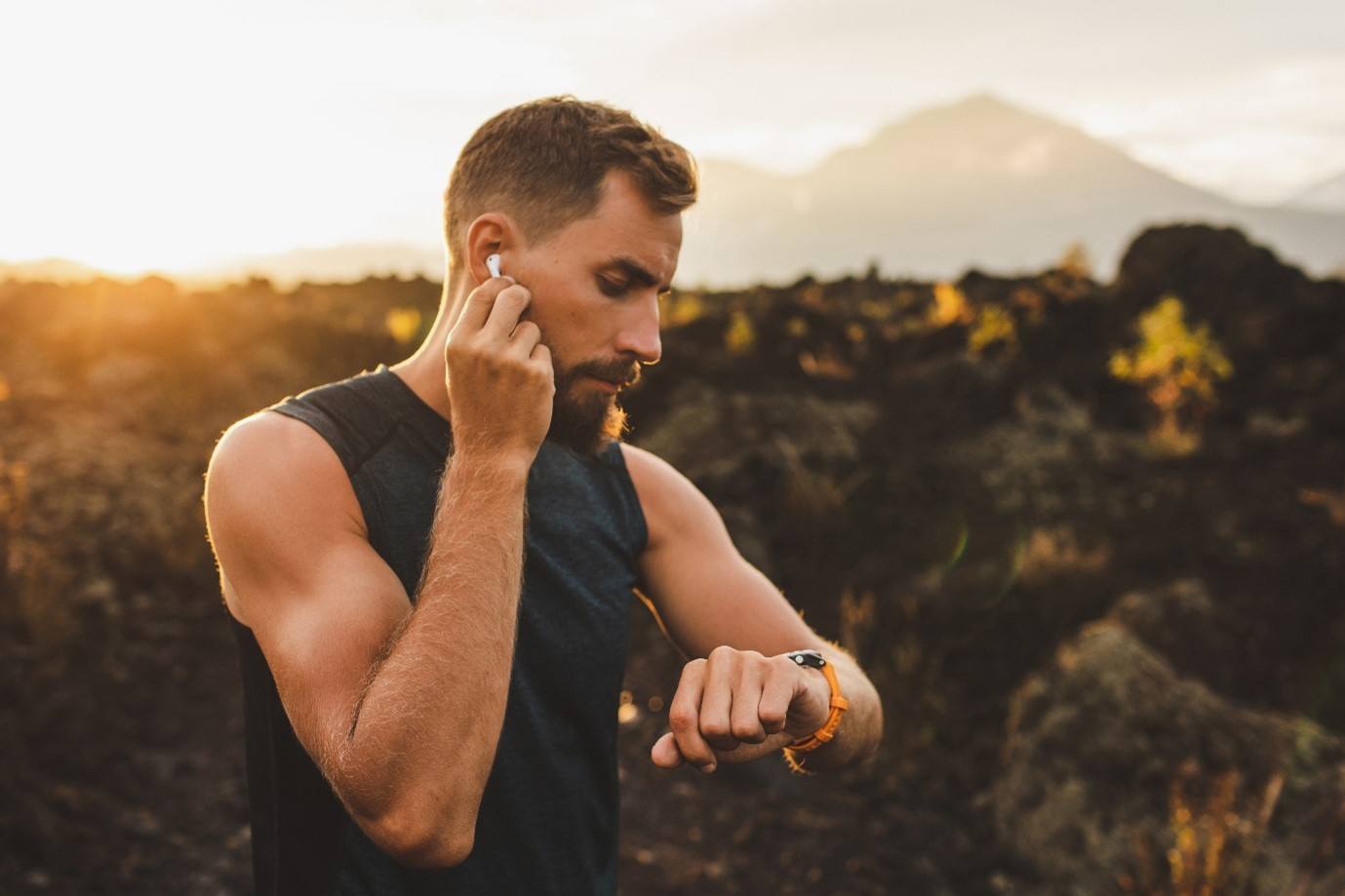 7. Pilates
"For people seeking total wellbeing, Pilates can be an ideal mind and body workout."
Pilates gained 10 places from 17th position last year, earning it the 'most improved' title. Curiously, Pilates failed to make the top 10 in any other region. So why the sudden stellar performance down under? With yoga ranked number 15 this year after failing to make the top 20 in 2022, the researchers suggest this may reflect a "growing emphasis on mindfulness or self-care-based fitness practices" following the pandemic.
Pilates and yoga focus on form, flexibility, core strength and breathing. For people seeking total wellbeing, they can both be ideal mind and body workouts.
8. Outdoor activities
Perhaps surprisingly given our reputation for loving the great outdoors, this one is new to the top 10. It seems the pandemic has reignited our enthusiasm for parks, mountains, and waterways. As Brooke de Landre, a general manager at the Australian Institute of Sport, told ABC News, "More than 10 million Australians were outside taking part in walking activities and just enjoying the great outdoors in 2021 and 2022."
She said people were focusing more on flexibility than traditional organised sport, with activities like community running events and bushwalking hitting their strides.
Outdoor pursuits can also be a great way to meet others, giving you the double benefits of exercise and social interaction.
9. Personal training
Down from number seven in Australia last year, personal training remains popular worldwide – it's in the top 10 for every region surveyed. A personal trainer can help you smash your fitness goals by:
designing a personalised program to help you reach them
checking your form, which can help protect you from injury
changing up your routine to keep things interesting
holding you accountable to training.
10. Body weight training
"Body weight training is inexpensive, doesn't need much space, and can be adapted to suit your fitness level."
Just making it to Australia's top 10 and sliding from number six in 2022, body weight training is Europe's number one 2023 fitness trend, and number three in the United States. It may be that this type of training was more popular during Australian lockdowns, when gym closures left members looking for ways to build strength – without the weight racks and machines.
Body weight training has several advantages. It's inexpensive and doesn't need much space. Plus, you can adapt training to suit your fitness level – by using gravity to add or lower resistance, for example. This makes it suitable for people of almost all fitness levels.
When you think about it, many popular types of exercise – including yoga and Pilates – use your body weight. Here are three body weight exercises you could try at home.
Keen to learn more? Check out the full 2023 Worldwide Survey of Fitness Trends.
All information contained in this article is intended for general information purposes only. The information provided should not be relied upon as medical advice and does not supersede or replace a consultation with a suitably qualified healthcare professional.
Sources:
https://journals.lww.com/acsm-healthfitness/Fulltext/2023/01000/2023_Fitness_Trends_from_Around_the_Globe.7.aspx
https://www.abs.gov.au/articles/twenty-years-population-change#people-aged-65-years-and-over
https://www.cbhs.com.au/mind-and-body/blog/you-re-never-too-old-to-get-fit-stay-fit-and-feel-great-doing-it
https://www.health.gov.au/topics/physical-activity-and-exercise/physical-activity-and-exercise-guidelines-for-all-australians/for-older-australians-65-years-and-over
https://www.cbhs.com.au/mind-and-body/blog/bone-health
https://www.sciencedirect.com/science/article/pii/S2667032121000275
https://www.cbhs.com.au/mind-and-body/blog/functional-fitness-real-world-exercises-for-a-stronger-fitter-you
https://www.cbhs.com.au/mind-and-body/blog/build-a-home-gym-for-less-than-a-hundred-bucks
https://www.cbhs.com.au/mind-and-body/blog/group-exercise-puts-the-fun-and-motivation-into-fitness
https://link.springer.com/article/10.1007/s12160-012-9367-4
https://www.sciencedaily.com/releases/2017/10/171030092917.htm
https://www.aihw.gov.au/reports-data/health-conditions-disability-deaths/chronic-disease/overview
https://www.essa.org.au/Public/Consumer_Information/What_is_an_Accredited_Exercise_Physiologist_.aspx
https://www.acsm.org/news-detail/2022/12/28/wearable-technology-named-top-fitness-trend-for-2023
https://www.statista.com/statistics/1008213/australia-number-of-sport-participants-using-wearable-technology-by-age-group/
https://www.cbhs.com.au/mind-and-body/blog/laura-s-story-getting-through-lockdown-with-the-health-hub
https://www.abc.net.au/news/2022-11-02/australian-institute-of-sport-data-covid-increased-exercise/101604122
https://www.cbhs.com.au/mind-and-body/blog/the-top-three-body-weight-exercises-you-can-do-with-no-equipment
Health and wellbeing
programs & support
You Belong to More with CBHS Hospital cover:
Greater choice over your health options including who treats you
Get care at home with Hospital Substitute Treatment program
Free health and wellbeing programs to support your health challenges
Live your healthiest, happiest life with CBHS Extras cover:
Benefits for proactive health checks e.g. bone density tests, eye screenings
Keep up your care with telehealth and digital options
Save on dental and optical with CBHS Choice Network providers