At CBHS we help you manage your health challenges. We believe in offering you the services, support and tools you need to live your best life.
Our Better Living Programs are available to support eligible members towards a healthier lifestyle. Each Better Living Program is subject to its own eligibility criteria.
Contact us for more information and to confirm your eligibility for a program.
You're never too old to get fit, stay fit and feel great doing it!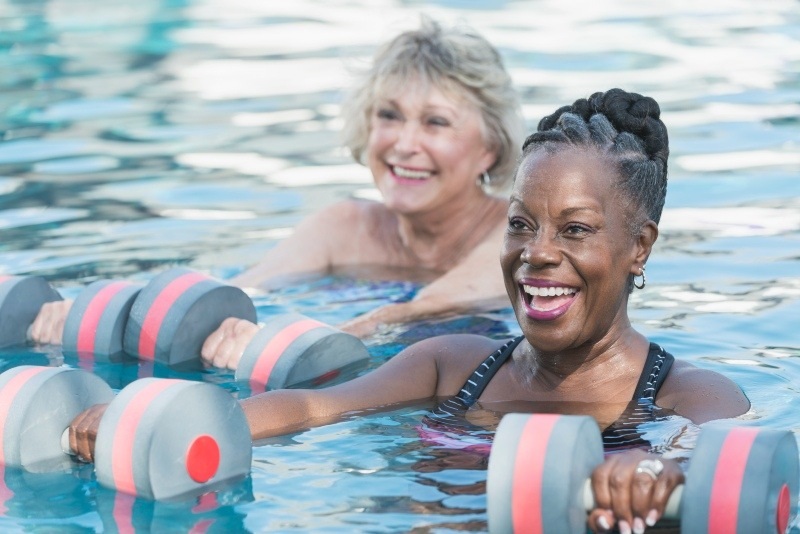 If you think that exercise, lifting weights and staying active is just for the young – think again. As we get older, keeping our bodies moving is more important than ever. However, it's not about setting unrealistic goals and aiming for a target of 100 push-ups a day. Safe, sustainable and fun physical movement is the name of the fitness game once you hit 60 – and beyond.
As you enter your 60s, you may start hearing the words 'mobility' and 'flexibility' crop up regularly whenever the subject of exercise is mentioned. And that's because these are the two key components you'll need for a healthy, enjoyable quality of life as you get older.
You already know that ageing well is based on eating healthy, nourishing food – with some snacks thrown in for good measure! But staying physically active is also key. And even though everyone's definition of physical activity is different, any sort of movement that keeps you on your feet, like golf, gardening or even dancing, will help keep your flexibility and mobility in check as you get older.
Whatever you do, however you move, do it often!
To be consistently active, you'll need to take part in some form of physical activity at least two to three days every week. We spoke with CBHS Wellness Consultant, personal trainer and dietitian, Megan Hasick about keeping limber and strong into your 60s and this is what she had to say,
"One of the best things you can do as you get older is to keep up your strength. This certainly doesn't limit you to pumping weights at the gym. It's important to focus on functional, full-body exercises which aim to build your strength, balance, posture, mobility and flexibility. It's true what they say, use it, or lose it!"
"Flexibility and mobility are two key ingredients for a better quality of life as you get older."
Of course, before you embark on any form of physical exercise, however low impact it is, you should always consult with your GP and, if possible, work with a professional fitness trainer for a safer, more effective workout.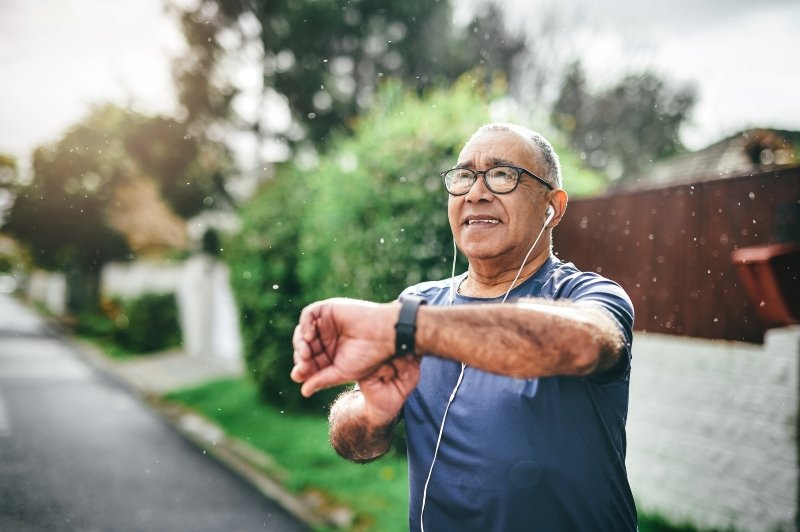 What are the best exercises for older adults?
If you've ever seen older people at the gym or in the park lifting light weights and wondered why, the answer is simple. Resistance and strength training can help keep older muscles strong. As Megan explains,
"For people of all ages but particularly as we get older, I highly recommend some form of resistance training at least twice a week. This is so important for balance as well as strong muscles and bones because it can help prevent osteopenia which is a thinning of the bones as we age. Strength exercises can also help reduce the risk of falls and associated fractures. You don't necessarily need to hit the gym, either. You can use your own bodyweight, add resistance using resistance bands or even use household items as weights such as cans."
For the healthiest outcomes, you can combine strength training with some low-impact exercises including:
Walking
Gardening
Swimming
Pilates
Tai chi
Cycling
Golf
Lawn bowls
Dancing
Water aerobics.
To mix things up, try combining a couple of these activities every week. Just remember to take your time and go as fast – or as slow – as your own fitness levels allow. You can also try organising a fitness activity with a group of friends for extra motivation – and fun! As Megan elaborates,
"Low-intensity fitness classes are great for both physical and mental health benefits. And the impact is even stronger if you can do these with a friend or group of friends because you can experience an added benefit from the social buzz!"
This video is a good introduction to some low impact exercises you can try at home. CBHS Wellness Consultant and exercise scientist, Tam, will take you through a 30-minute session that's focused on the basics of movement. A good starting point!
How to start an exercise program at 60+
The most important things to remember here are permission and pace. Make some time to speak with your specialist or GP for the go-ahead to begin your exercise routine. And then, once you start your new physical activities, go at your own pace. Don't over-exert yourself or go beyond what you think you can do. Here are a few ideas to help kickstart your fitness journey:
Visit your local gym for guidance on low-impact exercise classes
Explore the world of online fitness videos for seniors – there are 1000s!
Keep your fitness goals realistic
Try out a few classes like yoga, tai chi, aqua aerobics
Find out what your body – and you – love and stick to it!
"Activities like swimming and cycling are kind on your joints and strength training will help slow down the reduction in bone density."
Is it possible to transform your body and get in shape after 60?
It's never too late to start being active, so the short answer is, yes. But as Megan explains,
"The term 'in shape' isn't something we should fixate on because health is such a relative and subjective notion. A 20-year-old may have never played a sport or exercised in their life, while a 65-year-old may have been running marathons or been lifting weights since their teens! Age is just a number and everyone is different. That's why it's important to run your own race. After 60, consistent physical activity is a must for a healthy lifestyle and preservation of bones and joints."
Ideas for staying physically active as you get older
As we get older, movement becomes very important not only for our physical health but also our mental health. Our CBHS Wellness Consultant team, has put together some recommendations for keeping fit and moving into your 60s and beyond.
Aim to do some form of physical activity each day – it can be light!
Choose exercises that improve strength, balance and flexibility at least twice a week.
Spend less time sitting or lying down.
If you're worried about falling or injuring yourself during any fitness activity, remember that your exercises can help improve your strength, balance and flexibility. With patience and consistency, you'll feel stronger and ultimately more confident on your feet.
You don't always need to hit the gym or the walking track to be active!
Sometimes it isn't easy to get to your local gym or visit the park for a brisk walk. If this is the case for you, that's fine. You can always keep moving with some light activity around your home:
Get up to make yourself a cup of tea
Walk around your garden or up the street at a slow, relaxed pace
Clean and dust
Vacuum
Make your bed.
It's about doing as much as you can even around your own home that keeps you moving and active. You don't necessarily have to do structured exercise every day because incidental exercise is important too. Find activities that you really enjoy and do them regularly – consistency is key when it comes to your physical fitness as you get older.

"Try organising your weekly fitness activities with a group of friends for extra motivation – and fun!"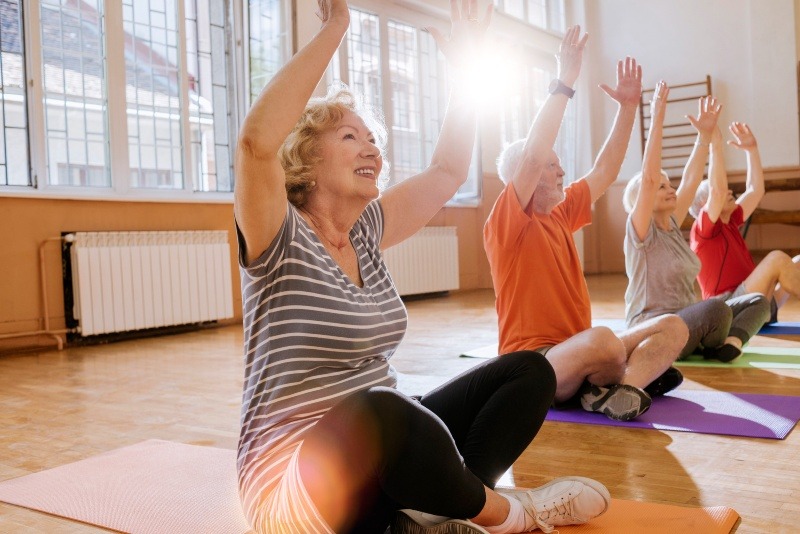 Keep active, make living easier
As we age, taking care of ourselves becomes more important than ever. Together with a healthy diet rich in fruit and vegetables, keeping active is vital. Physical movement like yoga, strength training, golf, dancing and aqua aerobics are great for your strength, balance, flexibility and mobility.
In fact, you can mix and match your fitness routines to suit your lifestyle and passions. Just remember to set realistic expectations. Exercise as you get older is about preventing or – in many cases – delaying age-related health issues. Older adults who spend less time sitting and more time moving can enjoy greater physical and mental health benefits. So some movement each day is better than none at all.
The goal is to create a fitness-friendly chapter in your life that keeps you moving and feeling good. So, be kind to yourself, take care, have fun and enjoy your own pace.
All information contained in this article is intended for general information purposes only. The information provided should not be relied upon as medical advice and does not supersede or replace a consultation with a suitably qualified healthcare professional.
Sources:
https://www.cbhs.com.au/mind-and-body/blog/the-10-fitness-trends-you-ll-be-seeing-more-of-in-2022
https://www.cbhs.com.au/mind-and-body/blog/osteoporosis-action-how-exercising-for-your-bones-works
https://www.cbhs.com.au/mind-and-body/blog/the-10-fitness-trends-you-ll-be-seeing-more-of-in-2022
https://www.healthdirect.gov.au/osteopaenia
Health and wellbeing
programs & support
You Belong to More with CBHS Hospital cover:
Greater choice over your health options including who treats you
Get care at home with Hospital Substitute Treatment program
Free health and wellbeing programs to support your health challenges
Live your healthiest, happiest life with CBHS Extras cover:
Benefits for proactive health checks e.g. bone density tests, eye screenings
Keep up your care with telehealth and digital options
Save on dental and optical with CBHS Choice Network providers