At CBHS we help you manage your health challenges. We believe in offering you the services, support and tools you need to live your best life.
Our Better Living Programs are available to support eligible members towards a healthier lifestyle. Each Better Living Program is subject to its own eligibility criteria.
Contact us for more information and to confirm your eligibility for a program.
Healthier takeaway options: how to eat well on-the-go!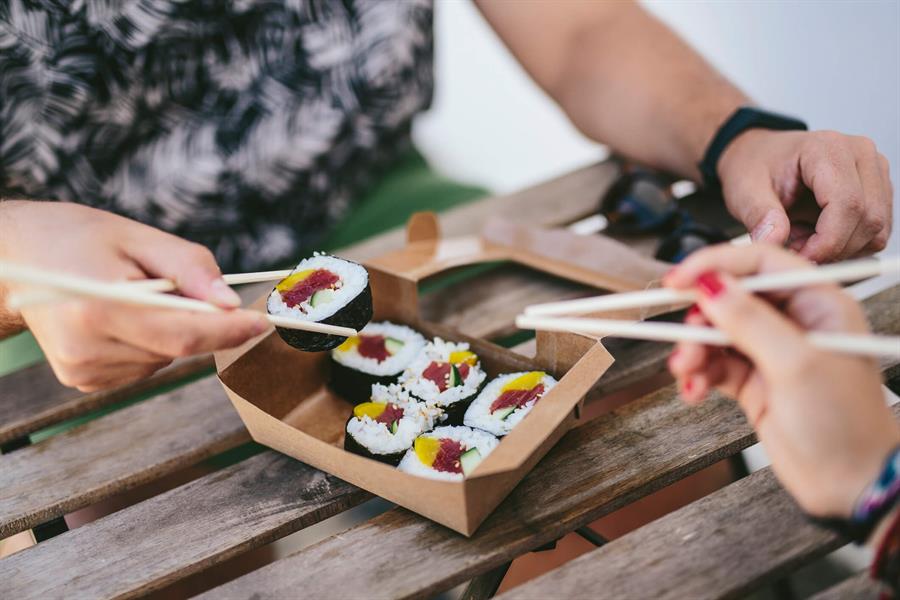 After a long day at work… running around with the children… caring for family… juggling the housework and those 101 errands – who feels like cooking? There's no denying it, when life moves fast, we want our food even faster so it's natural that we love a good takeaway meal anywhere, anytime.
However, while it can be a quick, convenient alternative to preparing meals, most fast food is usually high in fat, salt and sugar – not the best ingredients for a feel-good diet.

But I'm hungry now! How can I find healthy takeaway near me?
That's a great question! We've all been there when the hunger pangs hit and you just want that quick burger and fries from your local takeaway now. But could it be possible to make a healthier fast food choice that's just as satisfying – and quick?
You can still pop into your local burger joint – just choose a healthier option. Try a salad with a small serving of hot chips as a treat. Or a grilled chicken burger with a flavoured mineral water to wash it down. It's about eating smart even when you don't have time to whip up a home-cooked meal.
Essentially, it's easier than you think to make a healthier option and still satisfy your hunger – without compromising on taste, flavour – or your health.
Here are some healthy takeaway options where you can have your burger – and eat it too!
Yes, there is such a thing as healthy fast food takeaway. In fact, big brand global outlets are getting better at offering healthier menu options.
McDonald's
With nutrition awareness at an all-time high, McDonald's now offers a range of healthier alternatives to their traditional burgers and fries so you can 'indulge smarter'.
Check out their range of wholemeal wraps, like the chicken breast fillet or Caesar chicken. Wholemeal contains more fibre, vitamins and minerals than its white flour counterparts.
Ask for water with your meal instead of soft drink or if you must have bubbles, try a sparkling water with ice.
If you're desperately craving a burger, choose a Hamburger, Cheeseburger or Filet-o-Fish.
When you make it a meal combo, opt for a side salad instead of fries.
Healthy takeaway breakfast idea: an Egg McMuffin without the cheese.
KFC

Chicken is a good source of lean protein and a good go-to takeaway option. Just try to resist the urge to splurge on big serves of deep-fried food at the drive-thru window.
The Original Recipe fillet burger is a reasonable serving size.
Instead of chips, choose healthier sides such as regular-sized potato and gravy or coleslaw. You can make your KFC a healthy lunch takeaway and ask for no mayonnaise on your burger and choose water instead of a soft drink.
"With a little thought, treating yourself to takeaway doesn't have to mean doing away with making healthy eating choices."
Hungry Jack's
Hungry Jack's Better Beef Guarantee means no additives, preservatives, colourants or fillers in their flame grilled burger meat. You could work with this to make for a healthy takeaway dinner.
The Whopper Junior is a small burger with some salad in it. Order yours without cheese and mayo to reduce your saturated fat and kilojoule intake.
The classic Grilled Chicken is one of the healthier burger options. Forget the side of fries and go for a grilled chicken salad or garden salad.
Healthy takeaway breakfast idea: the Blat Brekky Wrap without the bacon and mayo.
Red Rooster
As takeaway outlets go, Red Rooster rates better than most for healthy options. With roasted chicken as the main feature and a range of healthy sides to select from, you can take home a delicious and healthy takeaway family dinner without skyrocketing your daily calorie intake.
Be selective and treat the family to a whole roast chicken with a side order of crunchy slaw, corn and peas, or roast vegetable medley. Skip the skin for an even healthier meal.
The Rooster Roll with herb stuffing – and hold the creamy mayo!
Weighing up between the chicken outlets and asking yourself, "Is Red Rooster healthier than KFC?" Well, Red Rooster certainly has the benefit of offering roast chicken as opposed to fried. That means the chicken is not being cooked in oil, and that's better for you.
Subway
When it comes to subs, some breads are better than others.
The six-inch honey oat bread or multigrain with roasted chicken is lower in fat and can be an excellent choice if you avoid the calorie-packed sauces and dressings.
Subway now offers the option to order everything that's inside your favourite sub, in a bowl – making it a low carb takeaway option! So no bread, but you still enjoy all the satisfaction while limiting calorie intake. When buying the other low-fat six-inch subs, choose one with lean meat, more salad ingredients and the honey oat or multigrain bread.
Healthy takeaway breakfast idea: an egg and salad wrap or roll – no cheese.
Oporto
For those who can't bear the thought of passing up Oporto's, we have good news! Oporto's, with its grilled chicken, could be considered one of the healthier takeaway options:
The single fillet Bondi Burger is your healthiest burger option here, with relatively low-fat content and sodium at 301 calories per portion.
You can choose an even healthier Pulled Chicken Bowl or Chicken and Fetta Salad and skip the burger bun for a low carb takeaway option.The Pulled Chicken Rappa is an easy on-the-go option with crunchy slaw and spicy rice in a warm pita.
Healthy takeaway breakfast idea: Chicken & Egg Burger – without the cheese and mayo.
Domino's
If you've been making the effort to eat well all week, don't throw it all out the window on a weekend pizza. Make some smart menu choices:
Craving pizza? Go for the thin crust, chicken or seafood and avoid processed meats like pepperoni and bacon. The Vegorama with lashings of veggies, oregano and feta is a healthier option.
You can Build Your Own pizza with a choice of up to four toppings. Just add a bunch of veggies to fill you up.

"A lean chicken burger is a good source of protein and a good go-to takeaway option when you want fast, filling and tasty!"
Ethnic takeaway outlets
Japanese
A popular takeaway choice, sushi and sashimi are both low-fat options but you still need to be mindful of the amount of rice and sodium you consume.
Opt for seaweed, brown rice, salmon, tuna, veggie, tofu and avocado combinations.
Only add a little soy sauce to reduce the amount of sodium you're eating.
For sides, order seaweed salad, steamed vegetables or edamame beans.
Most importantly, try to avoid too much of the deep-fried menu choices like tempura.
Chinese
Chinese is a huge takeaway favourite and makes the perfect leftover lunch the next day. Here's how to get the best out of this delicious Asian cuisine:
A dish with steamed whole fish, steamed rice and pak choi (Chinese cabbage) is a nutritionally balanced meal.
Steamed dumplings, wonton soup, hot and sour soup, stir-fry meals with seasonable vegetables and beef, lemongrass chilli chicken or king prawns, are all good choices.
For starters, order noodle or vegetable-based soups (e.g. chow mein, chop suey) and steamed buns or wontons.
Try to avoid anything that has been deep-fried, such as spring rolls or prawn toast, and anything with very sweet or rich sauces which are likely to be high in sugar, sodium and fat.
Thai
Thai is generally one of the healthier takeaway options but take care with the sauces you choose.
Thai beef salad has fresh salad, lean beef and steamed noodles, which means it's low-fat, high in fibre and tasty.
Other healthy and tasty alternatives include jungle curries, salads, soups, such as Tom Yum or hot and sour prawn, and stir-fry meals with plain veggies, fresh tofu or prawns.
Also look for dishes with cashew chicken, seafood, steamed or grilled meats, fresh veggies, lime, basil, lemongrass and chilli.
Mexican
If you're in the mood for something spicy, Mexican is the way to go. Here's how to make it healthier:
The naked burrito includes the meat and salad filling but not the tortilla, making it a better option if you're watching your calorie intake.
You could try a bean and veggie-based burrito with no meat or rice. When ordering tacos, choose soft tacos over hard tacos and add plenty of salad ingredients and/or beans.
Healthy takeaway breakfast idea: a veggie burrito with beans.
Italian
Hearty Italian favourites like lasagne, manicotti, pizza and spaghetti carbonara, tend to be loaded with carbohydrates and rich sauces. Make a few smart choices and you can still indulge your love affair with this delicious food:
Order whole-wheat pasta with tomato-based sauces, such as marinara, napolitana, bolognese, chicken or seafood topping, with lots of vegetables for a low-fat and low-GI option.
Minestrone soup is a great way to satisfy your craving for Italian flavours, without the carbs.
When ordering pizza, opt for one with veggies, a thin and crispy base, tomato-based sauce, chicken or seafood and give the processed meats a miss.
Don't forget to add a side salad instead of garlic bread.
"Try a veggie-based burrito as a healthy takeaway breakfast idea and mix things up a little in the morning!"
Lebanese
Lebanese cuisine including pides and kebabs are rising in popularity around Australia. Here are some healthier ways to enjoy them without adding surplus calories to your day:
Choose a Lebanese mixed plate of delicious fresh tabouli, falafel, kafta, lamb/chicken skewers and cabbage rolls.
Load up with veggies and salad to replace the rich meats and breads to reduce your fat and calorie intake.
Indian
A feast for the senses, Indian dishes are packed with spices and flavours and curries have hidden surprises in nutritional value when you know what to order:
Tandoori chicken pieces are protein-rich and not fried. Add a side of aloo gobi vegetables for a tasty, lower-calorie takeaway meal. Tandoori lamb pieces are also delicious!
Grilled chicken tikka skewers, yoghurt-based dishes, dry curries such as vindaloo or madras, and lentil dahl soup, all tend to be healthier choices.
Choose oven-baked or grilled ingredients and side dishes of plain steamed rice or roti bread which is whole-wheat rather than naan bread.
Australian
The classic Aussie takeaway and pub meals are a mix of protein, carbohydrates and vegetables, with popular items being burgers, pies, and fish and chips:
Choose barbecued or gilled lean meats, skinless chicken, grilled fish rich in omega-3 (e.g. tuna, salmon and mackerel) and a side of fresh salad or steamed veggies.
Try your favourite burger without the bun for fewer carbohydrates and order a steak sandwich instead of chicken schnitzel.
Try a twist on old fashioned battered fish with lashings of chips, and instead order grilled fish with fresh salad. Stick to a small serving of fries if you must have them.
Some food for thought to-go!
Whether you choose a lean chicken burger for dinner or some steamed fish with stir-fried vegetables for lunch, try to practice mindful eating as you enjoy every morsel. And no, mindfulness isn't just reserved for yoga or meditation.
In fact, if you've never heard of mindful eating, now may be a great time to look into it. It's not quite a movement, but certainly a way of eating that will help you stay present as you chew your food thoughtfully, bite after bite. The benefits can include anything from weight loss for some people and a more relaxed, calm mind free of distractions. Certainly something to chew over…!
It's never been easier to pick up healthy takeaway food anytime of day
With just a little know-how you can enjoy your favourite takeaway while still making healthier eating choices. Read menus carefully to spot where those hidden calories may be lurking and get into the habit of ordering salad or veggies over chips or bread.
But remember, choosing healthier takeaway options doesn't have to mean denying yourself a cheeky treat now and then. We all have cravings and we shouldn't ignore them completely! However, we can learn to curb them so they don't turn into an unhealthy habit. Food is all about pleasure after all…
All information contained in this article is intended for general information purposes only. The information provided should not be relied upon as medical advice and does not supersede or replace a consultation with a suitably qualified healthcare professional.
Sources:
How to slow down and top up your health and wellbeing (cbhs.com.au)
Embracing the natural flow of life with meditation (cbhs.com.au)
Eating smart: improve your mood, memory and focus through food (cbhs.com.au)
Curb your cravings: how to resist those snack temptations (cbhs.com.au)
Health and wellbeing
programs & support
You Belong to More with CBHS Hospital cover:
Greater choice over your health options including who treats you
Get care at home with Hospital Substitute Treatment program
Free health and wellbeing programs to support your health challenges
Live your healthiest, happiest life with CBHS Extras cover:
Benefits for proactive health checks e.g. bone density tests, eye screenings
Keep up your care with telehealth and digital options
Save on dental and optical with CBHS Choice Network providers