At CBHS we help you manage your health challenges. We believe in offering you the services, support and tools you need to live your best life.
Our Better Living Programs are available to support eligible members towards a healthier lifestyle. Each Better Living Program is subject to its own eligibility criteria.
Contact us for more information and to confirm your eligibility for a program.
A guide to the best plant-based milk alternatives for every taste and need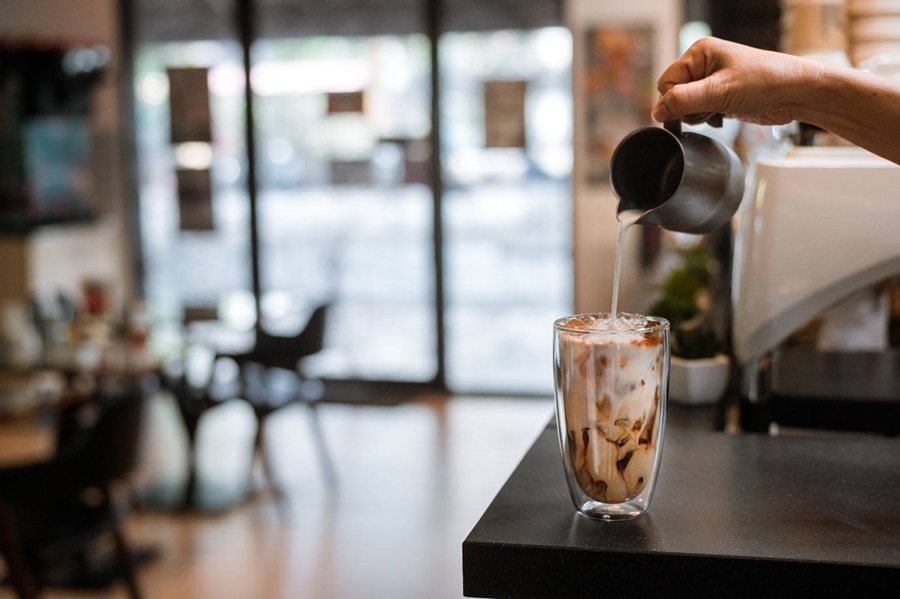 If you've been into a supermarket in recent years, you've probably noticed plant-based milk is taking up considerably more real estate on shelves. And your observations are right – figures from the Australian Bureau of Statistics show we're increasingly seeking dairy substitutes. Almond milk consumption, for example, grew by 31% between 2018-19 and 2020-21, and soy milk by 16% in the same period.
Non-dairy alternatives are flowing freely in cafes, too. A 2022 ABC News report suggested plant-based milks could soon fill over half the drinks served in Australian cafes, with oat milk surging in popularity.
Here's what you need to know about Australia's non-dairy milk mania, including why people are turning to plant-based milks and how to find the best plant-based milk for you.
What is a plant-based milk?
Plant-based milk is a dairy alternative made from plant-based sources such as nuts, seeds, grains, or legumes. Some of the most popular plant-based milks include soy milk, almond milk, coconut milk, and oat milk. You can drink these milks like you would dairy milk and use them in place of dairy milk in a wide range of recipes, from baking to coffee and smoothies.
Why do people drink dairy alternatives?
People choose to drink plant-based milk for many reasons. Some people are lactose intolerant, which means they have reduced ability to digest lactose – a sugar found in dairy milk. Others may have a cow's milk allergy, which can cause a range of symptoms from mild itching to anaphylaxis (a severe and potentially life-threatening allergic reaction). Some people are vegan and avoid consuming any animal products.
"People choose plant-based milks for health, ethical and environmental reasons."
Additionally, some people choose to avoid dairy for ethical reasons, as they associate milk production with suffering for dairy cows and their offspring. People who are environmentally conscious may also opt for dairy-free alternatives, with research suggesting a vegan diet has the lowest impact on our planet.
Which one tastes most like dairy milk?
When it comes to taste, many people find that soy milk is the closest to dairy milk in terms of texture and flavour. However, taste preferences are highly subjective. You might prefer the nutty flavour of almond milk or the creaminess of coconut milk. It's worth trying a few different types of plant-based milk to find one you enjoy the most.
Which is the healthiest plant-based milk?
In terms of your health, each plant-based milk has its own potential benefits. Here's a rundown of the nutritional differences between some common plant-based milks from Dietitians Australia.
1. Soy milk
Made from either soy protein powder or whole ground soybeans, soy milk is a good protein source and typically contains more protein than other dairy alternatives. Most soy milks contain added calcium and many also have added vitamin B12. This can be helpful if you're following a vegetarian or vegan diet, which can put you at risk of vitamin B12 deficiency. One 2017 study found that compared to rice, almond, and coconut milks, soy was the best nutritional alternative to cow's milk.
"Some research suggests soy milk may be the healthiest alternative to cow's milk."
Heard soy is linked with cancer? The Cancer Council notes that there is no evidence to suggest we should avoid soy products.
2. Almond milk
Almond milk is made from ground almonds, but the actual almond content in commercial brands can vary from 2 to 14 percent. Almond milk is lower in saturated fat and energy than dairy milk. It can also be low in protein, although some brands may have protein added.
Some products are sweetened, but varieties without added sugar are available. If you're turning to almond milk as a dairy alternative, look for one with added calcium, vitamin B12, and vitamin D (which is important for healthy bones and hormone, nervous and immune system function).
3. Oat milk
Made by blending oats with water and straining the liquid, oat milk is low in saturated fat and a good source of fibre. It contains beta-glucan, a type of dietary fibre that can help lower cholesterol and control blood sugar levels.
Compared to cow's milk, oat milk has only about half the protein per serve. Its higher carbohydrate content makes it naturally sweet tasting, and it can be a good cow's milk substitute in cooking.
Look for an oat milk with added calcium and a higher amount of protein. Oats contain gluten, so oat milk is not suitable if you're following a gluten-free diet.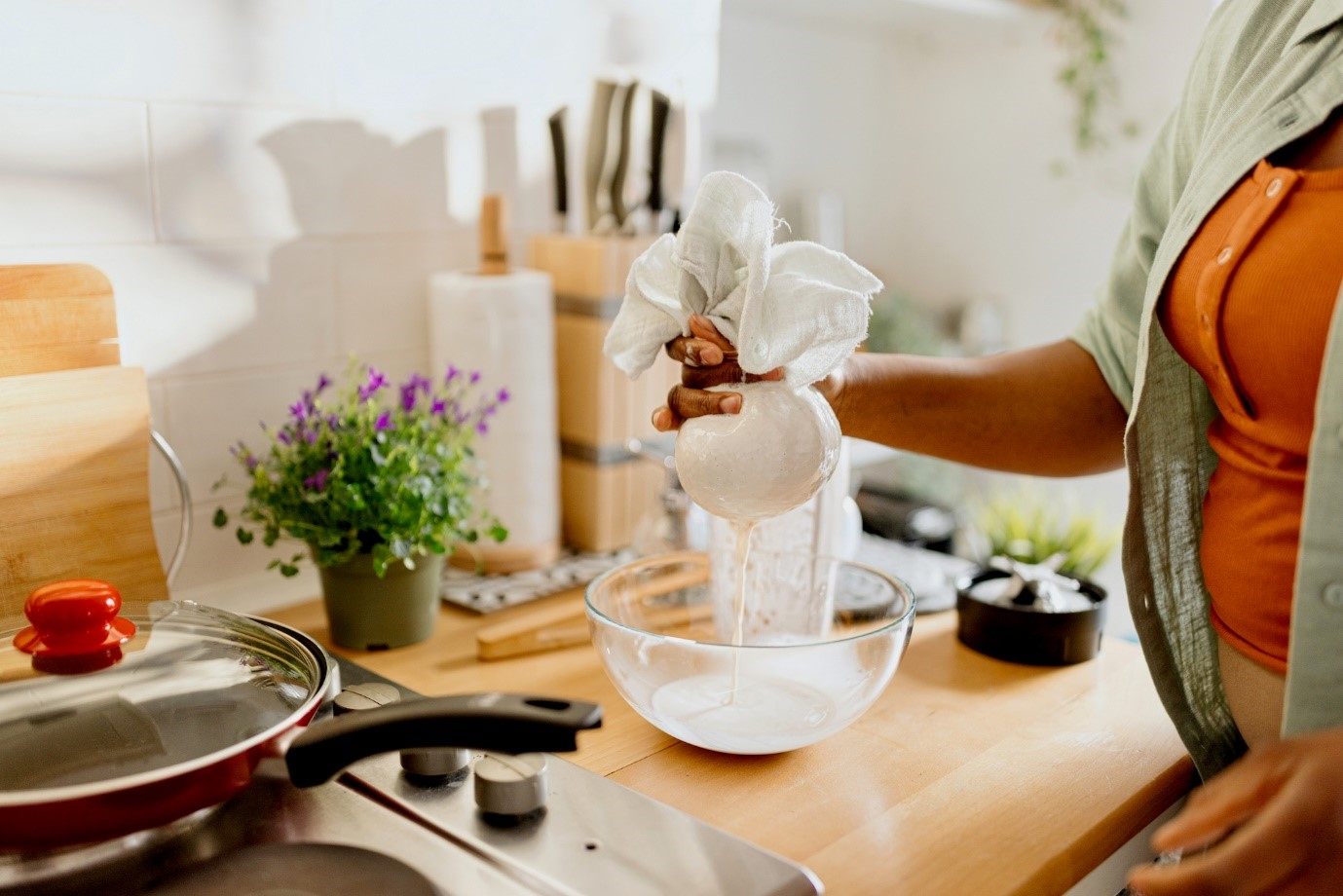 4. Rice milk
Rice milk is a good choice if you're looking for a dairy alternative that's least likely to cause allergies. Made from water and milled brown rice, rice milk is free of allergens. Processing causes many of the carbohydrates in the rice to break down into sugars, giving rice milk its sweetness. Choose a variety with added protein.
5. Coconut milk
Made by diluting coconut cream with water, coconut milk is higher in saturated fat and lower in protein and carbohydrate than dairy milk. Choose one that has been fortified with calcium.
"The best plant-based milk for you will depend on your nutritional needs and personal preferences."
Which plant-based milk is best for me?
Milk, yoghurt, cheese and dairy alternatives are one of the five food groups we need to eat each day for good health. Learn how many serves of dairy or dairy alternatives are recommended for people of different ages and life stages at Eat for Health.
Ultimately, the best plant-based milk for you will depend on your individual needs and preferences. If you're moving to plant-based eating or have any food allergies or specific nutritional needs, it's a good idea to see an Accredited Practising Dietitian (APD). Find an APD near you. Don't forget to check your Extras cover to see if you can claim benefits for dietitian consultations.
Does plant milk have calcium?
Calcium is essential for keeping your bones and teeth strong, and for healthy heart, muscle and nerve function. Many plant-based milks are fortified with calcium, meaning they may contain similar calcium levels to dairy milk.
"Look for a non-dairy milk alternative that contains at least 100 mg of calcium per 100 ml."
The Australian Guide to Healthy Eating recommends checking the nutrition information panel on the label of dairy alternatives to make sure they contain at least 100 mg of calcium per 100 ml.
Which plant milk is the highest in protein?
Soy milk is your best bet if you're looking for a plant-based milk that is naturally high in protein. Many plant-based milks contain added protein. Check the nutrition information panel on the label to compare the protein content of different brands.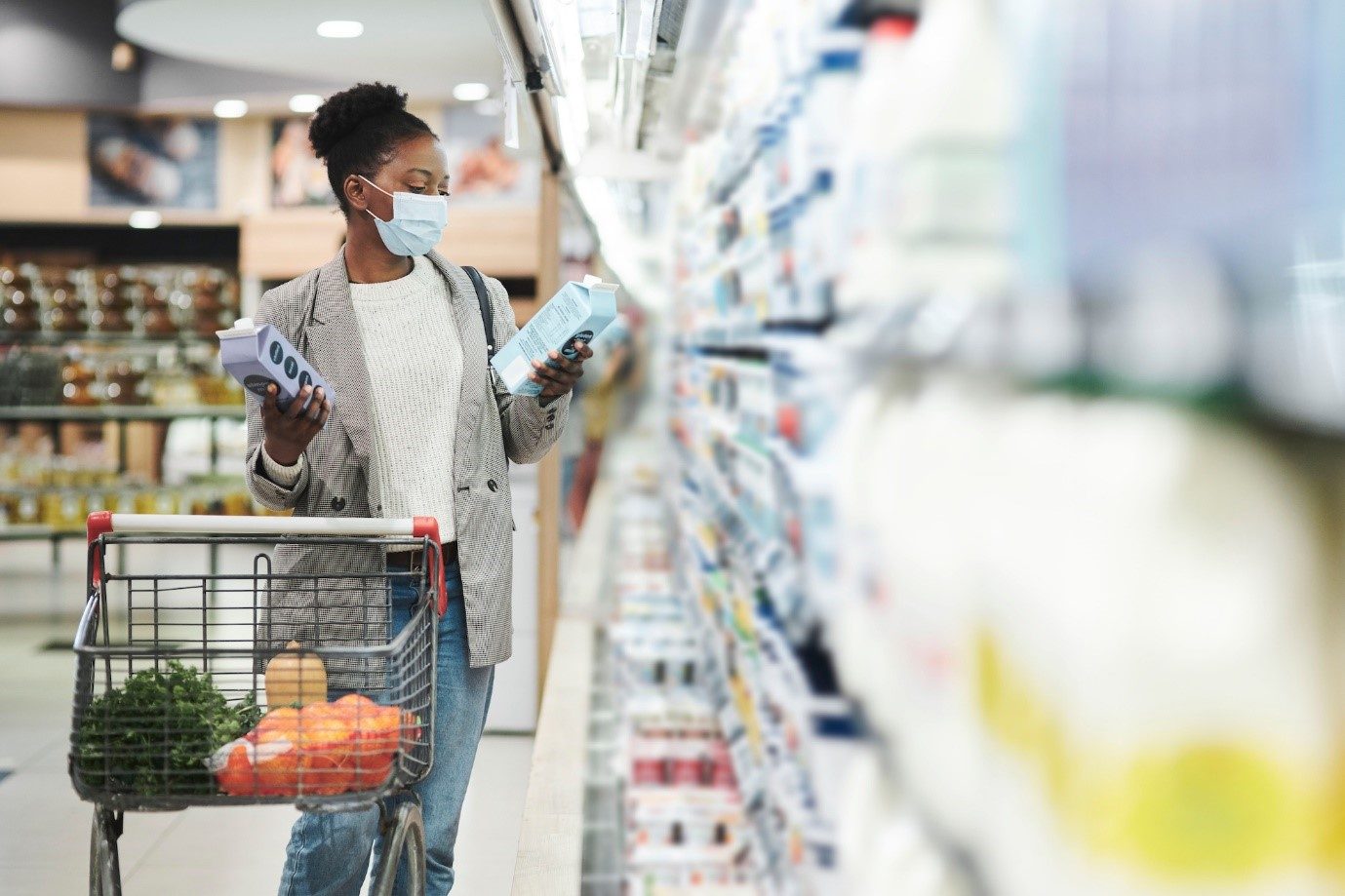 How is plant-based milk made?
The process of making plant-based milk varies depending on the type of milk. They are typically made by grinding the plant and blending it with water and other ingredients – such as thickeners, nutrients and sweeteners – to achieve the desired flavour, texture and nutritional content.
While some plant-based milks may undergo more processing than others.
Ditching dairy for your health and our planet's
With the demand for plant-based milk continuing to grow, it's clear that consumers are becoming more health and environmentally conscious. While each type of plant-based milk has different benefits, they can all offer a viable alternative to dairy milk as part of a healthy, balanced diet.
Whether you're vegan, lactose intolerant, or simply looking for a healthy and sustainable choice, you should be able to find a plant-based milk that suits your taste preferences and nutritional needs.
All information contained in this article is intended for general information purposes only. The information provided should not be relied upon as medical advice and does not supersede or replace a consultation with a suitably qualified healthcare professional.
Sources
https://www.abs.gov.au/media-centre/media-releases/australians-buy-more-dairy-and-meat-substitutes-2020-21
https://www.abc.net.au/news/rural/2022-05-22/plant-based-milk-set-to-take-over-cows-milk-in-australian-cafes/101023244
https://www.betterhealth.vic.gov.au/health/conditionsandtreatments/lactose-intolerance
https://www.healthdirect.gov.au/allergic-reactions-to-cows-milk
https://www.researchgate.net/publication/326789363_Why_Milk_Consumption_is_the_Bigger_Problem_Ethical_Implications_and_Deaths_per_Calorie_Created_of_Milk_Compared_to_Meat_Production
https://www.mdpi.com/2071-1050/11/15/4110/htm
https://dietitiansaustralia.org.au/health-advice/plant-based-milks
https://www.cbhs.com.au/mind-and-body/blog/say-cheese-yogurt-seeds-and-uv
https://www.eatforhealth.gov.au/food-essentials/five-food-groups
https://www.eatforhealth.gov.au/food-essentials/five-food-groups/milk-yoghurt-cheese-andor-their-alternatives-mostly-reduced-fat
https://www.healthdirect.gov.au/calcium
https://www.healthdirect.gov.au/vitamin-b12-test
https://www.ncbi.nlm.nih.gov/pmc/articles/PMC5756203/
https://www.cancer.org.au/information-sheet-soy-isoflavones
https://www.healthdirect.gov.au/vitamin-d-and-your-health
https://www.cbhs.com.au/mind-and-body/blog/11-ways-to-bone-up-on-the-health-of-your-skeleton
https://www.cbhs.com.au/mind-and-body/blog/how-to-strengthen-your-immune-system
https://www.cbhs.com.au/mind-and-body/blog/7-ways-to-keep-your-heart-healthy
https://www.eatforhealth.gov.au/sites/default/files/files/the_guidelines/n55a_australian_dietary_guidelines_summary_book.pdf
https://www.cbhs.com.au/mind-and-body/blog/protein-rich-recipes-for-vegetarians
https://www.cbhs.com.au/mind-and-body/blog/food-additives-you-should-avoid
https://www.cbhs.com.au/mind-and-body/blog/understanding-lactose-intolerance-and-dairy-allergies
Health and wellbeing
programs & support
You Belong to More with CBHS Hospital cover:
Greater choice over your health options including who treats you
Get care at home with Hospital Substitute Treatment program
Free health and wellbeing programs to support your health challenges
Live your healthiest, happiest life with CBHS Extras cover:
Benefits for proactive health checks e.g. bone density tests, eye screenings
Keep up your care with telehealth and digital options
Save on dental and optical with CBHS Choice Network providers