At CBHS we help you manage your health challenges. We believe in offering you the services, support and tools you need to live your best life.
Our Better Living Programs are available to support eligible members towards a healthier lifestyle. Each Better Living Program is subject to its own eligibility criteria.
Contact us for more information and to confirm your eligibility for a program.
Seven million Australians aren't doing this simple money-saving Christmas hack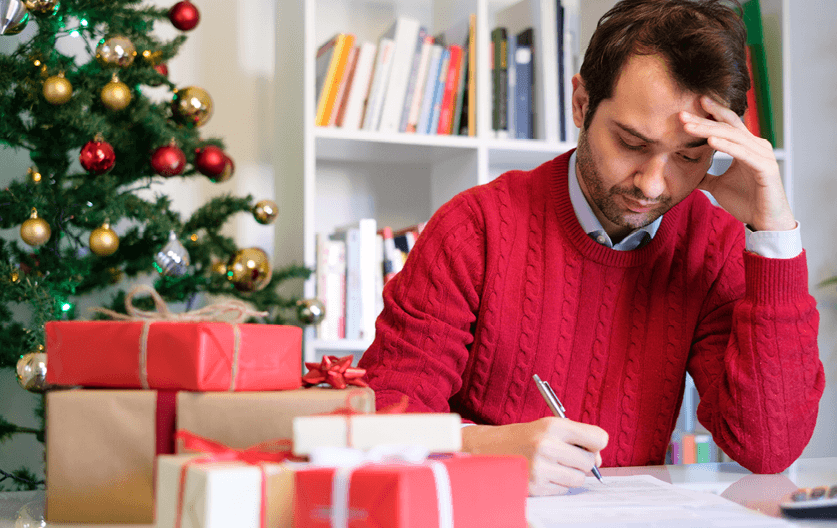 Certain times of the year – Christmas, we're looking at you - can have Australian families at breaking point. There is pressure to spend on gifts, entertainment and travel to attend catch ups and events. Many people tend to live beyond their means, before taking months to find themselves some breathing room again within the finances. In fact, one in six Australians took between four and six months to catch up after their Christmas splurging. The majority will take until Easter to pay off their debt.
At this time of the year it's particularly important to take a moment to consider not only the 'here and now', but also the aftermath. After all, financial wellbeing makes up a large part of your overall wellbeing. It's an important consideration in keeping you and your family happy, healthy and stressing less! We also know that mental health and financial safety are strongly linked – financial stresses can add to an existing mental illness or create feelings of anxiety or depression.
Our friends at the Commonwealth Bank and the University of Melbourne found through the 'Improving the Financial Wellbeing of Australians' study that poor financial wellbeing does indeed limit happiness. One in four people do not enjoy life because of the way they are managing their money. While nearly one quarter (23 per cent) are struggling with money management and almost one third (29 per cent) said their lives are often or always controlled by their finances.
Here are some ways to enjoy the silly season without that post-Christmas break regret.
Budget how much you can spend on all that's festive
It may sound overly simplistic but this is something that more than seven million Aussies don't do at Christmas! Having a budget can help people better manage their finances. That doesn't mean you have to pore over spreadsheets or have any accounting experience. The CommBank and Melbourne Uni study showed that it doesn't matter if your budget is a 'mental' one or a 'formal' one. Either type is equally associated with higher financial wellbeing.
Pick a figure that you're comfortable spending across all festive season-related purchases – gifts, decorations, party outfits, food and outings – and stick within the limits.
Remember, purchases you make on credit cards and 'buy now, pay later' services like Afterpay need to be included within that budget. This will help keep those bills manageable afterwards, as you will already know how much you've spent.
Be 'influenced' but not peer pressured
Scrolling through seemingly endless vignettes of perfection on social media can make us feel overwhelmed or like we need to 'keep up'. There are some good trends to come out of social media and the blogging world in recent years too. The 'Four Gifts' movement is growing in popularity. Instead of an overwhelming mountain of gifts to get through on Christmas morning, families are following this rule: 'Something they want, something they need, something to wear and something to read'.
Also, for the adults in your family, how about cutting back on necessary buying by arranging a Secret Santa exchange or vetoing gifts altogether. After all, Gumtree reported over 21 million unwanted gifts were given in Australia in 2017!
The gift of time. Give it a health twist for extra points
Handmade gifts can help keep your spend down, while showing just how much you care. In today's hectic world, time is a commodity we have in short supply so people really appreciate the effort and love that goes into something homemade.
We have tested two healthier treat recipes that would be perfect gifts for friends, family or colleagues this Christmas. Check out our festive bark and cheesecake Santas.
Also, check out these cute DIY mason jar gift ideas. There's a range of snacks, natural beauty products you can make yourself, or even a little greenery for in the home with an on-trend succulent jar. You won't want to give them away!
Plan your Christmas feast ahead
It's the most expensive meal of the year, but do you consider at the time what the spending hangover might be like? It's natural to want to treat your friends and family to an amazing spread, and the extravagance can often get out of hand. This is where we come back to 'the budget'. Set a figure you plan to stick to and work out portion sizes based on number of guests beforehand so you don't over cater. Plus, not having too much leftover food and drinks hanging round means you're not likely to be tempted by over-calorific fare for days afterwards.
If your hosting efforts are threatening to send you over what you can realistically afford, there is no shame in asking people to pitch in by bringing their own drinks or contribute by preparing a dish.
Is financial stress affecting your health and wellbeing?
Some signs that financial stress is affecting your mental wellbeing include:
arguing with loved ones about money
trouble sleeping
feelings of anger or fear
mood swings
tiredness
loss of appetite
withdrawing from others.
How can you get help? Usually the earlier you ask for help the more options will be available to you. Start with talking to your bank and seeing what they can offer in terms of financial difficulty programs. Also, Australians have access to a free National Debt Helpline on 1800 007 007.
Final word
Nobody wants debt as a guest at the table this Christmas. When not well-managed, it's also that annoying guest that overstays its welcome well into the New Year. By following the tips above, we hope you can maintain or improve your own financial wellbeing this Christmas and enjoy a stress-free start to the new year.
Sources
https://fbe.unimelb.edu.au/newsroom/cba-melbourne-institute-financial-wellbeing-scales
https://www.commbank.com.au/content/dam/caas/newsroom/docs/CWM0375_Financial%20Wellbeing%20Report_v4.pdf
https://headtohealth.gov.au/meaningful-life/feeling-safe-stable-and-secure/finances
https://www.smh.com.au/money/saving/most-australians-will-still-be-in-debt-from-christmas-next-easter-20171218-h06o5a.html
https://www.commbank.com.au/guidance/newsroom/aussies-splurge-11b-on-christmas-shopping-201712.html
https://www.commbank.com.au/guidance/newsroom/christmas-feast-consumer-spending-201812.html
https://honey.nine.com.au/latest/unwanted-christmas-gifts-resell-gumtree/89070c0e-7721-4da6-9f6e-981d41064065
https://www.smh.com.au/lifestyle/christmas-fourgift-rule-sanitys-coming-to-town-20161207-gt61ri.html
Health and wellbeing
programs & support
You Belong to More with CBHS Hospital cover:
Greater choice over your health options including who treats you
Get care at home with Hospital Substitute Treatment program
Free health and wellbeing programs to support your health challenges
Live your healthiest, happiest life with CBHS Extras cover:
Benefits for proactive health checks e.g. bone density tests, eye screenings
Keep up your care with telehealth and digital options
Save on dental and optical with CBHS Choice Network providers