At CBHS we help you manage your health challenges. We believe in offering you the services, support and tools you need to live your best life.
Our Better Living Programs are available to support eligible members towards a healthier lifestyle. Each Better Living Program is subject to its own eligibility criteria.
Contact us for more information and to confirm your eligibility for a program.
Stress can make you sick and food can make you feel good
The conversation between your gut and your brain is like an endless feedback loop. Sometimes it can be chilled and congenial, a friendly chat between two best buddies. Other times, these two can argue. Your gut can grumble about how miserable it is, and your brain will agree. Sometimes, your brain can be the one to set your gut grumbling.
So how do you keep both your gut and your brain happy?
We spoke to dietitian Stephanie Liang and nutritionist Julia Thorpe - both CBHS Wellness Consultants - to find out more.

The impact of stress on your gut health and your brain
'We sometimes call the gut our 'second brain' because gut cells and microbes can produce many of the same neurotransmitters as the brain does,' Stephanie explains.
'Those neurotransmitters include serotonin, known as the 'happy chemical' and dopamine, which we think of as the body's main pleasure chemical.'
Stress can influence the levels and diversity of your gut microbiota, and the microbiota can influence chemical signals within your brain.
'It really is a two-way street.'
'Stress and unhealthy food choices can cause changes in your microbiome, which may lead to irritable bowel syndrome (IBS), depression and brain fog.'
The gut-brain connection is no laughing matter.
'When things go haywire, your gut can experience dysbiosis,' Stephanie explains. 'In other words, your gut bacteria lose their normal balance and stability.'
That can mean too many potentially harmful microbes flourishing in your gut, and not enough beneficial ones.
Stress can make you sick
'When your body is stressed, it can't digest food as efficiently as it would normally. Chronic stress reduces blood flow to your stomach and intestines, and that can cause bloating, cramps, sluggish digestion, constipation or nervous poos.' Stephanie explains.
The other danger is reaching for 'comfort' food when you're stressed, which may not be as nutritious as a healthy snack.
'Stress and unhealthy food choices can cause changes in your microbiome, which may lead to irritable bowel syndrome (IBS), depression and brain fog,' adds nutritionist and CBHS Wellness Consultant Julia Thorpe.
Food can make you feel good
Mental health and food are inextricably linked.
Around 90% of your body's serotonin (the hormone that stabilises your mood and feelings of well-being and happiness) is produced in your gut. That means the food you eat can have a direct impact on how you feel.
One study found that within days of changing their diet, participants began to see changes in the make-up of their gut microbiome.
'Potentially, you could make changes to your diet one week, and your gut and brain could be healthier and happier the following week,' says Julia.
We all know that chocolate can give you a short term hit of feel good chemicals (although it's not so good for your waistline or your nutritional health) but a landmark Australian study has now shown that a healthy diet can improve the mental health of people with depression.
'…the more participants improved their diet, the more their symptoms of depression improved.'
'The SMILES study was the first of its kind, and the results were very promising,' says Julia.

Food can help treat depression
The SMILES trial recruited people who had been diagnosed with clinical depression and randomly assigned them into two groups. The first group (the control group) received social support and met regularly with researchers. People in the second group (the intervention group) met regularly with dietitians for the same amount of time, with one essential difference. People in the second group were also encouraged to follow a modified version of the Mediterranean diet.
The modified Mediterranean diet included these foods:
whole grains
vegetables and fruit
low-fat, unsweetened dairy
raw, unsalted nuts and olive oil
fish, lean red meat, chicken and eggs.
And it reduced or excluded these:
sweets
refined cereals
fried food and fast food
processed meats
sugary drinks.
Better outcome for people on dietary intervention
The study found that people in the dietary group reduced their symptoms of depression far more than people in the control group.
'A third of people in the dietary group went into remission, compared with only 8% of the control group,' Julia explains.
And that's not all. The study also found that the more participants improved their diet, the more their symptoms of depression improved.
To top it off, participants in the dietary group found they were saving around $30 a week by being on the healthier diet, compared to their spending before the study.
'One review of studies on diet found that people who followed a Mediterranean style diet had a 33% lower risk of developing depression.'
Boost your mood with these five foods
So, what should you be eating to boost your mood?
1 Dietary fibre and prebiotics
Participants on the SMILES trial ate around 50 grams of fibre a day – way more than most people eat. Current Australian Government guidelines are for adults to eat 30 grams of fibre a day. You can increase your intake by eating more fruit, vegetables, nuts, seeds, legumes, and wholegrains.
2 Omega-3 fatty acids
Aim for two to three serves of oily fish a week (for example, tuna, salmon, sardines, mackerel), incorporate nuts and seeds into your diet (such as flaxseed, chia seeds, walnuts) and extra virgin olive oil and flaxseed oil.
3 Polyphenols
This is a group of chemicals found in plants. Choose colourful fruits and vegetables, herbs and spices, green tea and black tea, dark chocolate, and filtered coffee.
4 Probiotics
Probiotics can encourage the growth of 'good' gut bacteria. They occur naturally in fermented food, such as live cultured yogurt, kombucha, kefir, sauerkraut, miso and kimchi.
5 Carbohydrates and resistant starch
No matter what you might have read, carbs aren't the bad guys. They help you absorb the essential amino acid your body needs (tryptophan) to produce serotonin (the 'feel-good' hormone). Complex carbs break down slowly, so they also help sustain your energy levels, Resistant starch feeds your healthy gut bugs.
Choose wholemeal pasta, brown rice, legumes and sweet potato for longer lasting energy, and cooked then cooled rice, pasta, and potatoes for good sources of resistant starch. The cooking and cooling process increases the amount of resistant starch it contains. Microwave rice or pasta is ideal, and no, you don't have to eat it cold!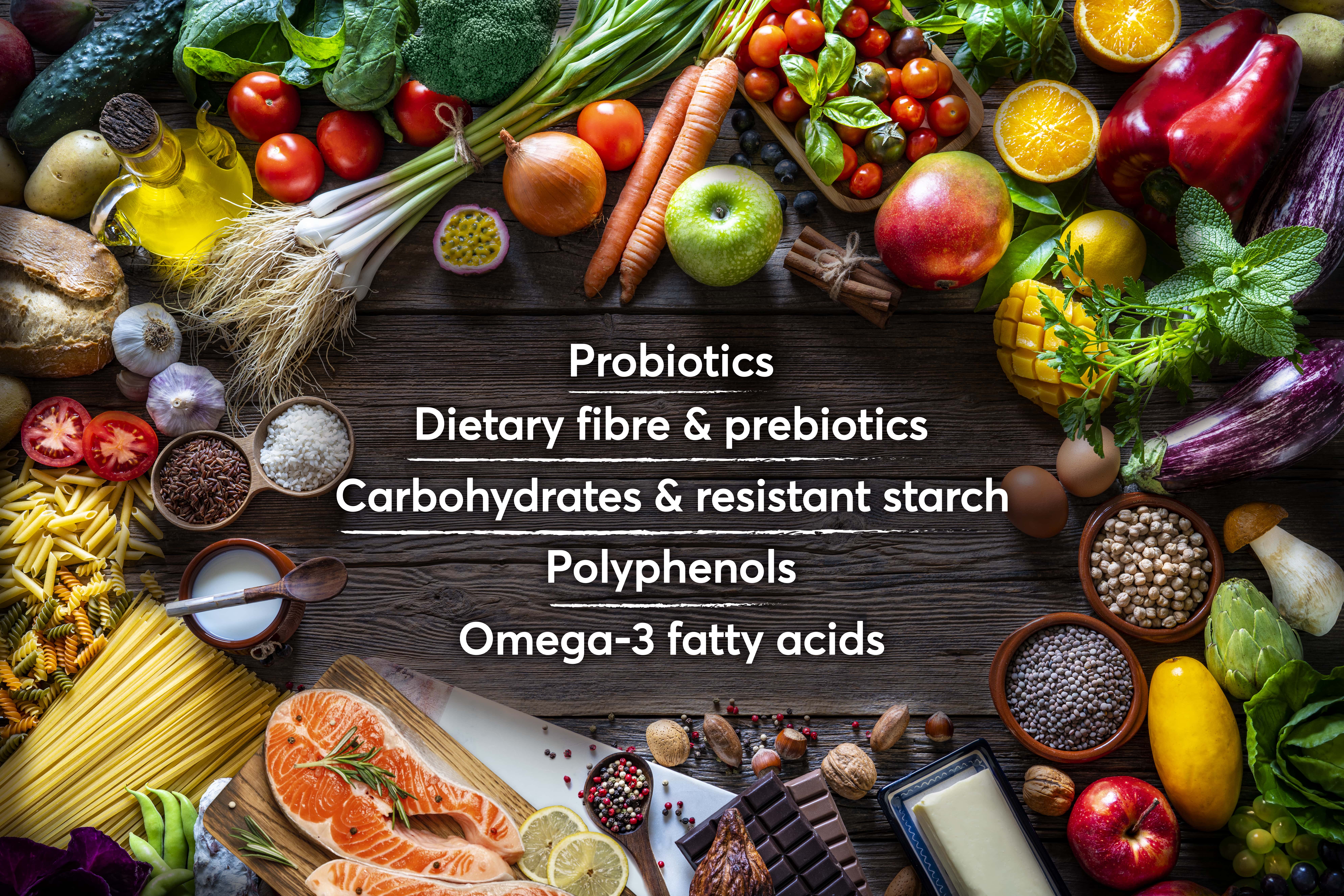 Food can help prevent depression too
One review of studies on diet found that people who followed a Mediterranean style diet had a 33% lower risk of developing depression.
The studies suggest that upping your intake of plant-based food, and reducing your intake of fast food, sugary treats, and food that's high in saturated fat, may help prevent depression.
It's not just what you eat, it's also how you eat
'It's thought that some mind-based techniques may be as effective as dietary changes when it comes to treating gut issues,' says Stephanie.
Mindful eating encourages you to tune into your body's hunger cues. It's a great way to observe how your body feels before, during and after you've eaten something. Try this exercise to help you focus on the flavour, texture and aroma of food.
Yoga might also help. Some studies have indicated that yoga can benefit people who experience symptoms of IBS, such as bloating, cramping and abdominal pain. It's thought the combination of breathing techniques, yoga poses, and meditation helps to reduce stress levels and improve muscle relaxation and digestion.

Can we help you improve your gut health?
Better Living programs
CBHS Better Living programs include nutritional support for people living with long-term chronic health conditions. The programs include expert advice from dietitians, and it's suitable for people of all ages. If you hold any level of CBHS Hospital or packaged cover, and you have a chronic disease, or you may be at risk of developing a chronic disease, you can access these programs at no extra cost.
Dietitian support
If you hold any level of CBHS Extras cover you can claim a benefit towards the cost of seeing a dietitian. You can also claim a benefit if you hold most levels of packaged cover.
Recipe ideas
You can find lots of healthy recipes on our website. They've all been tried and tested by CBHS nutritionists and dietitians, so they'll taste as good as they look.
Feed your gut the food it loves to eat, and you're likely to help your mind and your body feel better.
Get support for stress
The Mind and Body section of our website has articles that can help you explore ways to manage stress.
You can claim for recognised stress management programs under the Wellbeing benefits of your Extras cover. You can also claim benefits towards the cost of seeing a psychologist. Check your policy for more details or call us on 1300 654 123.
Our Better Living programs can also help you manage the mental health impacts of stress
If you need help right now
If you or someone close to you needs help now, contact these services.
For crisis support:
For general mental health support:
All information contained in this article is intended for general information purposes only. The information provided should not be relied upon as personal medical or financial advice and does not supersede or replace a consultation with a suitably qualified healthcare professional.

Sources:
https://www.ncbi.nlm.nih.gov/pmc/articles/PMC3957428/
https://www.ncbi.nlm.nih.gov/pmc/articles/PMC4438173/

https://www.ncbi.nlm.nih.gov/pmc/articles/PMC5530613/

The Effects of Stress and Meditation on the Immune System, Human Microbiota, and Epigenetics - PubMed (nih.gov)

https://www.ncbi.nlm.nih.gov/pmc/articles/PMC4540034/

https://www.ncbi.nlm.nih.gov/pmc/articles/PMC3355196/

https://pubmed.ncbi.nlm.nih.gov/20974015/

https://foodandmoodcentre.com.au/smiles-trial/
Health and wellbeing
programs & support
You Belong to More with CBHS Hospital cover:
Greater choice over your health options including who treats you
Get care at home with Hospital Substitute Treatment program
Free health and wellbeing programs to support your health challenges
Live your healthiest, happiest life with CBHS Extras cover:
Benefits for proactive health checks e.g. bone density tests, eye screenings
Keep up your care with telehealth and digital options
Save on dental and optical with CBHS Choice Network providers