At CBHS we help you manage your health challenges. We believe in offering you the services, support and tools you need to live your best life.
Our Better Living Programs are available to support eligible members towards a healthier lifestyle. Each Better Living Program is subject to its own eligibility criteria.
Contact us for more information and to confirm your eligibility for a program.
5 simple ways to build a mindful eating habit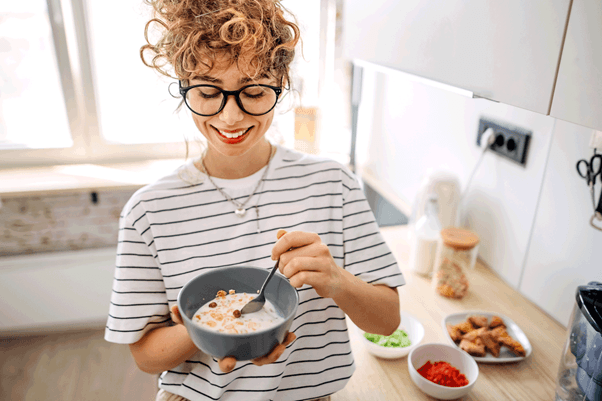 Trigger warning: If you have an eating disorder or any history of disordered eating, you may find this post triggering. We recommend you do not read it.
Have you ever opened a bag of crisps and eaten the whole packet without even thinking? Or finished a meal and don't remember taking a single bite? If so, you've experienced a common phenomenon known as 'mindless eating'. Mindful eating is the opposite.
Mindful eating is not about what you eat, but how you eat. Learning to eat more mindfully can help you have a healthier, more satisfying relationship with food. Before we look at some ways to build this skill, it's helpful to understand more about why we sometimes eat mindlessly.
Why we sometimes eat without engaging our minds
Mindless eating often happens when you eat to help you deal with something else. Some common reasons we eat when we're not hungry include:
stress
boredom
comfort
safety
it feels good
control
habit
We can also eat mindlessly if we allow ourselves to get too hungry. Look at the hunger scale below to see how this works.

If you let yourself get to level one to three on this scale, you're more likely to eat mindlessly and consume more than you would in the green zone.
Throughout the day (including before and after meals), try to think about where you sit on this scale. Doing this is one way to help you eat more mindfully.
5 ways to develop more mindful eating habits
Let's look at some other strategies you can use to cultivate a habit of mindful eating.
1. Understand the three types of hunger
If you've ever eaten a meal, felt full, then returned to the fridge looking for more to eat, you'll understand there is more than one type of hunger. In fact, there are three.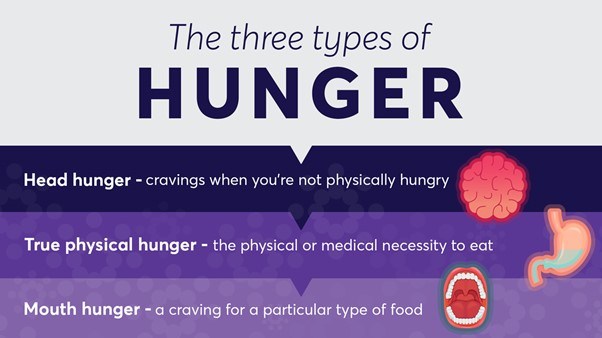 True physical hunger (stomach hunger)
This type of hunger reflects the physical or medical necessity to eat. If you're truly hungry:
the feeling increases with the time since you last ate
often one meal will satisfy you
eating is essential
you can slow down and enjoy the meal.
If you're truly hungry, it's important to respect your body's physical need for food by choosing to eat.
Head hunger
This involves eating or experiencing cravings for food even when you're not physically hungry.
Head hunger often:
comes out of nowhere
involves a strong desire for a particular type of food
relates to a feeling or emotion
has guilt or shame attached to it
causes you to eat very quickly.
If you're experiencing head hunger, it's probably a sign you need to nourish your emotions (see more below).
Mouth hunger
This involves a craving for a particular type of food. Mouth hunger is:
not true hunger, but also not head hunger
the type of hunger where "just a little will do"
totally satisfied with a tiny amount (such as one or two bites or sips).
If you're mouth hungry, feel free to eat a little of the food you're craving.
2. Practice the HALT technique
Cravings don't usually strike because we're truly hungry, so no amount of food will be satisfying. The HALT strategy helps you avoid eating mindlessly by creating some space to reflect on why you want to eat. It encourages you to identify the emotions that might be behind your desire for food.
Before you reach for that donut or bag of chips, ask yourself are you:
Write down how you're feeling and wait 10 minutes. Then reassess whether you want to eat.
3. Nourish your emotions
If you 'eat your emotions', you're likely to overeat. To overcome emotional eating, it's important to learn how to identify and manage your emotions and eating triggers. For example, you might eat when you're bored, lonely, or having a stressful day at work.
The first step is to be mindful and bring yourself back to the present moment. Allow yourself to feel. Then you can choose another way to nourish your body, mind and soul. Here are some ideas you might like to try.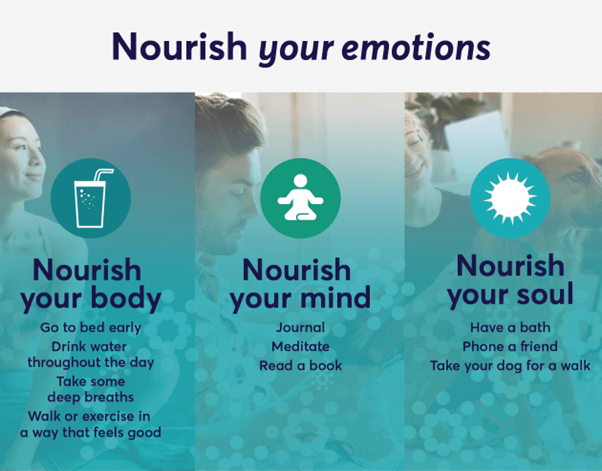 4. Learn to let go of cravings
Cravings happen in response to various internal and external triggers, such as thinking about or seeing a certain food. Often, we crave foods that are high in carbohydrates, fats, and sugar.
Because we can experience cravings many times a day, we need to learn to ride them out. Cravings also go up and come back down. Time is the best thing to conquer cravings. They never stay at their most intense – the wave will roll in and out, and you can ride it.
Try proving to yourself that you are strong enough and can hold off. Work on distancing yourself from the craving by nourishing your emotions. But remember willpower is not always enough – we're only human! You might need to move the thing you're craving away from you or change your environment. For example, you could take a shower or go outside for a walk.
5. Plan your food routine
Having a plan can help you stay on track with many things in life, including your mindful eating routine. Here are some helpful ideas.
Try to stick to a similar eating schedule, whether it's during the week, on weekends, on holidays and at work or university.
Write a simple meal plan for each day.
Portion out all your snacks.
Put sticky notes or ribbons on your food, cupboard or fridge if you need a reminder to try another action before reaching for a snack.
Eating mindfully – for life!
Healthy eating is a long-term commitment to your wellbeing. Many people start a 'diet' by only eating clean or having cheat days, which is not sustainable long term. Stop the mindset of, "I had a few pieces of chocolate, so I've stuffed it all up and might as well eat the whole block." Instead, move on with your day and make your next meal nourishing and nutritious! Remember, aiming for 1% better each day adds up to 365% better in a year.
All information contained in this article is intended for general information purposes only. The information provided should not be relied upon as medical advice and does not supersede or replace a consultation with a suitably qualified healthcare professional.
Sources
https://www.eatingdisorders.org.au/wp-content/uploads/2019/04/EDV-Mindful-eating.pdf
https://www.cbhs.com.au/mind-and-body/blog/tips-for-getting-a-good-night-s-sleep
https://www.nswis.com.au/nutrition/how-to-tackle-boredom-eating/
https://www.healthstandnutrition.com/hungertracker/
https://www.cbhs.com.au/mind-and-body/blog/mindfulness-and-mindful-eating-an-activity-to-get-started
https://www.cbhs.com.au/mind-and-body/blog/eating-smart-improve-your-mood-memory-and-focus-through-food
https://www.cbhs.com.au/mind-and-body/blog/curb-your-cravings-how-to-resist-those-snack-temptations
https://www.verywellfit.com/what-does-halt-stand-for-4160620
https://www.ncbi.nlm.nih.gov/pmc/articles/PMC7321886/
https://www.hsph.harvard.edu/nutritionsource/cravings/
https://www.cbhs.com.au/mind-and-body/blog/ready-steady-walk-how-it-can-make-you-healthier
https://www.cbhs.com.au/mind-and-body/blog/got-a-snack-let-s-try-mindful-eating
https://www.cbhs.com.au/mind-and-body/blog/break-up-with-dieting-and-still-enjoy-healthy-delicious-meals

Health and wellbeing
programs & support
You Belong to More with CBHS Hospital cover:
Greater choice over your health options including who treats you
Get care at home with Hospital Substitute Treatment program
Free health and wellbeing programs to support your health challenges
Live your healthiest, happiest life with CBHS Extras cover:
Benefits for proactive health checks e.g. bone density tests, eye screenings
Keep up your care with telehealth and digital options
Save on dental and optical with CBHS Choice Network providers