At CBHS we help you manage your health challenges. We believe in offering you the services, support and tools you need to live your best life.
Our Better Living Programs are available to support eligible members towards a healthier lifestyle. Each Better Living Program is subject to its own eligibility criteria.
Contact us for more information and to confirm your eligibility for a program.
Immunity trends, are they worth the hype?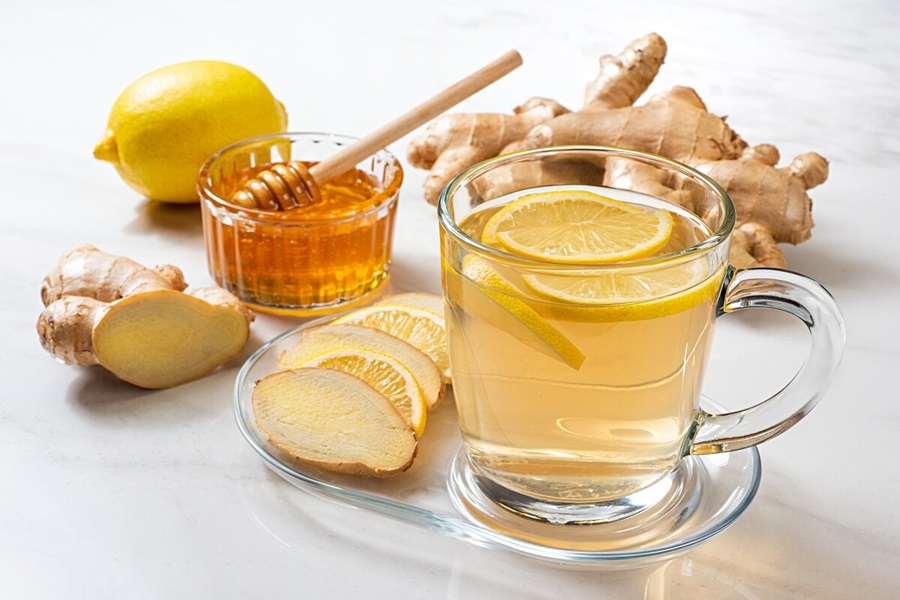 The health and wellness industry is constantly growing. Globally, it was worth over $4.4 trillion back in 2020 and is set to grow to nearly $7 trillion by 2025.
Weight loss, personal beauty and nutrition make up the largest figures. Nowadays, we're currently bombarded with information and sometimes it can be tricky to tell what's true or what's not. 'Wellness' products are no different. There's always a new trend promising to cure all our problems, often with no or very little scientific research supporting its claim.
"From what we can see, immune health is absolutely a trend that's going to remain front of mind for a long time for many Australians," says Dr. Leo Hermans, Chief Scientific Advisor at IMUNI.
The Global Immunity Trends for 2022 and Beyond report suggests that the interest in immune system health is likely to stick around – which is good news. Our immune system should be looked after all year round. But, what trends are worth our money? Here's some food for thought.
Ginger shots, juice cleanses, collagen, supplements…do they really work?
Products that boost our immune system are in high demand in Australia and around the globe, suggesting that immunity is still front and centre in most people's minds. In 2021, more than one in two global consumers cited 'immune health' as their main reason for purchasing 'healthy lifestyle products'.
Let us help you separate the real deal from the 'not-worth-the-hype'…or your money!
Supplements
Supplements should only be used, as the name suggests, in supplement to a healthy, balanced diet. Of course, this is unless otherwise specified by your healthcare provider. Considering a food-first approach to fuel your body with vitamins and nutrients is always recommended.
Each day, we should aim for:
two serves of fruit
five serves of vegetables
six wholegrains
2-3 serves of low-fat calcium
lean protein
healthy fats, and
limited or reduced highly processed foods
Following that ratio every day will help your body get all the nutrients and vitamins you need while maintaining a healthy and balanced diet.
Following that ratio every day will help your body get all the nutrients and vitamins you need while maintaining a healthy and balanced diet.
Before deciding to take supplements, consult with your GP and ask for a blood test to help check if you're deficient in any vitamins or minerals. If needed, your GP will be able to recommend the correct supplement and dosage to support your diet.
In short, supplements can be of great help and are strongly recommended to specific groups of people like:
Vegans who struggle to get vitamin B12.
People during before and during pregnancy, as folate supplements reduce the risk of neural tube defects and iron reduces the risk of anaemia.
People with disorders caused by a deficit of a vitamin or mineral, such as osteoporosis with vitamin D and calcium.
Collagen
Collagen is the most abundant protein in the body. It's a major component of bone, skin, muscles, tendons, and cartilage. Most research about collagen is related to joint and skin health, while very little scientific research exists on its benefits to our immune system.
Randomised controlled trials on the other hand have found that collagen supplements do improve skin elasticity, and play an important role in the skin structure and function.
Collagen formation is reduced in mature skin. As we age, the biomatrix of our skin starts to collapse when the collagen scaffold loses its strength and stability. There are many factors that can accelerate this, like sunlight, smoking, environmental pollution, alcohol, and nutrient deficiency. When the elasticity of our skin starts to be compromised, lines and wrinkles start to show up.
Despite its abundance in our bodies naturally, collagen has become a top-selling supplement purported to improve hair, skin, and nails—key components of the fountain of youth. The idea of popping a pill that doesn't have side effects and may reverse the signs of aging is attractive to many − online searches for collagen have steadily increased since 2014.
While there is good evidence supporting the inclusion of collagen in our diet, we still don't have enough scientific proof of its power towards our immune system.
The easiest – and cheapest way to include collagen in our diets is through foods like:
Bone broth – also contains a range of minerals including calcium, magnesium, phosphorus, silicon, sulphur, and trace minerals that can help support overall health
Berries and vegetables such as broccoli – rich in vitamin C which helps the body build collagen
Sardines or fish with bones
Chicken with skin-on
Eggs – the whites in particular contain amino acids which are necessary for collagen production.
Medicinal mushrooms
Mushrooms have always been appreciated for their culinary and nutritional value, but now they're increasingly valued for their many important medicinal properties. So much so that they're used not only as dietary food (functional food) but also in the form of dietary supplements.
Mushrooms are an excellent way to boost the immune system, increasing white blood cells, adrenal health and energy. They are also rich in anti-inflammatory components like fatty acids, carotenoids, vitamins and biometals.
The most common types recognised for their immunity-boosting effects are:
Reishi – the most popular, also known as 'the mushroom of immortality'. Reishi mushrooms are potentially the world's strongest modulator of the immune response, engaging immune cells into action and balancing overall immune function. Reishi are also an adaptogen, supporting physical and mental endurance, building energy within our body over time.
Lion's Mane – Known for boosting our brain nerves' health by inducing our nerve growth factor and bringing our energy levels up. They also have antioxidative, anti-inflammatory, anticancer, immunostimulant, antidiabetic, antimicrobial, and many other great properties. Lion's Mane is a tasty edible mushroom that can be easily incorporated into meals like mushroom pasta, stews, salads and pastries.
Turkey Tail – in traditional Chinese medicine, this variety has always been known as a 'magic herb', used to promote good health, strength, and longevity. Several studies have confirmed its strong engaging actions for immune cells, potentially stronger than Reishi and Lion's Mane.
Mushrooms are also an excellent vitamin D source. Sunbathing five button mushrooms or one portobello mushroom for 15 minutes gill-side up produces 100% of your vitamin D needs and can be as effective as using vitamin D supplements.
IV drips
For many of us, receiving care in a hospital or emergency room wouldn't be our first choice of how to spend our time, especially hooked up to an IV (intravenous catheter). Needles are also a common fear among people. However, now, IV treatment has become trendy!
With clinics and 'drip bars' popping up all over Australia, clientele are seeking IV fluids on demand, to cure hangovers, fatigue, dehydration, food poisoning, jet leg, and even to gain a supposed 'instant health glow' for skin and hair. Commonly known as 'IV vitamin therapy' this 'treatment' became popular by claiming 100% absorption of vitamins and minerals, which are deposited straight into your bloodstream.
While IV treatments can be helpful in a clinical setting, a 2020 study concluded that there was insufficient evidence to recommend their use outside of this. This is not to mention they are very expensive, with some treatments in Australia costing well over $200 a pop! While patient empowerment is generally a good thing, IV fluids on demand may not be the best example.
IV therapy is an invasive procedure that carries some risks. Side effects may include bruising, bleeding, and swelling at the insertion site. Some vitamins can actually be harmful to the body in larger amounts than we need. There is also the risk of cross-contamination, especially as these clinics are unregulated in Australia. It's best to receive IV therapy in a hospital with trained medical specialists and only when advised by your doctor.
Ginger shots and juice cleanses
Let's start with ginger shots. A popular spice, ginger has been proven to reduce inflammation in our body. In addition, other common ingredients found in ginger shots, like lemon and turmeric, have strong anti-inflammatory and antioxidant properties. However, we should be mindful when buying or making ginger shots as some can have sugar and other additives that the body doesn't need. It's important to note that ginger shots are not a magic fix, and should be taken alongside a balanced diet.
On the other hand, juice cleanses are a different beast. Limited studies on juice-based diets have shown benefits such as weight loss, lipids reduced, and blood vessels widened. But once returning to a regular diet the benefits reversed. Of course, juice diets are unsustainable long-term for a range of reasons.
The idea of 'detoxifying' our body by drinking juices might seem like a good idea. But in truth, our body already has its own built-in natural detoxifier – the liver. It cleanses the body of toxins and produces bile to support healthy digestion.
Celery juice trends and so on, claiming to detoxify the body are not proven to work. Plus, when you juice a fruit or a vegetable, you lose the fibre and are left with the sugar. So, should you drink juice at all? If you enjoy the taste, go for it. A small serving of fruit or vegetable juice is not harmful. But should you be drinking cup after cup as a 'cure-all' for your health problems and to 'detoxify' your body? No.
Prebiotics
Most people know about probiotic foods – which contain good live bacteria that improve gut health and immunity. Probiotics are functional foods that can help our body fight infections, improve our health and even prevent chronic disease.
Now, prebiotics are the ones who feed the good gut bacteria. They contain fibre and carbohydrate food chains that feed and maintain healthy colonies. Prebiotics have been shown to improve a number of chronic and inflammatory conditions. And studies are still confirming their benefits towards bone health and calcium metabolism.
Prebiotic food includes garlic, onion, leeks, asparagus, Jerusalem artichokes, dandelion greens, green banana, and seaweed. A more general rule is to eat a variety of fruit and vegetables, legumes (such as beans, peas, and lentils) and wholegrains for dietary prebiotics daily.
So, what's the verdict?
A food-first approach with dietary variety and balance can't be replaced. And claims that sound too good to be true most likely are.
A healthy body and immune system are best achieved through a combination of good habits that we should be consistent with:
Include colourful fruits and vegetables daily.
Steer clear of excessive sugar, white flour and reduce or cut out alcohol.
Reduce stress at work and at home. Stress hormones can weaken our immunity, make infections more severe and slow down wound healing.
Exercise regularly. Moderate-intensity exercise, on a regular basis, is beneficial.
Drink enough water daily, ideally eight to ten glasses. Water plays a crucial role in maintaining good health.
Get enough sleep. Your immune system repairs and rebuilds while you sleep.
While immune-boosting products may seem convenient, a healthy body is built with consistency. Keep these points in mind, and they will help you maintain a healthy immune system all year long.
All information contained in this article is intended for general information purposes only. The information provided should not be relied upon as medical advice and does not supersede or replace a consultation with a suitably qualified healthcare professional.
https://globalwellnessinstitute.org/press-room/statistics-and-facts/
https://www.glanbianutritionals.com/en-au/nutri-knowledge-center/nutritional-resources/global-immunity-trends-and-beyond
https://naturallygood.com.au/natural-health/immune-trends-that-are-here-to-stay-what-are-consumers-looking-for-in-2023/
https://www.health.harvard.edu/newsletter_article/supplements-a-scorecard
https://www.eatforhealth.gov.au/guidelines/australian-guide-healthy-eating
https://www.ncbi.nlm.nih.gov/pmc/articles/PMC7826851/
https://www.betterhealth.vic.gov.au/health/healthyliving/Vitamins-and-minerals#vitamin-c
https://pubmed.ncbi.nlm.nih.gov/16030389/
https://www.ncbi.nlm.nih.gov/pmc/articles/PMC7826851/
https://www.ncbi.nlm.nih.gov/pmc/articles/PMC7826851/
https://www.tandfonline.com/doi/full/10.4161/derm.23321
https://www.ncbi.nlm.nih.gov/books/NBK567072/
https://www.medicalnewstoday.com/articles/iv-therapy#fa-qs
https://www.ncbi.nlm.nih.gov/pmc/articles/PMC7019938/
https://pubmed.ncbi.nlm.nih.gov/28526852/
https://www.nccih.nih.gov/health/detoxes-and-cleanses-what-you-need-to-know
https://www.cbhs.com.au/mind-and-body/blog/5-immunity-strengthening-foods-nutrients
https://www.cbhs.com.au/mind-and-body/blog/stress-and-your-body
https://www.cbhs.com.au/mind-and-body/blog/how-much-water-do-we-need
https://www.cbhs.com.au/mind-and-body/blog/delta-binaural-beats-for-better-sleep
https://www.health.qld.gov.au/news-events/news/detox-and-cleansing-diets-more-harm-than-good

Health and wellbeing
programs & support
You Belong to More with CBHS Hospital cover:
Greater choice over your health options including who treats you
Get care at home with Hospital Substitute Treatment program
Free health and wellbeing programs to support your health challenges
Live your healthiest, happiest life with CBHS Extras cover:
Benefits for proactive health checks e.g. bone density tests, eye screenings
Keep up your care with telehealth and digital options
Save on dental and optical with CBHS Choice Network providers